Here's how to download your American Express card activity so you can easily import the files into QuickBooks or Quicken.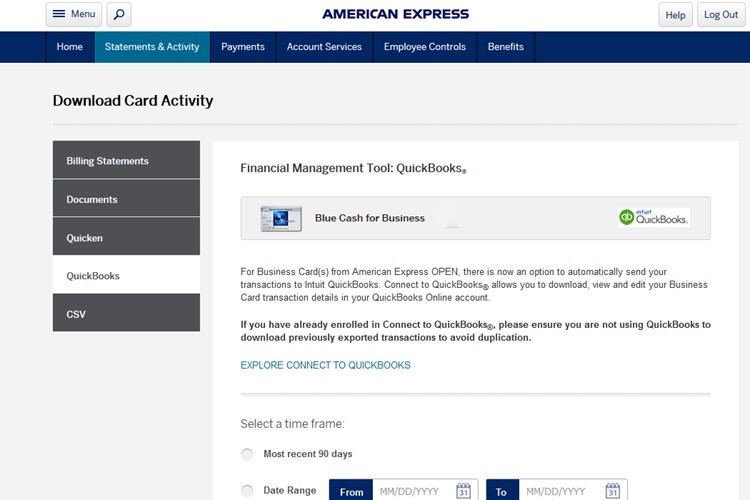 It's always a mystery trying to find or remember where to look for the QuickBooks or Quicken download files for your American Express credit card transactions on their website, especially if you only download transactions a few times a year. So if you're wondering where to download your Amex transactions for QuickBooks or Quicken from the AmericanExpress website, here's how you can currently download your credit card activity so you can import the WebConnect files into QuickBooks or Quicken:
1) Log into your American Express account
2) Click on the "Statements & Activity" menu.
3) Then click on the icon for "Download Your Transactions" (the icon is an green arrow pointing down, with a green horizontal line).
5) On the Download Card Activity page, you can download individual statements for QuickBooks, Quicken, or CSV files.
6) Now, select the time frame for the transactions you'd like to download for QuickBooks or Quicken and click the Download button.
7) For QuickBooks, you'll download a QuickBooks OFX data file. If downloading for Quicken, you'll download a Quicken QFX file.
Hope that helps!
Keep in mind, unfortunately you can only download your last 10 statements, so if you don't download them frequently during the year you may miss out being able to download some of your older statements. In my opinion, at the very least, American Express should make it possible to be able to download statements for at least 2 years back.
How to Import Credit Card Transactions Into QuickBooks Online
In this tutorial, you'll learn to connect your credit card to QuickBooks Online and import the credit card transactions. We'll also explain when and how to import credit card transactions into QuickBooks Online using a QuickBooks Online (QBO) file or Excel and a comma-separated values (CSV) file. If you've completed the prior tutorial, How to Import Bank Transactions, then this tutorial will be a breeze as the process is very similar.
Thank you for taking the time to study this free tutorial for QuickBooks Online, our best overall pick for small business accounting software. You'll get the most benefit from the tutorial by following along in your own QuickBooks account. If you don't already subscribe to QuickBooks, you have the choice of a 30-day free trial or 50% off for three months.
This tutorial is one in our series of Free QuickBooks Tutorials. You can watch the video below or follow the step-by-step instructions that include illustrations.
The Importance of Connecting Your Credit Card to QuickBooks
Connecting your credit card account to download transactions automatically is one of the biggest time-savers offered by QuickBooks Online. Once connected, all you need to do is sign in to QuickBooks and classify the transactions that will transfer daily automatically. Most credit card companies allow you to connect to QuickBooks using your online sign-in credentials. If your credit card does not allow a connection to QuickBooks, you can still import your credit card transactions using a QBO file or a CSV file with the help of Excel.
Tip: Combining personal and business activity on the same credit card makes for messy bookkeeping, wastes your time, and will likely drive up your accounting fees at tax time. I highly recommend that you get a business credit card and use it purely for business.
How to Import Credit Card Transactions Automatically in QuickBooks Online
To connect your credit card to QuickBooks, you need the username and password that is used to sign-in to your online credit card account. If you haven't set up online access to your credit card account, you must do so before continuing with these steps. Visit your credit card company's website for information on how to activate your online access.
Step 1: Locate Your Credit Card Company in QuickBooks Online
Select Transactions and then Banking from the left menu bar of your QuickBooks Online company dashboard: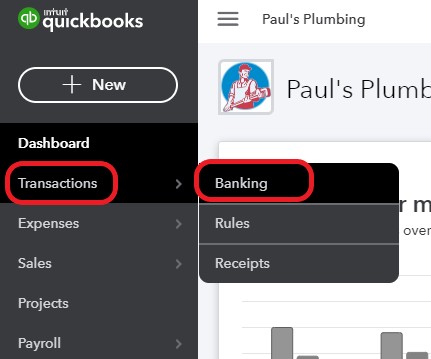 If this is the first bank or credit card account you are connecting to QuickBooks, you'll see the following screen and you should click the green Connect account button to add your credit card account: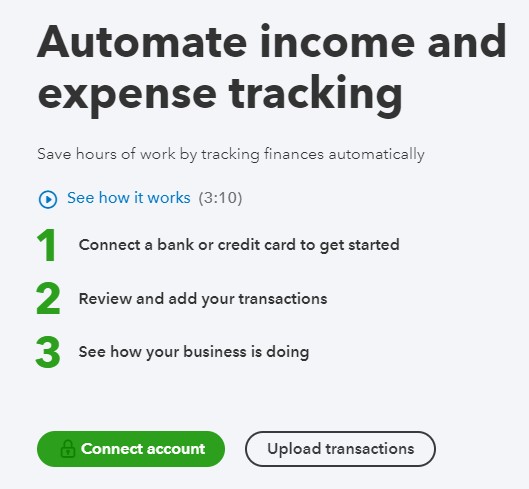 If you've already connected another bank or credit card account, you'll be taken to the Banking Center. Click the green Add account button in the upper right corner (not shown).
Enter your credit card company's name to determine if it's available to connect to QuickBooks Online. Our fictitious sample company, Paul's Plumbing, has a business credit card with Capital One.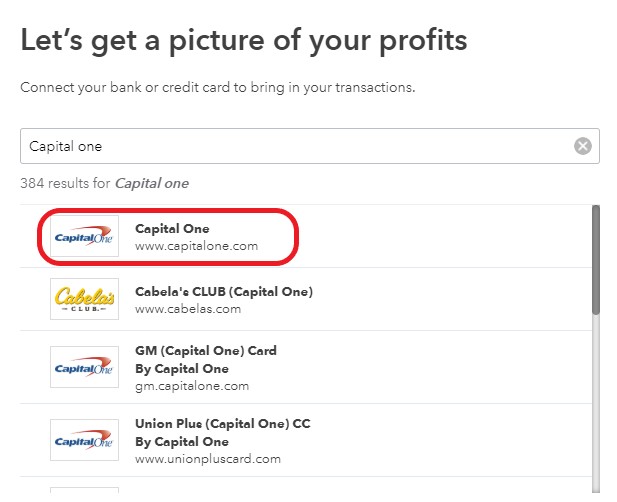 If your company is not listed, you'll have to import your credit card transactions with a QBO file or through Excel using a CSV file: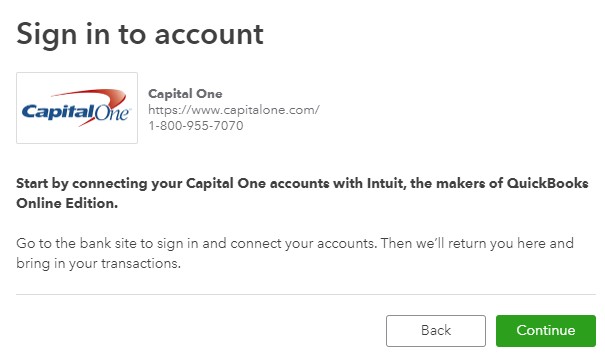 After selecting your bank, click the green Continue button to be taken to your bank's sign-in page automatically.
Step 2: Log Into Your Credit Card Account
QuickBooks will open a new browser window for you to sign in to your credit card account: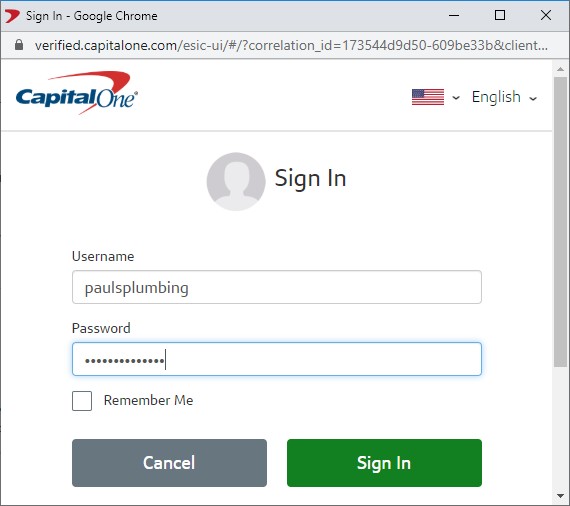 After signing in, your bank might ask you to confirm that you want to share your banking information with Intuit and provide a summary of the information to be shared. If you agree, click the appropriate button on your bank's confirmation page, and you will be taken back to QuickBooks.
Step 3: Link Credit Card Account to Chart of Accounts
Upon returning to QuickBooks, you are provided a list of accounts you have with that credit card company or bank: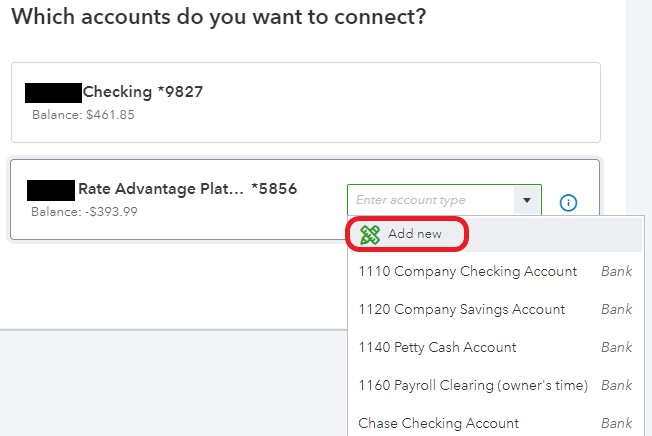 Select all of the bank accounts you would like to link to QuickBooks Online. If you have a checking and credit card account at the same bank, you connect them both during this step. After you click on an account, a drop-down box will list the bank accounts included in your Chart of Accounts. If your credit card account is already included in your Chart of Accounts, select it.
Paul's Plumbing needs to create a new account for their Bank of America credit card, so we'll click Add new at the top of the drop-down box.
Creating a New Credit Card Account in the Chart of Accounts
After clicking Add new, you're asked to provide information to add an account to your Chart of Accounts. You can glance ahead to How to Set Up the Chart of Accounts if you want to learn more but, for now, you can provide a few details.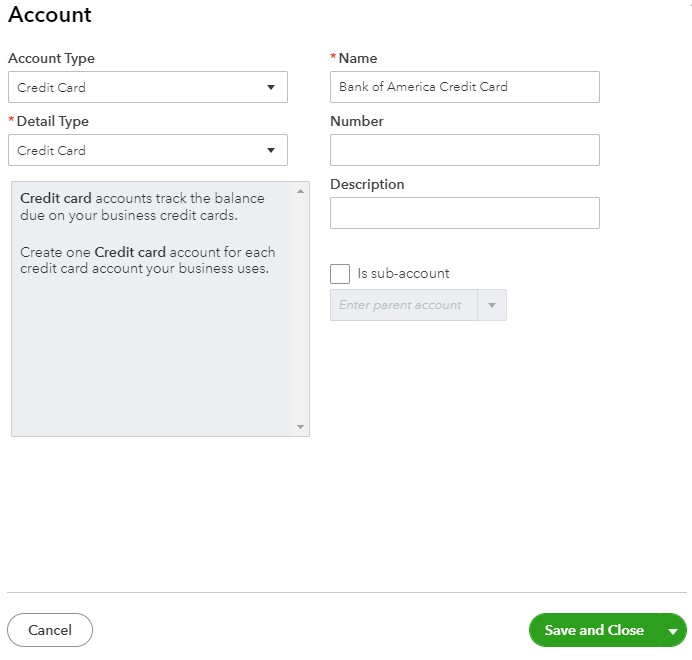 The Account Type and Detail Type must be Credit Card. An account name is required, and I recommend including the credit card company name for easy identification. If you have more than one credit card with the same company, you might also include the last four digits of the credit card. When you have entered all the information, click the green Save and Close button, and you will be returned to the prior screen with the new account selected.
Step 4: Selecting the Right Date Range
After linking your credit card to an account from your Chart of Accounts, you must decide when QuickBooks should begin importing transactions: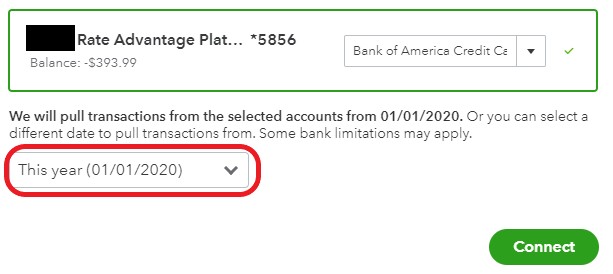 The default start date to pull transactions is the beginning of the year. You should try to pull transactions back to the date you wish to start using QuickBooks Online. If your credit company or QuickBooks doesn't allow you to go back that far, you'll have to transfer the older transactions using a QBO or CSV file.
Paul's Plumbing is importing credit card transactions starting on January 1 of the current year. Click the green Connect button when you are done.
Step 5: Review Downloaded Transactions in the Banking Center
QuickBooks Online will take you to the Banking Center after connecting your bank account: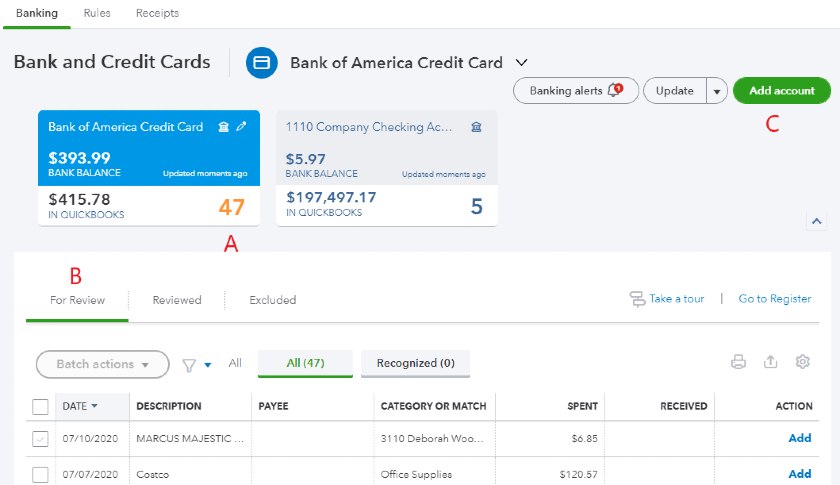 A. Transactions for review: The orange number in the Bank of America box is the number of transactions that have been imported, but not yet reviewed and classified. Paul's Plumbing has 47 credit card transactions to review.
B. Review tab: The tab labeled For Review lists all the transactions imported from your selected bank or credit card that are awaiting review.
C. Add account: To connect another bank or credit card company to QuickBooks Online, click the green Add account button in the upper right-hand corner of the screen and repeat the process.
You can peek ahead at How to Manage QuickBooks Online Bank Feeds if you'd like to learn more about classifying transactions, but I recommend waiting until we complete a few more setup tutorials. It's important to have your Chart of Accounts finalized before you start assigning transactions.
Now that your credit card account is connected, new transactions will be imported automatically into QuickBooks Online daily, or you can click Update in the upper right corner to import any new transactions immediately. You can visit the Banking Center anytime by clicking Transactions and then Banking from the left menu bar (as you did at the beginning of this tutorial).
When to Import Credit Card Transactions Manually Into QuickBooks Online
There are two reasons to import transactions from a CSV, QBO, or similar file. Some credit card companies will not connect with QuickBooks Online to allow an automatic import. Also, you might need to import transactions that are too old to import automatically, even if the credit card is connected to QuickBooks Online.
Importing credit card transactions that have already been entered into QuickBooks manually, such as using a credit card to pay a vendor bill, will not create duplicate transactions. During your review of imported transactions, you can match them to existing transactions, thus avoiding duplication.
How to Import Credit Card Transactions Manually Into QuickBooks Online With a CSV or Similar File
Step 1: Download a Transfer File From Your Credit Card Company
QuickBooks Online can import credit card transactions from the following types of files:
CSV: These files are commonly used to export data for a multitude of purposes and can be opened and edited with Excel.
QBO: QBO files are QuickBooks WebConnect files specifically designed for exporting information from bank or credit card accounts to QuickBooks.
QFX: QFX files are financial exchange files created for exporting information to Quicken, but they will also work with QuickBooks Online.
OFX: An OFX file is a text file specifically designed for exporting financial data.
TXT: Text files can be imported but might require some editing first. You might want to open the TXT file with Excel and convert it to a CSV file for a smoother transfer.
To obtain a transfer file, log into your credit card account, and locate the option to download your account transactions. You will likely have the option to download your transactions in multiple formats. Choose the QBO or QFX format, if available, since they are designed specifically for QuickBooks. The next best option is an OFX file. If none of those file types are available, a CSV or TXT file will suffice but require a couple of extra steps.
Save the transfer file to a location on your computer that you can remember easily to import the file.
Step 2: Select the Transfer File to Upload in QuickBooks
From the Banking Center, open the drop-down menu next to Update in the upper right corner and then select File upload: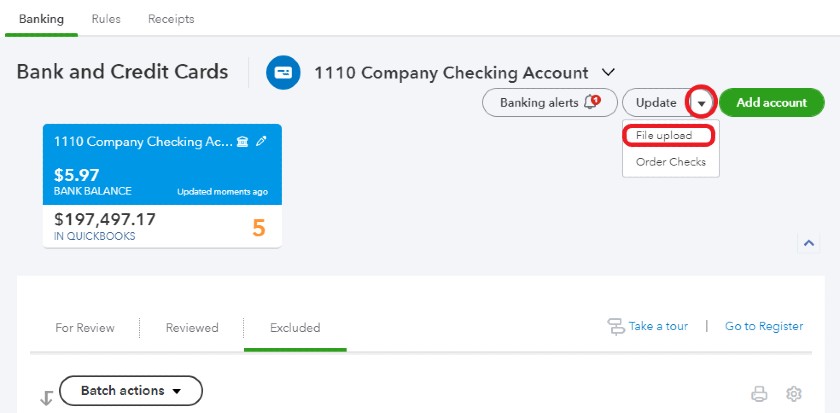 Click the Browse button and select the transfer file you downloaded from your credit card account: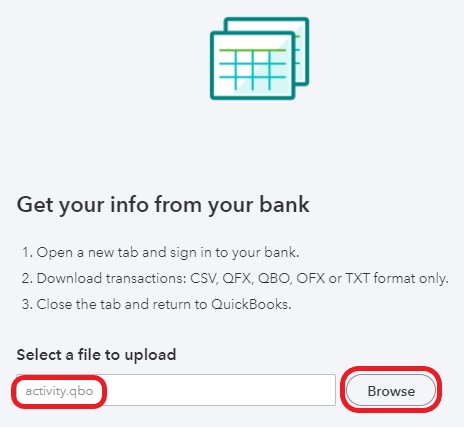 Our sample company, Paul's Plumbing, was able to download a QBO file with credit card activity from a local bank. After selecting your transfer file, click the green Next button.
Step 3: Select a QuickBooks Account
Next, you must select an account from your Chart of Accounts to record the imported bank transactions:
If needed, you can click Add new to set up a new credit card account as demonstrated earlier. Paul's Plumbing created a new QuickBooks account named Local Credit Card. After you have selected a QuickBooks account to record the imported transactions, click the green Next button in the lower right-hand corner.
If your transfer file is a QBO, QBX, or OFX file, you're done and can skip to step 6.
If your transfer file is a CSV or TXT file, you have a couple more steps to complete.
Step 4: Map Columns to QuickBooks Fields (CSV and TXT files only)
Before completing this step, you should open your CSV or TXT file in Excel to determine exactly what information your bank exported and how it is formatted. Paul's Plumbing exported the following CSV file from their local credit union account.
Tip: When you open a CSV file in Excel, you may be asked to save the file as an Excel file to preserve features. Don't do this because the file must remain a CSV file to be imported into QuickBooks.

Notice that transaction amounts are shown in column C with credit card charges shown as positive numbers and payments to reduce the credit card balance as negative numbers. Some credit card companies might include charges in one column and payments in another column. Either way is fine, but you'll need to know how the amounts are organized in the next step.
After completing step 3, if you're importing a CSV or TXT file, QuickBooks requires you to designate which column in your CSV file should be imported for each of three fields: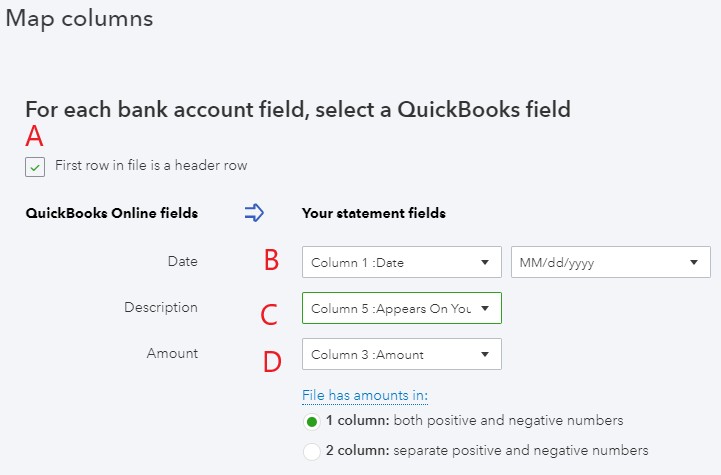 You need to tell QuickBooks where it can find the date, description, and amount in your transfer spreadsheet:
First row in the file is a header row: Place a check mark in this box if the first row in your transfer spreadsheet provides the title for each column.
Date: Click the drop-down arrow and select the column in your transfer spreadsheet that contains the date. In the next field, select how your spreadsheet formats the date.
Description: Select the column that contains a description of the transaction. I recommend selecting whichever column is going to provide you the most information to help classify the transaction without doing further research. Paul's Plumbing chose the "Appears On Your Statement As" column instead of the "Description" column because of the more detailed information.
Amount: First, choose whether your spreadsheet has all amounts in one column or if charges and payments are in separate columns. As we saw above, Paul's Plumbing's spreadsheet has all the amounts in one column and are located in column C. If you indicate amounts are shown in two columns, you'll need to specify one column for money spent (charges) and another for money received (payments).
When you are satisfied with your mapping, click the green Next button in the bottom right corner of the screen.
Step 5: Select Transactions for Import (CSV and TXT files only)
You can select which transactions from your file to import. I highly recommend importing all transactions in the file. Even personal transactions on your business credit card account need to be imported. Reconciling your credit card account from QuickBooks to your credit card statement is an important step to make sure your books are accurate. The reconciliation is not possible if you don't import all transactions.
Make sure all transactions are selected and then click the green Next button in the bottom right corner of the screen to complete the import of your transactions.
Tip: If there are no transactions listed on this screen, make the following changes to your file:
Remove all formatting from the amount column, including dollar signs
Remove blank rows so that everything begins at row 1, column 1 of the spreadsheet
If you make changes to your spreadsheet, you must save it and then back up to step 2 and reselect the file to import.
Step 6: Return to the Banking Center
Click on Transactions and then Banking from the left menu bar to return to the Banking Center. Your bank account is now shown in the upper left corner with the number of transactions awaiting review. You may have to refresh your browser for your banking center to reflect your freshly imported transactions: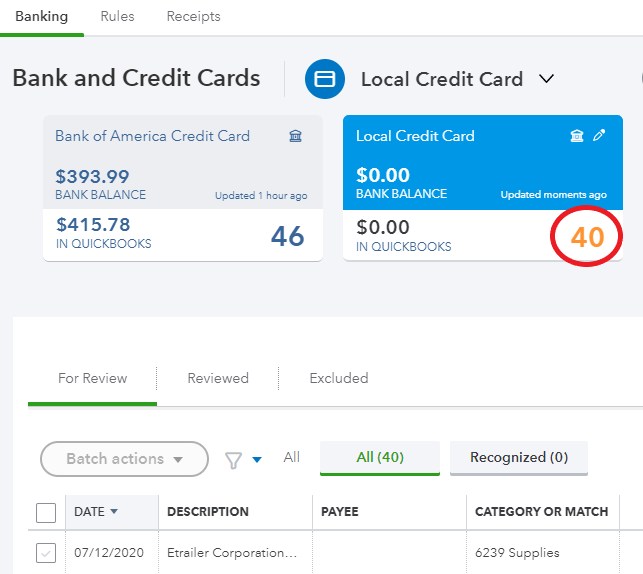 We'll learn how to review the transactions and accept, exclude, or match them to an existing transaction in How to Manage QuickBooks Online Bank Feeds, but I recommend completing the tutorials in order.
Wrap Up
You've now learned to connect your credit card to QuickBooks Online and to import credit card transactions manually when necessary. We'll return to managing bank feeds in a later tutorial. First, however, we must finish setting up your QuickBooks Online company. The next tutorial in our QuickBooks Online Training Course is How to Set Up Multiple Users, where you'll learn how to allow your external accountant and as well as other employees full access to your QuickBooks Online.
How to Import American Express OFX to QuickBooks
An OFX file is an Open Financial Exchange file. The OFX file format allows financial data to be shared with a variety of applications, including Intuit's Quickbooks. OFX files are often used to track expense reporting with credit cards. However, any banking data, including checking and savings account data, may be downloaded from the financial institution's website in this format. As of the 2010 version of QuickBooks, American Express OFX files may be easily imported into the bookkeeping application.
How to Download American Express Bank Feeds Into QuickBooks® Desktop Software
Let's save you time by showing you how to download your American Express credit card transactions into QuickBooks®.  Part of doing business is to handle the many transactions that occur daily. Whether through a bank account or credit card account, or both.  They should be entered into your accounting system and be reconciled on a monthly basis. You will see the cash coming in and the cash going out and make good business decisions.  Are you using QuickBooks®? Are you or someone in your office manually entering transactions? 
IF YOU WOULD LIKE TO HAVE AN EXPERT WHO CAN HELP YOU WALK THROUGH THE STEPS AND MAKE THIS PROCESS A SUCCESS THE FIRST TIME, CALL 800-216-0763 AND ASK ABOUT OUR SUPPORT PLANS.
WHAT ARE THE BENEFITS OF DOWNLOADING AMERICAN EXPRESS TRANSACTIONS INTO QUICKBOOKS®?
Saves Time – Entering credit card transactions manually is time-consuming and detailed oriented. Downloading transactions from American Express via a bank feed saves time and keeps your account up to date. Under preferences in QuickBooks®, there is a feature, if turned on, will "automatically recall the last transaction from that vendor." Over time, QuickBooks® will recall repeat transactions.
Keep Expense Accounts Manageable – Every transaction entered will be categorized under different expense accounts. To keep from creating too many expense accounts, create a few general expense accounts by setting up rules or aliases within the bank feed such as Restaurant, Parking, Gas, Hotel, and Phone. This is recommended when it is not necessary to have an actual vendor name on the transaction.
Transaction Search Is Easier – Searching for a particular purchase becomes easier when the Vendor's name and not the Credit Card company's name is on the transaction.
Better Business Reporting – Accrual Accounting – The date of each transaction is the date of the credit card was charged. That would place the expense in the month that it was incurred and not when the payment was made, providing a better view of the current month's income and expenses.
Easy Reconciliation – Reconciling your credit card statements each month in QuickBooks® verifies those downloaded transactions. After they have been reconciled you have a better understanding of the full picture of this credit card liability when it comes time to pay your bill. Budget accordingly and save by making credit card payment in full. Save money when no need for interest payments.
Better Accuracy – Downloading your transactions from American Express will help deter mistakes from missing a vendor transaction getting into QuickBooks®. These transactions can be downloaded daily, weekly or monthly. Also, each vendor's transactions are grouped so partial payments will be easy to see and which transactions would still be open for future payment.
DO YOU KNOW THESE BANKING TERMS?
Bank Feeds – A bank feed is a list of the transactions completed for a period of time from a checking, savings or credit card account at a financial institution. This list can be manually or automatically imported into your QuickBooks. Bank feeds help save a large amount of data entry.
QBO File– Web Connect file that can be downloaded to your computer and imported to QuickBooks® Desktop.
Bank Provided Credentials – This would be your login name/user ID, password and sometimes a pin from your bank previously set up to connect to your financial institution online. If you have not set up your American Express online account yet, here is the link: https://global.americanexpress.com/login?inav=iNavLnkLog
Connection Methods

WEB CONNECT – This is a manual operation is completed by either of the following methods, set up required:

Method #1 – Web browser and the American Express website
Method #2 – Within QuickBooks Under bank feeds
Either way, you would download a transaction via a (.QBO File) to be saved on your computer. Then, import that (.QBO file) into your QuickBooks® company file. Usually, this would be 30, 60 or 90 days' maximum worth of transactions.
DIRECT CONNECT – (fees may apply), set up required. This method syncs the transactions directly from the American Express Online Banking account to your QuickBooks American Express Credit Card account.
Also, this connection has other features such as bank payments and bank transfers. Must be set up through American Express, first. When this connection is set up you will need your bank credentials to connect.
Downloaded Transactions – The Bank Feed will group the transactions into three groups.

Unmatched – No matching transaction in QuickBooks, enter these transactions manually.
Renamed – You have set up either rules or Aliases for these bank feeds. QuickBooks® will use these to try to make a match between the American Express transaction to a transaction already set up in QuickBooks® company file chart of accounts – American Express account. Eventually, the more rules or aliases you have entered the quicker this process will be.
Matched – QuickBooks® handles these transactions automatically.

QuickBooks Register Symbols – American Express Credit Card Account Register Symbols

Asterisk -Transaction has not been reconciled but has been cleared
Checkmark – Transaction has been reconciled
Lightning Bolt – Matched to online bank
STEP BY STEP GUIDANCE TO DOWNLOAD AMERICAN EXPRESS TRANSACTIONS
This procedure provides set-up assistance for downloading American Express credit card transactions. Once set up it is easy to get your business transactions. Whatever you charge to your credit card: Office supplies or equipment, inventory, phone bills, internet bills, restaurants all will download into QuickBooks and you will make easy work of managing your expenses.
STEPS TO COMPLETE BEFORE DOWNLOADING TRANSACTIONS FROM AMERICAN EXPRESS
Create Backup Copy – Create a backup copy of your QuickBooks® file. This way if anything goes wrong, you can start over.
Important note: Transactions can only be synced or imported to QuickBooks once to a company file. However, some banks may have the ability to release the transactions on their side, so that you can download again if necessary.
Create a New Credit Card Account – your QuickBooks® Chart of Accounts will need a new Credit Card Account called American Express.
Open Chart of Account in QuickBooks®.
Go to the bottom left corner and click on the down arrow next to Accounts tab (bottom left) and the window Add New Account: Choose Account Type will open.
Choose Credit card and click continue
A new window opens and type Account Name: American Express, Account description: if you would like to add more information about the American Express account, Credit Card Account Number.
Save
Easy as that.
Add a new Credit Card Account to your Chart of Account in QuickBooks
Create American Express Online Account – If you have not previously set up your American Express online account, now is the time to do so. From this account, you can log in and view your transactions, view or download your statements, make an online payment and using the bank feed to download your transactions to QuickBooks® via a Web Connect or Direct Connect option.
Here is the login link: https://global.americanexpress.com/login?inav=iNavLnkLog
Go to the website above.
Click on the Create New Online Account link
American Express Website Log-In Page
Follow the three-step process to set up your American Express Online account.
Add your American Express Account Number
Add the 4 digit CVV number (Card Verification Value) on front of the card
Create a user name/ID
Create a password
Finish.
First of Three-Step Process to Set Up American Express Online Account
Choose Preference in QuickBooks® software – there are two bank feed options when you are ready to view your transactions. These are Classic mode or Express mode.

Classic mode (original) for view bank feed transactions in the Account Register. Able to create Aliases.
Express mode (newer) and the bank feed transactions are viewed from a Transaction List. Able to create Rules.
These can be used interchangeably via turned on under the Preferences menu, Checking, Company Preferences. This must be done in Single-user Mode and it would be a good idea to make sure that QuickBooks® has the latest release. Make your preference now, however, you can switch to the other mode, whenever you choose.
Something to remember when you make your choice: As you can see the Express mode gives you the ability to create rules. But, these rules are not available in the Classic mode. In Classic mode, you can create an alias for each general type of transaction, but these will not show up in the Express mode.
DOWNLOAD OPTIONS FOR RETRIEVING TRANSACTIONS
There are two connection options that will allow you to pull your transactions from American Express. Web Connect is an indirect method for downloading transactions. The other option is Direct Connect. Using Direct Connect your QuickBooks® software is synced to American Express and your transactions are downloaded directly into QuickBooks®. No file to download, save and upload to the company file. Both options are not difficult to do, however, Direct Connect may have fees attached due to other features like bill payments and bank transfers. The following is how-to for setting up each connection.
WEB CONNECT
Set up a bank feed for your American Express Account:
In QuickBooks® software, there are two places to open setup bank feeds:

Banking Menu > Bank Feeds >Set Up Bank Feed for an Account.
Within the opened American Express Credit Card Account (see picture below).
Click on the Setup Bank Feeds within the opened American Express Account.
There will be a pop up where you will enter the American Express online account's user name and password that you have previously created.
Using Web Connect, downloading transactions is a two-step process.
Step 1 – Export Transactions – Through the bank feed, your transactions are exported into a (.QBO file) which should be saved to the appropriate place you choose on your computer.
Two Export options:
Export this file either directly from the American Express online account, once you have logged in.
Export this file from within QuickBooks, once you have set up your bank feed for this account. Go to the Bank Feed Center, choose American Express, select Download Transactions, here you will need to log in with your user name and password.
Different banks/credit card companies allow for a different number of transactions to be downloaded at a time with a few that allow for a date range to be entered. Usually, this would be 30, 60 or 90 days maximum worth of transactions.
Step 2 – Import Transactions – the (.QBO file) into QuickBooks® software.
Within QuickBooks®, under Banking Menu, go to Bank Feeds and scroll right and click Import WebConnect File.
QuickBooks will ask you to choose the downloaded (.QBO file) that you saved to your computer.
Open file.
Choose the Credit Card Account (American Express) where the transactions will be imported to.
A pop up will state that QuickBooks® has successfully imported the transactions.
Ready to go to Bank Feeds Center to manage your transactions.
DIRECT CONNECT
Make sure you have completed the steps above under STEPS TO COMPLETE BEFORE DOWNLOADING TRANSACTIONS FROM AMERICAN EXPRESS. Also, contact American Express to see about turning on Direct Connect for your American Express account. (Fees may apply.)
Go to the Banking menu in QuickBooks®.
Scroll down to Bank Feed and to the right Bank Feed Center to download the latest transactions into QuickBooks®.
In the Bank Feed Center, under the Accounts list choose the American Express Account – this is the account you want the transactions to sync to within QuickBooks® software.
Choose Download Transactions (This link may read Transaction List instead, if, you have previously done a download and did not process all the transactions in the list).
Choose Synchronize and then Sync this account.
Click on the icon that appears in the bottom part of the online banking window labeled American Express Quick Statement. A Classic Mode Account Register will open and you can create one or more alias for a generic account to be viewed in this mode. Or, if you chose the Express Mode account under preferences then a Transaction List will open. Here you can add rules that can be viewed in this mode.
Just assign the account, a customer name and/or class (if applicable), click ok and your reports will now have the detail you need. If you have purchased from the vendor, previously, QuickBooks will auto-fill these details in for you. Just review and click ok. With this connection, there is no download file to export and then to import. This is a quicker process.
ENTERING CREDIT CARD TRANSACTIONS IN QUICKBOOKS® SOFTWARE
Working to match transactions
When importing or syncing transactions the Bank Feed groups the transactions as Matched, Renamed (due to a rule or alias) or unmatched. QuickBooks® will try to match the transactions to an identical transaction already set up in the American Express Account register.
If there is a match, QuickBooks will automatically save the transaction.
If there is not an exact match, QuickBooks® will try to use your aliases or rules to match the transactions. Incorrect matches here can be adjusted to make a complete match by adjusting the rule or creating a new rule.
No matches then, enter into QuickBooks® manually. You can create a new rule, so that next time you download the same type of transaction, QuickBooks® can use the rule to make a match.
After the transactions are in the register
Make sure you don't skip this step. You want to mark each transaction with an account, memo, and class for more descriptive information.
Open each transaction, one at a time.
Enter an account and memo and class (if you use class)
Save and close and go to the next transaction.
Then click on done. Click through any message that appears if the remaining transactions in this window have already been accounted for.
Delete Transactions
There are still transactions that you don't want to enter.
Express Mode – lower left margin there is a button, Select items to delete.
Classic Mode – when you leave the transaction screen and return to the online banking screen- in the lower right margin of that window delete remaining transactions.
TIPS ON MANAGING CREDIT CARD TRANSACTIONS
Initial Set-Up: You will want to enter only those transactions that are unpaid. This is assuming the transaction has already been accounted for in QuickBooks®.
For assistance with this step, we offer QuickBooks® support through via telephone, e-mail or remote access.
For Small Businesses – In many small businesses, credit card charges do not have packing lists, receipts, purchase orders or other documentation for the bookkeeper to refer to for reference in categorizing the expense. By downloading new credit card transactions into QuickBooks® every few days, your memory will be fresh and your books and records will become more accurate.
Using Aliases IN CLASSIC MODE: An alias is a generic name such as Meals to help categorize all restaurants or Gas to categorize the many different gas stations that your company may purchase from. However, it is a good idea to put the vendor name in the memo field of each transaction. Your reports will be more meaningful and your list names will remain manageable. For payments to payees that you use regularly, go ahead and keep the name in the "purchased from" field.
RECONCILING YOUR CREDIT CARD ACCOUNT (RECOMMENDED EVERY MONTH)
Reconcile this credit card account before making a payment. Works just like the bank reconciliation.
To Reconcile Credit Card Account:
Go to Banking Menu
Select Reconcile
Select appropriate credit card account (American Express)
Enter the ending balance from the credit card statement
Mark all transactions that have cleared
If the difference is zero, click reconcile now.
At this point, QuickBooks® will generate a payment for you.
Two more steps to complete before you are done:
If you are making a partial payment
Create a bill
Enter a bill for a payment to be made later, if you are not paying the balance in full. The reconciled balance is then transferred to accounts payable.
Change the payment transaction to reflect a partial payment
Go to the Account Payable Summary
Drill down on the credit card vendor
Find the transaction that was just created and change to the amount you intend to pay.
This will set the numbers straight for next month's credit card reconciliation.
While the set-up looks complicated. The time invested will be repaid very quickly.  The accounting for credit card transactions each month will be significantly reduced and your internal financial reports will become more informative.  If you use credit cards to charge your business expenses, this is one QuickBooks® software feature that you should not live without. Contact us if you would like assistance.