When QuickBooks Desktop users encounter data damage error, it could mean that QuickBooks Desktop was unable to read the data in the company file. These errors can appear because of internal errors within QuickBooks, or due to external factors such as an incorrect path for the file location. Regardless, these errors can adversely impact business operations because QuickBooks will not be able to process the information provided by the users. Let us understand what the various types of data damages in QuickBooks Desktop are, and how to fix them.
What Are the Causes for Data Damages in QuickBooks Desktop Company Files?
There could be various reasons why data can be damaged while working with QuickBooks Desktop. Here are some of the reasons for data damages.
There is a high probability of corruption if the system on which the company file is stored stops abruptly.
Company files can get corrupted if there is insufficient storage space, and data is not entered correctly.
Third-party applications may have interfered with processes leading to data corruption.
The application might have been attacked by some malware designed to corrupt files.
What Are the Different Types of Data Damage Errors in QuickBooks Desktop?
There are broadly four categories of data damages in QuickBooks Desktop. These are as follows.
Structural Data DamageQuickBooks Desktop uses a database in which data is stored in tables. When there are issues with the contents of the table or their headers, QuickBooks Desktop will throw errors such as Error -6000, -301 or Error -6150, -1006. These indicate that there could be structural damage to QuickBooks data.
List Data DamageQuickBooks Desktop records information on certain attributes as list items. These could be customers, employees, vendors, charts of accountants, inventories, and services, among others. List Data damage occurs in QuickBooks Desktop if the sequence is wrong, there are incorrect or duplicate entries for unique attributes or some other issue.
Transaction Data DamageIn some cases, users might notice an incorrect open balance or mismatches between item history and their sales orders. These errors occur due to transaction data damage.
Link Data DamageThese errors occur when there are broken links between transactions. These damaged links could result in discrepancies in reports. These are relatively difficult to diagnose as transactions have to be opened manually to rectify them.
How to Rectify Data Damages in QuickBooks Desktop?
The steps to diagnose and rectify these errors often depend on the type of data damage. Here are some of the most commonly used techniques to rectify data damages in QuickBooks Desktop.
Using the Rebuild Data ToolThe Rebuild Data Tool is a built-in feature available in QuickBooks Desktop that can be used to fix minor issues with company files automatically. You will find it in the File menu under utilities. The tool scans for issues when you click on Verify Data. If QuickBooks detects data damage, click on Rebuild Now to resolve the issue.
Using QuickBooks File DoctorSometimes, the issue persists even after rebuilding the QuickBooks company file. Or, the rebuilding process itself takes an unexpectedly long time. This might indicate that the data damage could be more deep-rooted, or there are other factors such as network issues. QuickBooks File Doctor and other features in the QuickBooks Tool Hub can run deeper scans to identify and rectify data damages and other issues.
Applying Manual FixesNeither of these tools might be able to certain errors that appear because of data damage particularly the ones involving link data damage. You can try to fix these manually with the help available on the Verify Results screen.
If none of these methods work, the last option is to contact QuickBooks support for recovery assistance.
Apps4Rent Can Host QuickBooks Desktop on the Cloud
Most types of data damages in QuickBooks Desktop can be pre-empted by following the best practices of using the application. Among these, hosting QuickBooks Desktop with an Intuit Authorized Hosting Provider such as Apps4Rent is of distinct importance. Not only is your data better protected against threats, but you can also access the solution of scalable virtual desktops that can be accessed from anywhere. We create backups regularly so that you can recover from data damages faster. Contact our QuickBooks hosting team available 24/7 via phone, chat, and email for assistance.
How to Identify and Repair QuickBooks File Corruption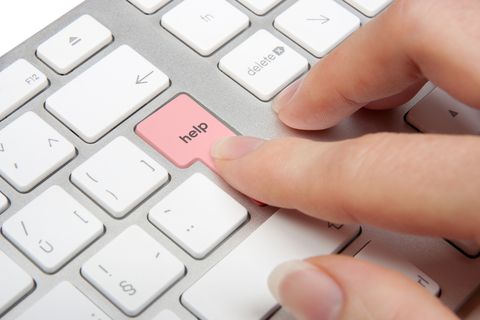 When it comes to managing the financials of a small to medium sized company, most business owners begin with a do-it-myself mentality by handling their own books. Software programs such as Intuit's QuickBooks® can make this a relatively easy process for the non-accounting professional, but every once in a while a glitch can leave you guessing. One problem that can cause great frustration is a damaged or corrupt QuickBooks File, so we asked one of our in-house QuickBooks ProAdvisors to map out the steps for identifying and repairing a damaged QuickBooks file.
The QuickBooks Data File is really just a big database. It does not contain any programs or moving parts (this is all in the QuickBooks Software). To be read correctly by the software, the data has to be ordered and sequenced correctly in the file. When a data file is small (under 200 MB) it is easy for the software to keep the data in the correct order and add new data in the correct place so it knows where to find it for future use (e.g. reporting). When the data file grows larger than this, the software struggles to keep all of the data in order. This can result in incorrect reports, and one obvious place to start is by looking at the Balance Sheet. If the total Assets do not equal total Liabilities and Equity, then you know you have a problem. Corruption can also be found by comparing the balances in like accounts on different reports. Net Income, Accounts Receivable, Accounts Payable and other balance sheet balances can be compared to other reports in QuickBooks. If these amounts do not tie, then the QuickBooks File could be corrupted.
A corrupt file can cause additional problems for you if it's connected to any outside reporting programs. If those programs use automatic sync managers to connect to QuickBooks, you'll likely encounter incorrect reporting in those programs or even a failure in the sync process itself. The good news is that you can fix data corruption by using tools provided within the QuickBooks Software program, however, be advised that fixing the corruption without reducing the size of your data file means this problem will return.
How to Fix Data Corruption in QuickBooks
Make a separate back up or file copy of your data file before verifying or rebuilding to protect you against permanent loss of your data.
Run the QuickBooks 'Verify Data' function. This will confirm the corruption in QuickBooks and recommend a 'Rebuild Data.' (Note: the file should be in single-user mode when running the Verify Data process.)
Run the QuickBooks 'Rebuild Data' function. This process essentially pulls all of the data in the file apart and reassembles it in the correct order.
How To Identify Data Corruption
Once you complete the previous 'Verify Data' and 'Rebuild Data' steps, you need to review the logs that QuickBooks created for the data verification you just performed. These logs will indicate any items or transactions that are causing problems. With this information, you can go back and delete or delete & replace the corrupted items. Continue down the log and address each item until the file verifies. (see also Intuit support at http://support.quickbooks.intuit.com/support/articles/HOW12158 )
How to Stop Data Corruption From Happening Again
According to Intuit standards, if your file size exceeds 200MB for QuickBooks Pro or Premier or 450MB for QuickBooks Enterprise, you should reduce the size of your file. You have a couple of options:
Use the "File Condense" functionality to reduce your file size.
a) Create Journal Entries that summarize the monthly activity before a client selected dividing date. This method will usually require some clean up of the Balance Sheet afterwards.
b) Remove all transaction before a certain date. While more effective than the previous, this method takes longer to perform because it requires entry of Opening Balance and Outstanding AP, AR and Banking once complete.
2. Start a new QuickBooks file with Opening Balances. This will provide the most significant reduction in file size, but understandably, it also requires the most time to complete.
While these steps may resolve your current file corruption issue, if the problem runs deeper (QuickBooks was not set up correctly or proper processes and procedures are not in place), then you will continue to experience what we refer to as "garbage in, garbage out" syndrome. Timely and accurate financial information goes a long way towards helping your business grow, and outsourcing your QuickBooks system design and setup as well as your bookkeeping functions can give you peace of mind as well as free up your time for more valuable and strategic tasks.
[Fixed]: 'This is a Corrupted or Damaged QuickBooks Database' Error
Summary: Facing QuickBooks company file error 'This Is A Corrupted Or Damaged QuickBooks Database' can be scary because all financial data stored therein is too important to be lost. Fixing such errors through conventional solutions is not possible, what you need is advanced troubleshooting methods and the help of third party QuickBooks file repair software.
Intuit QuickBooks work as lifeline for small and medium-sized businesses. It can handle over all their financial information such as expenses, income, task or creating invoices, bills as well as balance sheets to it and you can relax while the software work for you.
But what we are going to discuss in this post is completely a different kind of threat that QuickBooks data is exposed to. Because this threat comes in the form of error and it can easily damage or corrupt the company file making all the data stored within it temporarily or permanently inaccessible.
And the QuickBooks error and its solutions that we are going to discuss in this post is – "This is a corrupted or damaged QuickBooks database".
Additional Reading: How To Fix "Unable To Connect To Quickbooks Or A Quickbooks Company File" Error
Overview of "This is a corrupted or damaged QuickBooks database" error
Intuit QuickBooks is mostly used in multi-user and networked environment and hence it may throw several errors frequently. In order to add the lack of flexibility in its conventional database format, QBW file hence makes it difficult task to recognize the file corruption. In most of the cases, the files are damaged or corrupted much before they are recognized by QuickBooks.
In such cases you may encounter the below error message while you try to open/access a QuickBooks database:
"This is a corrupted or damaged QuickBooks database"
Now let's discuss about the solutions!
Additional Reading: 10 QuickBooks Issues and How to Fix Them on Windows/Mac
Solutions To Fix QuickBooks Error "This is a Corrupted or Damaged QuickBooks Database"
The above error message can sometime occur due to network or drive issue and not due to corruption with file itself. To make sure you must run the Verify Data Utility, which is a built-in tool available in "File" menu. Also make sure that you first click on 'Close Company/Logoff'.
If your QuickBooks is corrupted, then it will display "Data has lost integrity' error message. If you get this error message, follow the below mentioned steps to repair the file.
In order to repair the file, you have to run Rebuild utility. But before you use this utility, you have to keep these two things in mind:
If the file is located on the network drive, then you must first copy it to local drive.
Make sure that no files (Customer Names, Account, etc) are hidden.
You can now run Rebuild utility. It is also a built-in utility available in "File" menu. The utility will ask you to backup the affected files (so keep the backup of affected file in different location).
After running the Rebuild, you have to re-run the Verify Data Utility. But, it should be performed before renaming the QuickBooks log (QBWIN.LOG) file. This file can be found in the installation folder of QuickBooks.
Additional Reading: Top Solutions To Fix QuickBooks Rebuild Not Responding Error
Recommended Solution: Help From Third-Party QuickBooks File Repair
One of the most popular, trustworthy and reliable third-party software is QuickBooks File Repair Tool. It scans the detect the problems within the company files (QBW) and repairs them with ease and thereby allow you to recover and access critical information such as customer details, company, vendors, employees and much more. It is powerful and safe and it work as a one-hit solution to all .qbw file corruption and damaged problems.
This data recovery tool for QuickBooks software offer risk-free recovery of sensitive financial information such as payroll transactions, job details, paychecks, etc from QBW files and hence allow you to resume your activities without any hassle.
The software has simple 3-steps process that includes Select, Scan, Repair, the software is capable of fixing severe corruptions with QBW files and hence brings up the QuickBooks in running state in no time.
You Might Also Be Interested In:
Steps To Repair and Recover Corrupted/Damaged QuickBooks File
Step 1: Download and install QuickBooks File Repair Tool and click on "Select File" button if you know the location of QuickBooks files or select "Search Files" if you don't know the location of files.
Step 2: Click the 'Scan File' button for scanning the selected file.
Step 3: After then, click on the "Company" button to see the preview of scanned company information.
Step 4: By clicking on 'Customer' button, you can see the customer related information.
Step 5: Click on "Vendors" button to see the information of vendors.
Step 6: If you want to see the information of employees click on "Employees" button.
Step 7: Click on the "Repair" button, a "Save As" dialog box will appear select version, path and then click on the 'Start' button.
Step 8: If repair process is successfully completed then a message will appear as "repair process completed successfully". Now click 'OK' and close the box.
Conclusion
When errors faced with QB software, then users waste lots of time in fixing the error through manual solutions. But, if you do not want to waste time, then you must try QuickBooks File Repair tool as this product has proven to be the best solutions to fix QuickBooks company file errors.
How to Rebuild QuickBooks Data File to Fix the Corruption?
Summary: The blog defines the reasons that lead to QuickBooks corruption and data damage as well as describes the procedure to Rebuild QuickBooks data file using built-in Rebuild Data utility. It also suggests an alternate QuickBooks recovery solution for recover QBW file in case of higher damage.
QuickBooks, accounting software built for medium and small sized business sectors is error free and user-centric application. Two most popular built-in utilities being offered by the application are Verify Data and Rebuild Data. The former identifies most commonly occurred data issues while the latter resolves data integrity issues found by Verify Data utility.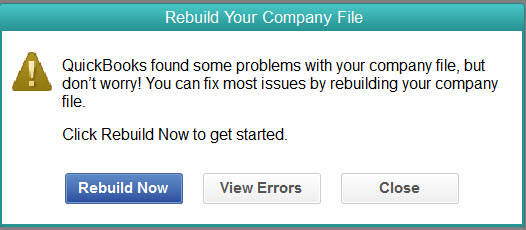 The most common reasons for using the Verify and Rebuild utilities are when severe errors appear while you use QuickBooks desktop and any discrepancies found on reports such as the bills or invoices being a post with negative values. Other reasons that call upon the need to rebuild QuickBooks data file are:
Deposited payments are displayed in the Payments to Deposit section
When balance sheet reports do not display all accounts
When data checkups are run to ensure that the file is error free
Transactions are missing or displayed inaccurately in the window
When names found missing from the lists
Procedure to Rebuild QuickBooks Data File Documents
The process to rebuild QuickBooks data file is quite simple and straight forward.
Open QuickBooks and then click on File.
Click on Utilities and then select Rebuild Data.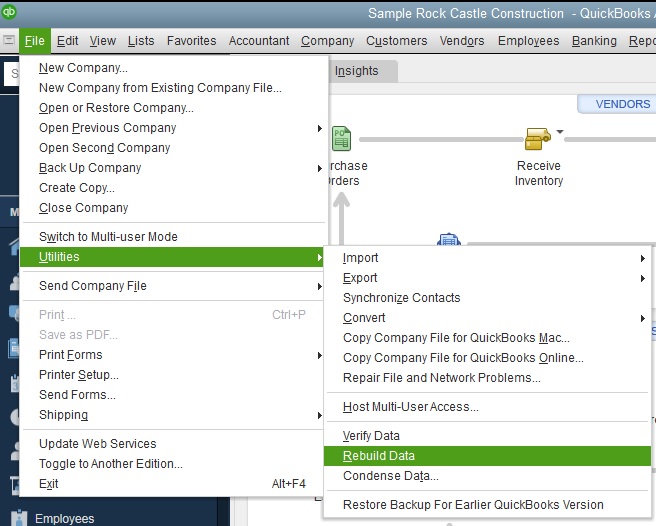 If the application displays a warning message for backing up the file, click on OK.
The application will then display Rebuild has completed, click OK.
Then run Verify Data to check for the remaining data damage.
Important!
If the application displays 'QuickBooks is not responding' message, move the mouse indicator and wait for the data rebuild process to complete.
If the verify operation fails to accomplish successfully, attempt to repeat the process till the application verifies the file for persisting messages.
Even though there are several procedures available to rebuild QuickBooks data file.
Manual Ways to reduce QuickBooks File Corruption
You can reduce the corruption risk by implementing some manual techniques.
Specify File Volume to Reduce Corruption Risk
The overall size of QuickBooks file largely contributes to corruption, but it is not always necessary that only large files turn corrupt. It can be said that larger the volume of the file, greater the risk of corruption. Thus, it is recommended to constantly monitor the size of the file and keep it under control.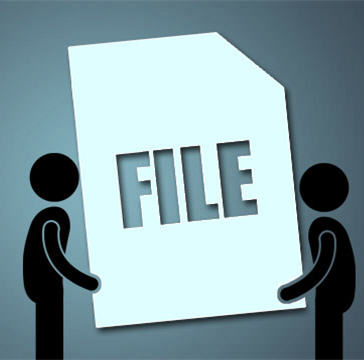 Monitor and Reduce Database Fragments
The number of database fragments can be monitored in the Product Information window. If the database has 10 or more database fragments, you can follow the given procedure to reduce the fragments.
Resort List: In the list menu, use Resort List option. Re-sorting the list through list headers will not put the same re-organization effect on the file.
Note: Some lists may not show Resort List selection
Rebuild File: After re-sorting the company file, you can use QuickBooks data file rebuild utility by following the procedure mentioned in the initial section of the blog. Rebuild Quickbooks Data file data utility can also be used to repair the risks of corruption.
Create Portable Company File: One of the most preferred ways to reduce database fragments is creating a portable Company file and then restore the Portable Company file to re-index the database.
Run Windows Defragmentation Utility: The fragmentation level of the hard drive can affect the fragmentation level of the accounting application database; therefore, you can now run Windows defragmentation utility on the hard drive where the application file is stored.
General Network Issues & Maintenance
In a multi-user environment, incorrectly configured routers can affect the QuickBooks performance thus increasing the risk of corruption. If the network interruption is caused due to incorrect configuration of the Server or malfunctioning of the hardware components, the QuickBooks data file may turn corrupt.
Corruption in QuickBooks data files may occur if there is anyone or combination of issues persists within the network:
Any connection issues exist with routers
Any Operating System issues
Hardware or network driver issues persist on workstation network adapters
Corruption due to Transaction(s):
If the corruption in QuickBooks data file is associated with one or more transactions, you can attempt to repair the issue by first deleting and then re-entering the transactions. To find the particular transaction that is creating an issue, it is recommended to search the document number in the report and then delete and re-enter the transaction.
Corruption in the QuickBooks database file can cause discrepancies in the Balance Sheet. If any imbalances are found in the file even after executing above workaround methods, you can try alternate recovery techniques.
Points to Consider:
If QBW rebuild utility fails to recover the database from errors and damage, it is recommended to look for another recovery solution.
If you fail to find the error persisting in the QuickBooks file, the best way to resolve the issue is to restore it from backup.
Make sure that the existing Company file is not overwritten. Any additional information is entered since the last backup must be entered manually after the restore function is done successfully.
What to do when Manual QuickBooks Rebuild Fails
Stellar Repair for QuickBooks Software helps to recover all types of corruption in the application and retrieve crucial business information related to employees, vendors, services, customers, etc. To check the amazing features of this QBW file repair software, click on the Download button:

Several benefits are offered by the QuickBooks file repair application. which are as follows:
This QuickBooks repair software helps to recover all the components of the QuickBooks database file including paychecks and payroll transactions.
The major benefit is that it acts as a comprehensive .QBW recovery solution and supports the recovery of multiple currencies.
All the recoverable components can be previewed with the help of the software before actually performing the recovery procedure.
Complete Recovery is done including Items and Services, job information of customers, job information of vendors, charts of accounts, transaction information of customers, and much more.
Selection of QuickBooks file can be done from any user defined location for performing the recovery operation. If the location of the QuickBooks data file is unknown, the tool allows searching and locating it right from the tool panel.
Whenever a repair is performed, the tool saves the log report corresponding to each and every task is executed for repairing a particular file. This information can be used for future reference.
It supports QuickBooks 2020 and all lower versions.
The software is compatible with Windows 10, 8, 7, Vista, XP, Server 2003 & 2000.
Hence, above discussed manual and alternative methods to rebuild QuickBooks Data File can be savior for you to fix the severe corruption in your QBW file. Don't wait to try and let us know the feedback!
Step-by-Step Guide to Repair Damaged QuickBooks Data
The data collected in the QuickBooks company file is precious as it stores all the information a business needs to improve its productiveness. Losing QuickBooks data can be a terrible disaster if there is no backup present. No matter how the data got damaged, you are always capable of repairing the data using QuickBooks database repair tools. Following the article, you will learn how you can repair the corrupted QuickBooks data using QuickBooks data repair tools, for detailed instructions follow the complete article until the end.
Need Help Repairing QuickBooks Data! Call Number (844)-888-4666 for Expert's Help
What Cause Data Damage in QuickBooks Company File
In the course of time, QuickBooks company file grows in size as we regularly feed data into the file. Errors arise when the data is not entered correctly, or for some reasons, the file got damaged. Following are some of the primary reasons that cause data damage in QuickBooks:
1. Windows Power failure causes QuickBooks to close unexpectedly, causing damage to the company file.
2. Improper entry in the list data is one of the reasons that corrupt the company file.
3. Damaged accounts, items, and names in the company file also cause data corruption.
4. A computer infection also sometimes damages the company file.
---
IMPORTANT: Before repairing the data damage in the company file, make sure to take a backup of your company file as if for any reason the file got severely damaged you can restore it from the backup.
---
Steps to Repair Damaged QuickBooks Company File
Step 1: Run QuickBooks Verify / Rebuild Data Utility
For complete info on utilizing QuickBooks verify and rebuild data utility, you can follow our article QuickBooks Verify and Rebuild Data Utility Explained.
Step 2: Verify the Errors using QuickBooks QBWin.log File
1. Go to the QuickBooks installation directory and locate the QBWin.log file.
2. Make sure Windows is displaying Hidden Files.
3. Open the file and press Ctrl + F.
4. Type LVL_ERROR in the search box and click Find.
5. Look for the error description in the LVL_ERROR line in the text file.
6. Search for the solution to the specific error online.
Step 3: Run QuickBooks File Doctor
For detailed instructions on using QuickBooks File Doctor follow our article How to Fix Damaged Company file or Network using QuickBooks File Doctor?
Step 4: Merge Damaged Items and Accounts
1. Open QuickBooks and from the List tab select Chart of Accounts.
2. Press and hold the Ctrl key on your keyboard and choose the account that is damaged.
3. Click Edit Account and then type an asterisk symbol in the name of the account.
4. Click Cancel and then press and hold the Ctrl key.
5. Click New Account and select the type of the account.
6. Type the name of the account that is damaged and then click OK.
7. Press and hold the Ctrl key again, select the damaged account and then click OK.
8. Now on the merge confirmation popup click Yes.
9. Follow step 1 to 8 but select Item from the Lists section this time to merge the damaged items in the data.
This is an effective method that you can use to repair the most common types of data damages in the QuickBooks company file. As there are numerous types of data damages that can occur in the QuickBooks data file, it might be possible that the above-mentioned method will not work for you. In case if you are still dealing with data damage errors in QuickBooks and need the help of a certified expert to get the issue resolved, then you can call our direct support number +1-888-300-3913.
How to Rebuild QuickBooks Data File to Fix the Corruption?
Learn how you can rebuild QuickBooks data file to fix the corruption in 6 easy steps:
QuickBooks accounting software does a lot of heavy lifting for small and mid-sized business owners. It performs many of the crucial tasks such as tracking transactions, creating invoices, preparing taxes and keeping important data safe. It's advanced and supported by experts that keep publishing new updates and upgrades to make it more user-friendly. But since it's a computer software, like any another software, error and glitches aren't rare. A wide range of issues that the QuickBooks users face are related to their company files. A corrupt file can cost you not only a great amount of time to gather up all the information again and creating a fresh one but also will postpone other projects which you were supposed to be completing in the time being.
If you too are facing a file corruption issue then read on this article as we are going to discuss all there is to know about how to rebuild QQB Data file to fix the corruption. Firstly, we will learn about the reasons as well as the effects of a QuickBooks Data File being corrupted and then we will complete it with the steps that are required in order to fix the corruption. So, let's get started. But before that if you have any doubt or if you are seeking for any technical assistance, then you can call us at our toll-free number i.e. 1-844-521-0490. Our \support team will be there to assist you immediately.
Read this Also: Steps to resolve #QuickBooks Error 61689
What is the Indication of a QuickBooks Data file being corrupted?
Corruption of data files is one of the most common issues that QuickBooks users face. This is because data files are the essence of the software and all the details of the transactions are stored in them. Whenever due to some software issue or third party activity there are unforeseen changes in the data file, there is a chance of it getting corrupted or damaged at the very least. So, following are some of the traits to realise if a QB Data file being corrupted:
When a deposited payment comes up in the section of Deposit section
In case a name is found missing from the list
If the transactions saved in the data file are either missing or are displayed inaccurately in the desktop window
Whenever data checkups are running to ensure that the files are error-free and an error pops up
In case they are some missing accounts from the balance sheet reports which were supposed to be there.
How to Rebuild QuickBooks Data File Documents?
There are a couple of methods that the user can opt for in order to repair the data damage in QuickBooks company file. We will be exploring each of the methods one by one. So, let us have a look:
Method 1: Repairing the company file using the Rebuild data tool
So, as now we know the indication which displays in case of a data file being corrupted, let us move on to understand the procedure with which we can Rebuild QuickBooks data file. Please ensure that all the steps which are mentioned below should be followed in the order they are mentioned as it will ensure that the corrupted data files will be fixed.
Step 1: Start with going to the desktop and open QuickBooks
Step 2: Once in QuickBooks Desktop, Click on the File option which is present on the Menu bar
Step 3: Now, click on the option of Utilities and proceed with clicking on the option of Rebuild Data
Step 4: In case, a pop-up appears with a warning message for backing up the file prior proceeding then simply click on the OK button present on the dialogue box
Step 5: Once the Rebuild of the data file will be completed, it will display the message on the screen, proceed by clicking on the OK button
Step 6: Lastly, Click on the File menu, hover the mouse over the Utility option and click on Run Verify Data to ensure that there is no remaining data damage on the system.
Read Also: How to Fix QuickBooks error code 100060?
Method 2: Manually fixing the company file by rebuilding the data
In case the user is comfortable in manually fixing the errors, the user can find the errors that can be fixed from the verify results window. The user needs to ensure to backup the company file. The steps involved in manually fixing the data errors are:
The very first step is to visit the file menu and then hover over the utilities tab and then select the verify data
Also, let the tool check the file for data issues
Now, from the verify results screen and then choose expand all to see the errors
The user is then required to select see online article.
Free Tools To Repair QuickBooks Company file
Though the manual method is expected to work and is considered to be one of the easiest methods, but it takes a lot of time to complete. Thus, it is recommended to use a free tool to repair a QuickBooks company file. Let us check out some important free tools to repair the QuickBooks company file.
See Also: Fix QuickBooks Online (QBO) Login Problems on Chrome
Conclusion!
So, that's all for this blog post. We hope that you find it informative and helpful in fixing a corrupt file by rebuilding QuickBooks data. In case you have any more questions, or the issue persists, you can contact our 24×7 QuickBooks enterprise support team.
You can call our QB experts at our toll-free number i.e. +1-888-300-3913. Our accounting professionals and certified ProAdvisors will be there to assist you instantly. So, feel free to call us anytime.