Square QuickBooks integration helps you easily manage finances associated with inventory and sales. As you integrate Square with QuickBooks, it syncs all the sales data and then you can view it in one place. This also helps you to avoid manual entry for a large amount of the sales data.
Here, in this detailed guide, we will show you the whole procedure of integrating Square with QuickBooks Online. Let's dig in.
Square QuickBooks Integration
Square is a well-known point of sale app. Using this app, you can accept payments easily. The payments can be received via credit or debit cards. Furthermore, Square is affordable and can also be used with different devices including iPad and iPhone.
In addition, you can get many features with Square QuickBooks Desktop integration such as creating the invoices for each sale, avoiding the manual entry of payment data and sales, sync data with QuickBooks, see and create reports from the Sales date and send invoices to clients and customers.
Advantages of Square Integration with QuickBooks Desktop
You can track your projects till the end.
Using Square QuickBooks integration, you can manage the clients by adding the notes, details, and information to a list.
It also helps you to securely share the documents by communicating and meeting the deadlines through QuickBooks.
Besides that, you can track the inventory every day through QuickBooks.
Features of Square QuickBooks Integration
You can import paid invoices from your Square account. It includes payments, deposits, and invoices into your QuickBooks account.
Using this Square and QuickBooks integration, you can enter the data in a way that your credit card payments can get batched together as a deposit. This becomes easy to reconcile as well.
The details of items are preserved that provide the item names, sales data include taxes, discounts, and tips.
You can import refunds.
With Square QuickBooks integration, you can import the data of more than 18 months of all transactions.
What Are the Limitations for Integrating Square with QuickBooks Online?
Square and QuickBooks are powerful if integrated with each other. However, there are some limitations every user should be aware of. Have a look.
Users cannot import buyer details such as the name and email address. When you view the data, you will see them as "Square Customer".
The summary of daily transactions will not be available. Currently, you will see the daily transactions one by one after the settlement. It means that if there is a large volume it may be difficult to see.
You need to review the transactions before importing them.
You cannot pay a QuickBooks invoice using the Square service.
If your business belongs to several locations then there can be finite functionality depending on how it is set up. In case your position operates all under the one QuickBooks account then Sync with Square is the best app for integrating Square with QuickBooks Online.
You can generate the deposit by fees that are accounted for when the Square pays to your bank account.
Square for QuickBooks Desktop is being invented but not available yet.
Square sales can be imported as payments and invoices in your QuickBooks account.
Considerate Necessary Items Before Installing the App
Before you proceed with Square QuickBooks integration, you need to check a number of items which are as follows:
Make sure you log in to the computer on which QuickBooks is installed already.
If you are going to install Commerce Sync then your QuickBooks Desktop should run Windows 7, 8, or 10. Remember that you cannot install Commerce Sync on a Mac PC.
Chrome and Firefox are the best internet browsers that we suggest you use.
The QuickBooks company files that you want to sync should be opened when you install the app.
It also requires you to sign in with Admin rights and use single-user mode in QuickBooks Online. This will help you with the installation to work properly.
We also suggest you reboot your computer (on which you are installing the app) before the installation.
How to Integrate Square with QuickBooks Online?
By connecting the Square merchant account with QuickBooks Online, you can easily download sales transactions that can be prepared through the Square account.
Here are the steps for integrating Square with QuickBooks Online.
Go to the "Left" menu bar.
Click on the "Apps".
Now, search for the "Square" using the "Search apps" fields.
Choose the "Sync with Square" app from the result.
Hit the "Get App Now" button.
Follow the on-screen instructions to finish the process.
Make sure that you allow Intuit to enter the Square account. When you connect the account for the very first time, your QuickBooks Online shows the transactions on the last day. This will provide the day's worth of transactions to drive the import.
In case you don't proceed with anything for 15 days then you will not see any transaction until you process it using the Square account. As an example, if you had processed a transaction yesterday and one day in the previous weeks then you will not be able to view the daily batches from yesterday. After that, you can view the everyday batch for import.
How to Sync Square with QuickBooks?
If you use Square service to process the payments then you can simply sync with the Square app in order to insert data to your QuickBooks Online. This way you don't need to make a separate transaction in your QuickBooks account for Square sale because they will be downloaded automatically.
If you want to sync Square with QuickBooks, you can follow these steps:
Part 1: Set up QuickBooks
The first step you will have to follow is to set up your QuickBooks account. Before you connect the Sync with the Square app, you need to connect your bank account, turn on Sales Tax Center, create a new account in QuickBooks, and import Square products and services.
Connect the Bank Account: If you have not connected your bank account then you should. The bank account is necessary to connect as your Square account will use it to deposit the money for the sales.
Launch "QuickBooks Online".
Go to the "Banking" menu.
Select the "Add Account" option.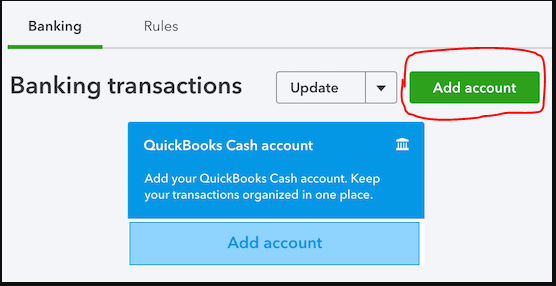 Now, follow the prompts given on your screen to add the account to process sales payments.
Turn On Sales Tax Center: Even if you don't collect sales tax, it is still important to enable Sales Tax Center service. However, it is not required to set up a sales tax rate as QuickBooks manages to do it when it downloads a new transaction.
Go to the "Taxes" menu.
Click on the "Sales Tax" tab.
Select the "Set up Sales Tax" option.
Now, follow the instructions given on your screen.
While setting up the sales tax, make sure that you add the same sales tax agency that you were previously using for your Square transactions.
Set Up New Accounts in QuickBooks: In case you are not having an account in your QuickBooks account then you should add some. These accounts can be used to track your expenses, class sales, and fees.
Import the Square Products and Services: This is optional to import the Square products and services, however, if you want to so then you can import them.
If you are willing to import Square products and services then you can do the following:
Open your "Square" account and export the products and services in the CSV file format.
Now, return to the "QuickBooks account".
Click on the "Products and Services" menu.
Then, import the list.
Note: In case you don't import the current items of Square products and services then you will see them as the default name, i.e., Square Item. You need to manually change them.
Part 2: Get the App
Sign in to your QuickBooks Online account.
Now, click on the "Sync with Square" page in "QuickBooks Online App Store".
Hit the "Get App Now". This will start your connection.
Then, select the company (that you wish to connect) using the drop-down menu.
After this, sign in to the "Square" account with the correct login details. Make sure you use the same credential that you use while visiting www.squareup.com.
Switch to the "Primary Settings" window and select the "Bank and Expense" accounts for fees and charges. It should be the same as you use for processing payments in your Square account.
After this, select the default payment method.
Once done, click the "Save Changes" button.
Follow the on-screen prompts and edit the settings if required.
When done, click the "Connect" button.
While settings up the account, you can decide if you wish to receive the daily emails for summarizing the imported Square transactions.
Part 3: Get Transactions
As stated earlier, QuickBooks downloads the Square transactions once you connect the app. QuickBooks downloads the new transactions automatically at the end of the day (once a day).
Also, you don't have to create the new Square transactions manually in your QuickBooks account. When you successfully integrate Square with QuickBooks, you will see everything in your Square downloaded for the users.
Yet you wish to check the duplicate the transactions in your QuickBooks account then go through the following information:
Make sure you don't use too many tools and apps in order to download the transactions from your Square account. You can use Syncing only with your Square app.
Don't import the transactions with different tools for the date that you have imported previously.
Also, don't download the transactions for the overlapping dates.
Part 4: Manage the Settings After Connecting the App
Sign in to the "QuickBooks Online company".
Then, click on "My Apps".
Click the "Settings" under "Sync with Square".
Click the "Edit" menu located near the "Basic Settings" so that you can change the payment method or the default expense and bank account.
Now, go to the "Edit" button near Default for Unmatched Items". Then, update the sales tax code and income account.
Hit the "Save changes" button.
Once you save the changes, all the future transactions will follow the new settings you have made. Remember that the older transactions will not be using these new settings.
Methods to Install Commerce Sync
In case you prefer to use Commerce Sync with QuickBooks Online then you can run this service from the Settings:
Here are the steps for that:
Log in to the "QuickBooks Online".
Then, click "My Apps".
Click on the "Settings" located under Sync with Square.
Hit the "Run" button located next to the manual report.
Now, choose the date range for the transactions that you wish to import manually.
Then, click the "Run" button.
To install the Commerce Sync, you can follow these steps:
Login to your "Square" account.
Go to the "Apps" option.
Now, locate the "Commerce Sync" app and select to get started or start the app.
Hit the "Allow" button to permit the app.
Now, connect the Commerce Sync to each location.
Then, download and install the Commerce Sync installer.
When done, open the app and click the "Run" button.
Now, sign in to your Square account.
Also, ensure that QuickBooks is open with your correct company file.
Click the "Yes" button to continue.
Select the "Done" button.
After this, you can enter your billing information and start with the service to process payments with Square and QuickBooks integration.
Compatible Devices with the Square Mag-Stripe and Chip Card Readers
As mentioned earlier, Square can be run on Android and iPhone devices. So, we want to list a few requirements for these two:
iOS Devices
Apple devices can also be used to run Square. But you have to make sure that the iPhone runs the latest iOS version. Currently, it supports iPhone 4S, 5, 5S, 6, 6 Plus, 6S, 6S Plus, 7, 7 Plus, 8, 8 Plus, SE, and X.
The devices after 6S and 6S Plus require Lightning to 3.5 mm Headphone Jack Adaptors which should be compatible.
Android Devices
Your Android device version should be Google Android 5.0 or higher.
It requires a 3.5 mm headset jack with microphones. Remember audio jack adaptors are not supported.
Enable the location services.
It should have access to Google Play Store.
Your Android device should support the USB OTG cable.
How to Disconnect the Sync with Square App?
There can be instances when you want to remove the Sync app from the Square app. Sync app can be removed from the QuickBooks Online and QuickBooks Online Accountant. Here is how to do that.
Remove Sync from QuickBooks Online
Click on the "Apps".
Then, select "My Apps" located on the left.
Now, click the "Actions" drop-down menu.
Select the "Disconnect" button.
Remove Sync from QuickBooks Online Accountant
Click on the "Apps".
Then, select "Firm Apps" located on the left.
Now, click the "Actions" drop-down menu.
Select the "Disconnect" button.
Note: In case you cannot find the Disconnect option in the menu options then go to Settings, and find the Disconnect option.
When you are done, click the Confirm Disconnect button. This will remove the app from the company file.
What If You Cannot Connect the App?
If you are not an admin, you probably won't be able to connect and maintain the app. Only Admin users of QBO can connect the app for their firm. However, for the Quickbooks Online Accountants firms, only the owners or firm owners can connect and manage the app for the customers.
How to Add Switch Admin?
Click on the "Apps" located on the left.
Now, search for the app you may be interested in.
Select the app and then click on the "Get the app now" button located next to the desired app.
Now, check the Authorizations page and hit the "Connect" button.
Check the message details.
Click the "Switch Admin" button.
Now, change the settings if required.
Make sure that your app is connected with the User ID.
In a Nutshell
With Square and QuickBooks integrations, you can generate invoices easily and process the payments automatically in Square. This will make your task easier than ever with transactions.
We hope you find this guide informative. Integrate Square now with QuickBooks Online and make your payments automatically.
You can now easily create invoices and process payments automatically in QuickBooks Online with Salesforce QuickBooks integration. Try it now!
Methods for Square QuickBooks Integration, Features, Advantages, & Reviews
The integration of QuickBooks and Square is for business or company owners who want to make their payments organized. This integration indicates the syncing of these two platforms to maintain transactions. Square and QB can be integrated via Sync with Square. Free of cost, this app lets you integrate the payment processing platform with QuickBooks Online. For QuickBooks Desktop, QBPOS, and QuickBooks Self-employed, apps like Commerce Sync can be utilized. As you integrate QB and your Square account, you get certain features and advantages.
To be more informed about Square QuickBooks Integration, the methods to do it, and other things associated with it, you can read more. We will also disclose the cost and reviews of this integration.
What is Square and QuickBooks Integration?
The integration of Intuit QuickBooks with the Square platform refers to their synchronization. This synchronization makes it easy for the users to move the transactions of Square into the accounting software. This integration is available for the users of various QB versions. So, integrating Square with QuickBooks Online, QuickBooks Desktop, QB Point of Sale, QB Self-employed, etc., is possible.
Features of Square's Integration with QuickBooks
Let us now look at the features available to the users when QuickBooks is integrated with Square. Below, we have described 6 best features of the same:
Complete Overview of Dashboard
When you integrate QuickBooks with Square, you get access to a dashboard. The dashboard shares with you a complete overview of your expenses, invoices, etc.
Reporting in Just a Click
Square and QB's integration has been largely useful for instant reports. To check whether your business is making profits or losses, you only need to make a click. In less time, the reports of your business' balance sheets will be available to you.
Sync All Your Data
In your Square account, you may be having the data of multiple transactions. Likewise, in the accounting software, all the details of your sales and financial records may be stored. By integrating the two platforms, you are able to sync all such data.
Checking and Auto-paying Bills
Checking your bills and spending is a significant feature of QB and the payment processing platform's integration. To auto-pay the recurring bills also, you can find this feature useful.
Maintain Expenses
As you integrate Square with the Intuit software, your credit card gets connected to your bank account. Resultantly, the information of your expenses and such things get downloaded.
Managing Business from Anywhere
Letting you manage your business or company on the go, you can make invoices via this integration. Along with this, capturing pictures of receipts is also possible. With the subscription to the Square QuickBooks integration app, you can check the activities of your company as and when you want to.
How to Integrate Square with QuickBooks Online?
Sync with Square can be used for integrating the QB software with your Square account. To find it, you can run the accounting software. A menu will appear on its left side. Click on Apps and then opt for Find Apps. Now, you will see a field that says Search Apps. Use this feature to look for Sync with Square. Press the button for Get App Now to download it.
More help for doing Square and QuickBooks Online integration can be obtained by reading these steps:
In "QuickBooks Online", view the menu towards the left.
To proceed, use "Apps".
Now, go to "Find Apps".
In Step 4, click on "Search Apps".
In this field, write "Square".
Next, tap on the option of "Sync with Square".
Press the tab for "Get App Now".
To continue, utilize the instructions that you can see.
When Intuit asks for permission to access your account on Square, provide it.
Note: When "Sync with Square" is used for the 1st time in QBO, the software will find the last day on which the transaction was processed by you. You can import it to check that the application is correctly working. Also, remember that when no transaction has been processed for a period of 15 days, the same may not appear.
After providing the permission to Intuit, a few minutes may be needed for completing the process. Later you can import your information and start using the features of Square integration with QuickBooks Online.
How does Square Integrate with QuickBooks Desktop?
Commerce Sync can be considered as a third-party application for integrating Square and QuickBooks Desktop. You will need a QBDT account for using this application.
You can download the Commerce Sync application from a reliable source online. Then you can pay the fees for using it. Some users can also prefer a trial of the application. However, in that case, certain services of the app may not be provided to the users. After the fees have been paid, you can start Square's integration with QuickBooks Desktop.
After the integration process is over, the eCommerce app, Commerce Sync will let you process your payments of Square. Also, the information stored by you in this payment processing app can be transferred to QuickBooks Desktop.
Note: At present, Square and QBDT's integration can be done via Commerce Sync. This can be the most reliable app for integrating them. However, you may look for third-party platforms or sites that may be providing services for the same.
Can Square Integrate with QuickBooks Self-employed and QuickBooks POS?
QuickBooks Point of Sale and QuickBooks Self-employed Square integration can be done via third-party applications. You can search for the same on the internet. Before finalizing any app, we will suggest that you check the following:
See to it that the application supports the versions of QuickBooks and Square you have.
Check the reviews of the integration application to confirm its reliability.
Ensure that the application is not very complex to use.
Go through the charges of the app to check that they do not exceed your budget.
After checking all of the above, you can download, install, and use the integration app. This is how QBPOS or QBSE will get integrated with Square.
What are the Benefits of Square QuickBooks Integration?
The benefits of Square and QuickBooks integration have been mentioned as follows:
It is possible that certain business owners may be having their ventures in different locations. The data of each of these locations can be easily added to the QB software.
Manually entering your data will not be required. By using integration, data relating to sales and taxes can be moved to the accounting software.
You can regularly record the details of the sales. These details can be recorded either for a summary of the transactions or for a single transaction.
You can automatically make the sales receipts. Integrating QB and Square will help in recording the details of the sales transactions and the included items. Thus, the receipt will be made on its own.
You can import the invoices of Square into QuickBooks and its versions.
Reconciliation processes can be easily carried out. The integration will assist you in matching the statements of your bank account.
Square QuickBooks Integration and its Limitations
Square and QuickBooks integration can be done. However, certain limitations may be observed. You can find them mentioned as follows:
Prior to importing the transactions, you may not be able to analyze them.
Information of your buyer may not be imported as a result of the integration. This information can include the buyer's email address, name, etc.
The sales of the payment platform may appear in the form of payments and invoices in the accounting software.
The summary of your everyday transactions may not appear.
The invoices of QB cannot be paid via the Square platform.
What is the Square QuickBooks Integration's Cost?
While you are integrating QuickBooks with a Square account, no cost may be involved when Sync with Square is being used. This app is devoid of any charges. However, it requires you to have a QuickBooks as well as a Square account. Other than this application, when a third-party platform or app is used, certain charges may be applicable. Every third-party app can comprise a different charge. So, you will have to go through the details of the app or platform to know the exact cost or pricing structure.
Square QuickBooks Integration Reviews
Integrating QB and Square is easy when you use a good application to do it. Based on the reviews of their integration, the users are provided with a simple interface and a dashboard. They help the users to easily navigate and access the features. The features available are extremely useful for businessmen and other users. They can sync their data, access quick reports, remotely manage certain business activities, etc.
As you integrate QuickBooks with Square, certain advantages and disadvantages can also be experienced. Despite the disadvantages, several users have shared positive reviews of this integration.
Our Thoughts in Ending
We aimed at delivering every kind of information needed to understand the QuickBooks and Square platform's integration. From its cost and reviews to its benefits and the methods involved, we covered as much as possible. This information will help you do the integration without any inconvenience. For any queries or doubts, you can write to us through our comment section.
Sync Your Square Deposits in QuickBooks Online
Small businesses are using diverse payment methods to better serve their customers. One of the most popular applications for sales transactions is Square. Businesses who have already harnessed the power of QuickBooks Online are able to seamlessly integrate with Square. This is done through the free "Sync with Square" application found within the QuickBooks Online app store. Making deposits and storing all of your Square financial data could not be any easier. Let's go over a few of the basics of Sync with Square and its capabilities with QuickBooks Online.
Sync with Square Capabilities
Through the free application, your business can be efficiently run and tracked from one place.
Transactions from Square appear within QuickBooks at the end of each day. No more manual data entry and the sales, fees, taxes, tips and discounts will automatically import into QuickBooks. The import begins from the day you connect your account, but you are able to import up to 18 months of previous Square transactions data.
Your books will automatically be reconciled. All deposits, payments, refunds and fees are matched against your bank statements for flawless bookkeeping.
All invoices are created automatically. For sales, the transaction along with product details (i.e. category) are captured for your reference.
See all of your fees in one place and track trends easily. In QuickBooks Online, you'll be able to create custom reports that show all payment processing fees from Square.
Sync with Square Limitations
While Square and QuickBooks are more powerful together, it is important to understand some of the limitations of the integration. Some of these constraints are:
Customer details such as name or email address can't be imported. When viewing the data, they are all seen as "Square Customer."
A summary of daily transactions is not available. Currently, daily transactions come through one-by-one after settlement, meaning that a high volume of individual sales might be difficult to view.
Reviewing transactions before they are imported.
Customers cannot pay a QuickBooks invoice using Square
For multi-location businesses, there may be limited functionality based on how they are set up. If your locations all operate under one QuickBooks account, then Sync with Square is a great application for you!
Square Sales are imported as invoices and payments into the books.
A deposit is created with fees accounted for when Square pays out to your bank account.
Square for QuickBooks Desktop is being developed but not yet available.
Why It Helps Your Business
If you connect your Square bank account with QuickBooks, you will be able to view the settlement or deposit. By syncing all of the data on sales, fees, refunds, tips and deposits, it will be available to see. The import process is safe and secure. It uses OAuth transfer protocol to import the Square data into your QuickBooks Online account.
How to Prepare for Sync with Square
If you haven't already, create a QuickBooks Online account and Square account. One of the most important steps to take is setting up sales tax in Square. QuickBooks recommends this even if you do not charge customers sales tax. Make sure the "Sales Tax Center" is turned on before starting the integration. The next part of preparation is ensuring the bank account used for Square settlements is also set up in QuickBooks. An optional, but encouraged, action is to import your Square products list into QuickBooks.
Getting Started with QuickBooks and Square
Locate and install the Square app through the QuickBooks app gallery. Follow the prompts to authenticate both of your accounts in the app.
After installation, begin importing your Square data. The daily syncing will automatically start the day when the app was installed. If you choose to download up to 18 months of previous data, you will need to allow 36 hours to complete the sync.
If you already have Square transactions in QuickBooks, we recommend not downloading previous data to avoid creating duplicates.
Next, configure your basic settings and defaults for unmatched items. Once these items have been completed, click connect to complete the configuration.
To update your settings, click the Apps tab > My Apps > Settings
The Square integration makes QuickBooks all the more powerful for your business. It's easier than ever to manage your finances and become more efficient.
Import Square Transactions into QuickBooks Desktop
It is mainly developed to assist small organizations in seamlessly performing credit card transactions. Due to this feature, customers can easily do a cashless payment. As we all know that more than 70 users across the world are mobile users and prefer making direct payments through their smartphones. This blog covers a compiled representation of how to import Square transactions into QuickBooks desktop.
This type of transaction is ideally acceptable for both personal and small businesses. This feature does not require any business registration to get its benefit. The Square acts as an ideal payment platform.
keep in Mind when you Import and Export Data: Backup QuickBooks Data:
How to Import Square Transactions into QuickBooks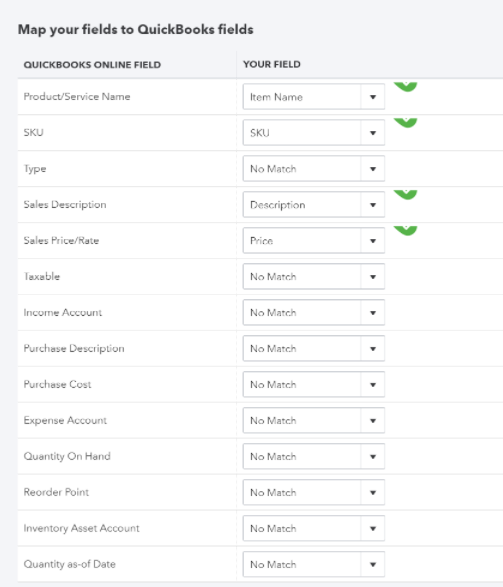 Step 1: Download Square Sales Data
Go to Square account
After that select the Sales option
Then, select the Transactions tab
Now, select the transaction you want to export
Select Export, then Transactions CSV.
Step 2: Import Transactions (Sales Data) in QuickBooks
Open QuickBooks program
Go to the File menu, and then select the Import option
After that, Select Transactions, and then select Sales Receipts
Now, select Import from the Square icon
Choose your file exported from Square
Select your bank account related to the Square account
Select the tax rate for transactions
Click on OK, and then Import
Major Role of Square When it is Sync with QuickBooks Software
Square is generally a one-way integration platform that imports major sales transactions through Square into QuickBooks. Users can implement the Sync via the Square app to embed the information into accounting software. The transactions get automatically downloaded /generated.
Benefits:
The product description offers, taxes, sales, etc. are automatically published in QuickBooks. It represents your accurate picture of daily, monthly, and annual sales.
After-sales, the product along with transactions gets captured automatically in the form of individuals invoice for a future reference
Entire payment processing fees linked with a square are synced in terms of a custom report.
It assists to manage up to date business transactions for error-free and refund payments.
Limitations that Need Before Square App Sync
Daily transactions summary is unavailable
Square doesn't permit QuickBooks invoice payments
You are unable to determine the transactions before importing
The invoices & payments imports in QuickBooks through Square sails
The import descriptions about clients through Square like names or email id is not permitted in QuickBooks.
List the Points that need to Monitor Before Square Installation in QuickBooks
You are required to Sign in as an Admin mode along with a single-user mode
It is recommended to reboot the system before any software installation
The compatible windows are 7,8,10
Ensure that QuickBooks software has been properly installed
The company files must be open during any process installation.
Installation of Sync Square in QuickBooks Desktop
Below is the list of steps that are used to download the commerce sync to handle business-related transactions, records, bills, etc.
Initially login through Square account
After this, you are required to click on the application tab in Square account and open the app
Proceed with clicking on each term and conditions display on the screen
You will soon connect complete information with commerce sync to a particular location.
To get connected choose a particular location
Download and execute the Commerce Sync installer
Now the icon of commerce sync app will display on the screen
Re-login with Square account credentials
The next step is to monitor the company file is accurately login or not after that hit on continue
When the QuickBooks file displays a popup box the next step to select entire terms and conditions and then proceed with continued option. If you unable to view the same screen then it is suggested to minimize other windows
Hit on the done appearing on the popup box
Locate setting you to need to select the time zone & commerce sync account
After that, you will send complete sales into one account and in-voice by category.
Fill the bill-based information to apply the 15 days trial
After 15 days there is a need of customer sync subscription
Now a window with a complete installation screen will appear and then discovers the dashboard
After the completion of sync locate the commerce sync dashboard and check the settings.
Hopefully, you have learned about How to import Square transactions into QuickBooks desktop.