QuickBooks is very reliable software for both medium and small sized businesses. It is available in various versions and caters to almost all the needs of such businesses. The software is quite easy to start and provides tech support for many issues. In this article, we will discuss how a user can navigate QuickBooks software in a faster way. QuickBooks navigation helps a user to identify where he/she can use QuickBooks.
Software like QuickBooks is quite easy to use. User can easily understand where he can create invoices and receipts. You get to know where the company information can be found and how you can work on company settings. As you know the location of everything in QuickBooks, you can be assured that you can now work efficiently and quickly.
9 Easy Steps to Learn How to Navigate QuickBooks in Right Manner
Here are the nine steps that can aid in your learning QuickBooks Navigation:
1. Dashboard
As you login to QuickBooks, you will land on to the Dashboard which is available on the top of Navigation Bar (on the left). This dashboard gives a complete and quick review of how your business is doing. The information provided here is quite useful to the users. To read the information about your business, you can click on the Dashboard.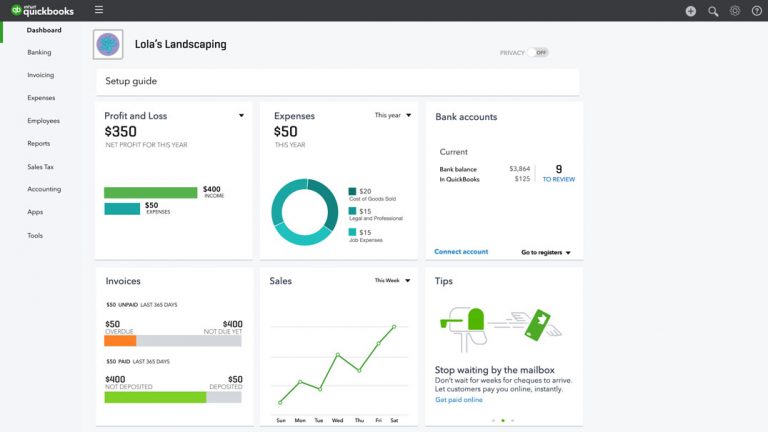 2. Profit & loss
QuickBooks displays most of the information on the dashboard which includes:
Amount spent
Sales Summary
When account is connected to QuickBooks, transaction can be downloaded.
Check bank balance everyday
Check overdue reports of clients
Easy to understand with profit and loss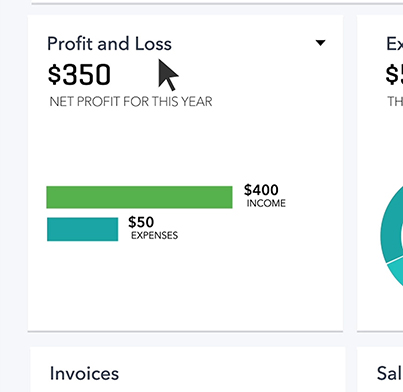 3. Creating First invoices
You can create your first invoices using the below steps:
Click on Invoices tab and hit the blue button for New Invoice
Put all the information of the client. Click on Save a Customer. All the saved customers will be displayed in the drop-down menu. While creating invoices, when you will choose one, the details will be auto filled.
Enter the details of the product, its amount and choose the tax percentage to be excluded or included.
You can choose the option invoices as per your convenience. These invoice options include a currency and total gross area net.
You also have an option to add special conditions like payment on delivery.
Now Save when you feel that it is ready.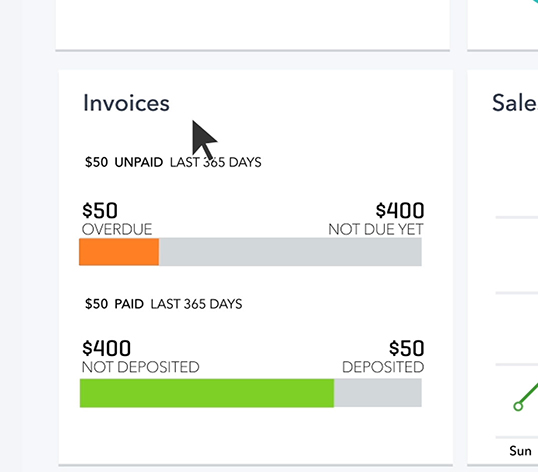 4. Add with the Plus Menu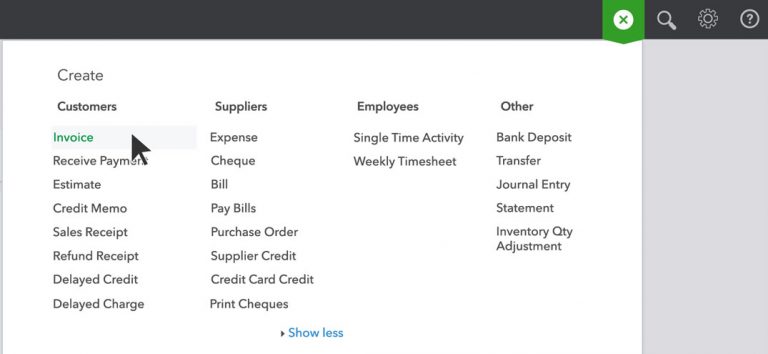 With the Plus menu, you have an option to add a new thing:
You can create customers
Add Transactions
Add Vendors
Creates Sales receipts and invoices
Along with all these, you can create estimates, save time by scheduling and manage your bills.
5. Use the Search bar
Click on search and find what you have saved earlier. You can put the cheque number or cheque date to find the cheques as well.
6. The Left navigation Bar
In this navigation bar, you have plenty of options. You can check your customer report under invoicing and the product you are selling.
7. Reports
Reports option is available on the left navigation bar under the Invoices. This will take you to the QuickBooks reports.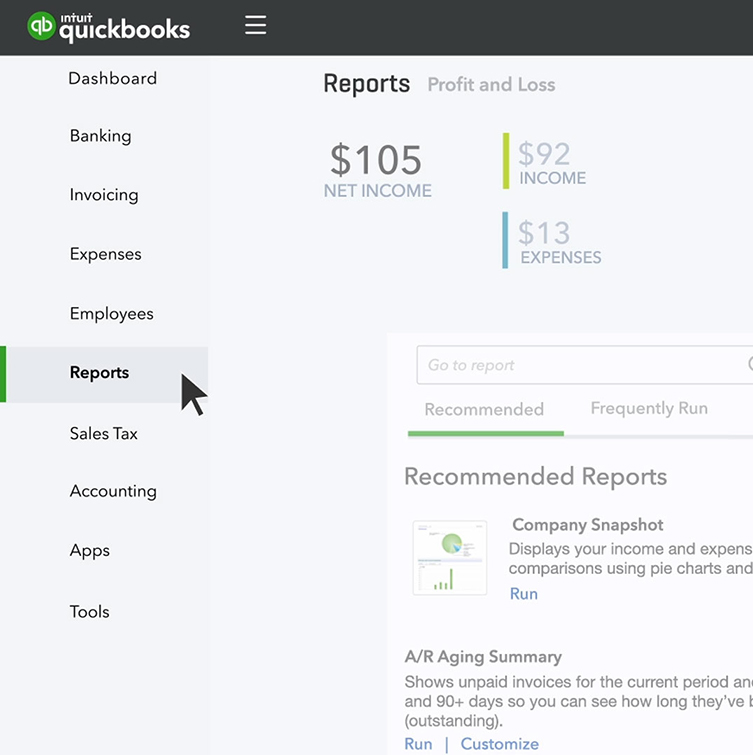 8. Gear Menu
As the name suggests, this icon is quite useful to the users. Giving useful information about the company settings and profile information, it helps to manage everything.
Users make changes to the chart of accounts.
9. Advanced Accounting Tools
In this tab, you can see the accounting tools like,
I hope that all the nine navigation steps give above might be helpful to you to navigate QuickBooks accounting software. In case, you have any question or queries related to QuickBooks Desktop Version 2019 or the previous QB versions, you can contact our experts on our toll-free QuickBooks Support & Help Number +1-888-300-3913.
Intuit Field Service Management – Basic Navigation
Are you new to Intuit Field Service Management? This is the QuickBooks dispatching and scheduling program that directly integrates with QuickBooks. We have a series of free videos detailing how to use FSM, and one specifically discusses basic navigation of your Intuit Field Service Management main screen.
You can edit your Business Profile from the upper right hand corner in the File drop down menu. Under your settings you can edit your user profile. Field Service Management also has a Learning Center under "Help", which features a few helpful videos and the phone app link for Blackberries and Windows phones. (For iPhones and Androids you can just search in the app store).
Intuit Field Service Management features a search bar near the top of the page, where you can search anywhere from Address to Work Order. The drop down menu on the right features the most recent items you've selected for easy navigation. Dispatch Board button is an easy way to get to your, obviously, Dispatch board. And the default page on FSM is your Work Orders page. It looks like this:
The other tab options are Customers, Invoices, Reports, People, Time Cards, and Settings. We go into all of these in different videos in our Field Service Management free video series. As you can see above, the page shows many different icons. If they're blue, this indicates calm, if it's yellow, it might need some attention, and if it's red that means it has an urgent issue. Down below, FSM screens show shortcuts, "How Do I?"s, and "Please Explain", which are all helpful when you might be having an issue in Field Service Management. Would you like to see a demo?
How to Navigate Bank Feeds in QuickBooks online
In this blog post, I'm going to give you a bit of an overview and best-practices guide with regards to working wtih bank feeds in QuickBooks Online.
Bank feeds are a one-way synchronization from your bank to QuickBooks online. QuickBooks cannot update your bank but transactions from your bank can update QuickBooks Online.
Navigating to your bank feeds is pretty straight forward. You can get there from your left-hand navigation menu. Hover over Banking in the left-hand navigation menu and another banking submenu will pop up.
In our example file, we have three accounts set up. We have Checking, Savings, and Mastercard. Each of these represents an account in your chrart of accounts that we've chosen to connect to our banking. Your accounts might not look exactly like this. You might have more than one or maybe no checking or savings accounts at all.
Above the words "Bank and Credit Cards" you will see that there are three tabs: Banking, Rules, and Receipts. The banking tab has a list of all your recognized and unrecognized transactions that need to be approved in that account. Rules is exactly what it sounds like. They are if/then statements that will help QuickBooks process data that is uploaded to this Account. And finally, receipts is a place where you can upload your receipts to QuickBooks via various methods.
When you click on any of our accounts (checking, savings, MasterCard) you will see that the background becomes blue. This will also populate the transactions below in our to-do list. So when we click on our Checking account, we'll see the background becomes blue and the 25 items in our to-do list are now available for processing
If we look down a little further, we'll see that we have 3 tabs. We have For Review, Reviewed, and Excluded. The For Review is transactions that have been and have not been recognized. Next, we have Reviewed which is stuff we have reviewed and entered into our register. And finally, there is Excluded which are transactions that we've clicked on and excluded as the name states.
Next we're going to navigate to our register. There are a lot of ways to get there and a simple way is to just click the "Go to Register" button on the Banks and Credit Cards screen.
Once you're inside your register, you will see a log of all your charges and all your payments. In the screenshot below, you can see our register from the Mastercard account.
To get items into that register, we need to go back to our bank accounts screen and look for the previously mentioned "For Review" tab. In our Mastercard account, you'll see that there are 7 transactions for review. Out of the 7 transactions, 3 are recognized. The three recognized transactions are transactions that QuickBooks has automatically detected a pattern and has tried to do some of the leg-work of processing these for us.
Have a look at the example below. This example is for Bob's Burger Joint. It found one record dated 5/23/2019, it has matched the dollar amounts and dates and it looks good. We can click on match and it will be entered into our register. You will notice your all tab decrements from 7 to 6 and because this example was one QuickBooks automatically matched, the recognized is lowered by one as well.
As a best practie, you can start with the reconized tab and take a look at the transactions QuickBooks has already identified. If they look good, click the check boxes for the transactions to select the ones you want to accept. From there, click on Batch Actions and from the drop-down menu you can click Accept Selected.
You might be wondering which account is best to start with. That's a personally choice that you need to make since there is no one correct answer. What we do recommend is starting with the recognized tab. You can see in our Checking Account that the batch processing can be a real time saver when the transaction quantity begins to get into the double digits. In this case, we have 14 but there might be times where you have 200.
If you have a suspicion that you may have done something wrong like approving the wrong transaction, that's when the Reviewed tab comes into play. In the review tab, we'll be able to see all the work we've done and make any corrections if needed.
If we detect that we've made a mistake all we need to do is find the transaction in question, look to the right hand side, and click "undo". When you click undo, the transaction will be moved from the Reviewed tab to the For Review tab.
For a video tutorial on how to navigate your bank feeds, please see the YouTube video below.