Are you interested to appear in the QuickBooks Online certification exam 2021 and looking for a perfect guide? No worries. We understand the need of candidates who want to become a QuickBooks ProAdvisor and preparing for the QB certification exam. In the following post, we are including all the relevant questions along with their answers that can be asked in the exam pattern 2021. You must know that there are only three attempts to crack the exam. Take your time and go through the complete post wisely.
We have given all the important questions related to the QuickBooks online certification exam 2021 in a PDF format. If you want to download the PDF, choose the download option.
Now, you may proceed further to look into the following QuickBooks online certification exam answers pdf without wasting time. We wish you all the luck from our team. If in case, you want assistance regarding any QuickBooks accounting software, feel free to contact us.
Questions
Q1: Write down the true statements regarding how to make changes to the QuickBooks Chart of Accounts and how to link products and services to the chart of accounts?
Q2: You should look into the sales tax requirements of your clients for their business and locality, as part of understanding the client's requirements.
What information will be required to set sales tax up in QuickBooks Online? (Only for home-state business)
Q3: What are the unique features of QuickBooks Enterprise that no other version has?
Q4: What is the main difference between QuickBooks Pro and Premier?
Q5: What are the main tips for a beginner to speed up the work in QuickBooks?
Q6: Which financial reports are to be prepared at the end of the year for the tax preparation or other type of financial reporting?
Q7: What is the difference between a Custom Transaction Detail Report and a Custom Summary Report?
Q8: Where you can find the transfer funds function in QuickBooks Online?
Q9: What type of user permissions need to be set up to give access to one or more employees to your practice?
Q10: Where can you import a list of products and services in QuickBooks Online?
Q11: Which of these Company Settings must be chosen in order to activate online invoices:
Include sales forms as PDF attachments
Email a link to customers to pay invoices online
HTML emails
Include invoice as a PDF attachment
Q12: What are the steps to turn on warnings for duplicate check and bill numbers in QuickBooks Online Company?
Q13: If your client wants to modify the business address of the company in QBO, what steps he needs to perform? Complete the following steps.
Sign in to the QuickBooks Online Account.
________________
The client dashboard will appear.
________________
Choose the Account and Settings option.
Click on the Pencil icon under the Address section.
Q14: Why is setting a closing date and a password strongly recommended?
Q15: Are you allowed to enter statement charges one by one as you enter customer or vendor services?
Q16: Which one of the following is a feature of QuickBooks Online Payroll?
The client submits payroll tax payments and forms
Exporting to QuickBooks Desktop for Win Mac
Run from a different website with a central client list.
Paying employees by print paychecks or direct deposit
Q17: If you see two or more similar names in the vendor center that refer to the same vendor, what will you do to clean up the Vendors list?
Q18: Which account register needs to be opened to view the cleared checks?
Q19: What is the difference between the Balance Sheet Report and Profit & Loss Report?
Q20: If your client wants to transfer $600 from the checking account into a savings accounts to cover tax liabilities, from where he should imitate the process?
Q21: Write down the difference between Accounts and Items?
Q22: What is the difference between writing a check and entering a bill?
Q23: What is the undeposited funds account?
Q24: How to get QuickBooks financial reports to excel?
Q25: Which subscription includes online banking, integration with a wide range of apps, and online access feature?
Q26: How to reclassify transactions in QuickBooks Online?
Q27: What types of customer statements can be created by QuickBooks Online?
Q28: Write down the correct definition of Cash-based reports?
Q29: Which option is to be selected to find the link to the Deleted Transactions tool?
Q30: Which option may help you to set up a new bank feed or link to a bank account in QuickBooks Online Company?
Q31: Complete the following steps of adding a new customer for your client in their QuickBooks Online Company.
Enter the customer name, phone number, and email from the business card that has been given by the client.
________________
Edit the customer's details and choose the Customer name from the list.
Go to the Edit option and enter the reseller number if the customer is not taxable.
________________
Set the desired payment method to Credit Card.
Q32: What are the methods to get information into QuickBooks Online?
Q33: What does a negative inventory indicate?
Q34: How to enter statement charges in QuickBooks?
Q35: When would you use the Add other funds to this deposit grid in a Deposit Transaction?
Answers
A1: Here are the important statements about the QuickBooks chart of accounts.
We have to access the chart of accounts to add a new account. And then, click on New to launch the Account window.
When you have turned on the inventory, the default account will be the Sales of Product Income account.
The category type decides on which financial statement the new account will appear while adding a new account.
Once you have set up Products and Services, they will be linked it to the chart of accounts by specifying sales price.
It is recommended to delete an account from the chart of accounts if is irrelevant to the business.
A2: We think the following information will be needed to set up QuickBooks sales tax.
The company address
Starting date of their current tax.
How often do they file a tax return?
Starting date of collecting sales tax for the agency.
A3: Listed below are some of the unique features of QuickBooks Enterprise.
User limit: 5 to 30
A limitless items amount vs. 14500 max with Pro/Premier
Runs faster in a network multi-user environment
Individual user access per area
A4: With the help of QuickBooks Premier, you can create P.O.'s directly from sales orders, change orders, and manage industry-specific reports such as Retail, Wholesale & Manufacturer, Non-Profit, Professional, Contractor, and services. Whereas, QuickBooks Pro doesn't contain this feature.
A5: The following things should keep in mind before starting up with the QuickBooks software.
Verify the date: The wrong dates will always give the wrong reports.
Utilize Tab rather than Enter: Enter inclines to the opposite of what you want.
Practice shortcuts: Speeding up the data entry procedure, particularly with dates. And, reconcile accounts along with discarding the duplicate transactions.
Use the Home page in case of finding out a lost page.
Follow Accounting Rules such as expense matching and revenue recognition.
A6: Profit & Loss, balance sheet A/R Aging, A/P Aging, Summary of Inventory Valuation, Profit by job, etc. are to be prepared at the end of the year for the tax preparation.
A7: Here is the difference between a custom summary report and a detailed report.
Detail: Transaction by transaction, Line by line, detailed transaction.
Summary: Consists of the totals for a customer or vendor/totals for a particular account.
A8: Under the 'Quick Create' option, you can find the transfer funds function in QBO.
A9: Company administrator, Regular or custom user, Time Tracking only, and Reports only.
A10: Choose the Gear icon and select All Lists. Here, you can import a list of products and services.
A11: Option B (Email a link to customers to pay invoices online)
A12: Listed below are the steps to turn on warnings for duplicate check and bill numbers in QuickBooks Online Company.
First of all, choose the Gear icon.
Click on the Account and Settings option under your Company.
Select the Advanced tab.
Now, select the option to warn in the other preferences section.
Finally, click on the Save option.
A13: Step 2: Choose the client company from the Client Switcher drop-down.
Step 4: Select the Gear icon.
A14: Because it automatically sends an email to the accountant.
A15: No, you can't enter statement charges in turn like entering customer or vendor services.
A16: C. Run from a different website with a central client list.
A17: In such a condition, we will merge similar vendor names.
A18: Checking Account.
A19: The balance sheet reports indicate the values of Assets and Liabilities at Equity as of a particular date. Whereas, the Profit & Loss Reports show activities (Income and Expenses to arrive at Net Income for a particular time).
A20: He should navigate to the Quick Create option and choose the Transfer link.
A21: Here are the differences between the items and accounts.
Accounts: In which financial transactions are prepared into reports like profit & loss reports and balance sheets. A few accounts carry balances like accounts payable, accounts receivable, income and expenses, etc.
Items: They are the products and services you trade and use on transactions like purchase orders and invoices.
A22: Writing a check indicates recording an expense simultaneously it is being paid. There will be no time gap between the expense and the payment date. Whereas, entering a bill is to incur an expense that will be paid in the future.
A23: Undeposited funds account is a temporary account that is used when you have received a payment from a client but has not been deposited in the bank.
A24: Given below are the steps to get the financial reports to excel.
First of all, launch any report and choose the Excel option.
Create a new worksheet and you must have Excel on your PC.
Start exporting to excel and look for data, statistical analysis, and creating graphs.
A25: All QuickBooks Online subscription includes the feature of online banking, integration with a wide range of apps, and online access.
A26: In the Account Toolbox option, you need to choose reclassify transactions to clear out unspecified expense accounts.
A27: The following is a list of all customer statements that can be created by QuickBooks Online.
A statement that indicates a balance forward.
Which indicates invoices created between related payments and two specific dates.
Open transactions.
A28: Cash-based reports indicate income as of the date you get the customer payment and expenses as of the date you pay the vendor bill.
A29: Accountant Toolbox.
A30: In the Banking Center option, you can set up a new bank feed.
A31: Step 2: Choose the Add Customer option.
Step 5: Click on Payment and Billing.
A32: Here, we are listing all the methods to get information into QuickBooks Online.
Use Export Data Tool and Import Data Tool.
Via the Attachments Tool
Manually enter data into the QBO forms.
A33: The negative inventory shows that there is no inventory to sell. To resolve this issue, you can create a Quick report for the item and can look for the discrepancy in and out of the inventory.
A34. Below, we have mentioned the complete steps to enter statement charges on the QuickBooks account.
The first step is to log in to QuickBooks and go to the Home page.
And then, click on the Statement Charges option on the dashboard.
Finally, enter the data you have asked for.
A35: In the following situation, we use to add other funds in a deposit transaction.
In case of receiving a tax refund from the IRS.
Employee reimbursement
When the company is not recording income using sales transactions and is interested to record deposits to income accounts.
Hopefully, you have got acquainted with QuickBooks online certification exam answers pdf. If in case, you are facing trouble while going through any of the questions, kindly, get in touch with our expert's team. We are ready to resolve all your queries in no time.
QuickBooks ProAdvisor Certification Exam Questions 2021
If you have come here for QuickBooks ProAdvisor certification exam questions, then you have arrived at the right place. In this article, we will describe the format of the ProAdvisor test, including length and rules. We will also explain about types of questions, give some examples that will help out any bookkeeper or CPA that is looking for QuickBooks Online certification exam answers 2021. Getting certified in QuickBooks Online is to enhance your professional expertise. Go through the complete article for such details. Still, having an issue contact us toll-free:+1-844-405-0904
But First Let Us Know How To Get Certified:
Sign up for or sign in to QuickBooks ProAdvisor Program and click on the 'Certification' tab in the ProAdvisor Portal.
Choose from the optional training modules. Each module is about 1-2 hours long and includes a supplementary guide that can be viewed at any time.
After completing the training, click "Take the exam". The exam should take 2-3 hours to complete upon which you can download the 'QuickBooks ProAdvisor certificate'
Basic Rules Of The QuickBooks ProAdvisor Certification Exam
QuickBooks ProAdvisor Online Certification exam has eight sections and or 75 questions. In the certification training you will find there are eight sections or modules that directly correspond to a section of the exam.
So you can just learn from the training and directly take the exam to easily crack each section. When you go into the exam you can see each of the eight sections as shown below corresponding to how many questions are there with the estimated time to complete them.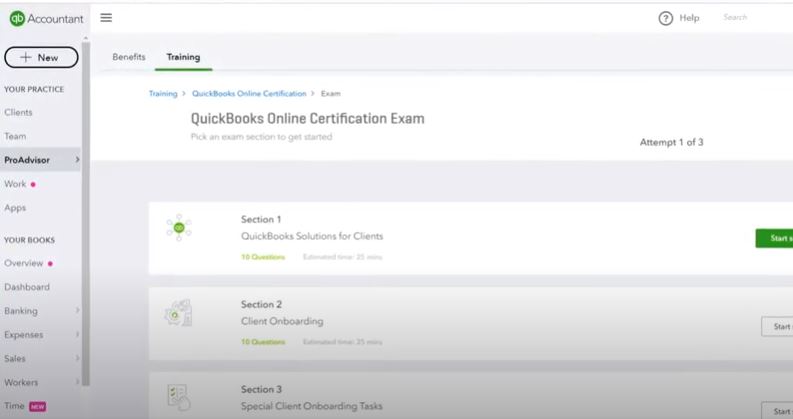 It is really nice that this test is broken up into these different sections because each section kind of like stands alone. So you can take a section and then you finish the whole thing and then you're able to go back and review it.
There is no time limit for the entire section. So you can spend as much time as you need to on this exam which is really great to pass the exam. you need to get 80% or higher. After you pass the exam it doesn't tell you the exact percentage of the score but just display Pass or Fail.
In case you fail, the system will allow you to retake only those section that you fail, so this is really nice. One things you must note that if you don't pass in the third attempt, you will have to wait for 60 days to take the whole test again.
Exam level is moderate and you just need basic knowledge of QuickBooks in order to pass the exam. You will also require a general knowledge of bookkeeping.
QuickBooks ProAdvisor Certification Exam Questions 2021
These are some QuickBooks Proadvisor certification exam/test questions.
Where to find things in QBO
What is the difference between ACCOUNTS and ITEMS?
What are the two primary reports in QuickBooks?
What is the difference between accrual and cash basis?
What is the difference between writing a check and entering a bill?
What is a Sub-Account and why would you use it?
Which customization would quickly condense the size of a Profit & Loss report
What is the difference between the cost of goods sold and operating expenses?
Where can you find the transfer funds function in QuickBooks Online:
Which of the following statements regarding App subscriptions for QuickBooks Online is accurate
Which of these Company Settings must be selected to activate online invoices
Why is setting a closing date and a password strongly recommended
Your client doesn't want to pay a monthly fee for their QuickBooks Payments merchant account. What other option is available to them, and where in QuickBooks Online can they sign up for QuickBooks Payments?
A great feature of QuickBooks Online is that there are other lists you can utilize to make it easier to fill in forms. Where would you go to find these lists?
Where can you go in QuickBooks Online to import a list of products and services?
The Chart of Accounts lies at the heart of a QuickBooks Online company. Which 5 of the following statements are true about the Chart of Accounts, how to make changes to the Chart of Accounts, and how products and services are linked to the Chart of Accounts?
If you want to give one or more of your employee's access to Your Practice, what types of user permissions can be set up?
Where would you go to add a new vendor or find the link to import a vendor list into QuickBooks Online?
Select the Limited radio button and check the Customer and Sales box
Your client wants to transfer $500 from their checking account into a savings account to cover tax liabilities for sales made last month. Where should they start the process?
What are 4 benefits of the Online Invoicing feature within QuickBooks Online?
You have a client business who uses invoicing, the Accounts Receivable workflow and they use the Banking screen to record a customer payment received. They select an income account and then select Add. What 2 problems will this cause?
When would you use the Add other funds to this deposit grid in a Deposit Transaction?
Which 2 of the transactions and tools in the list are Posting transactions?
Which QuickBooks subscription level or levels offer Sales reports that can be run to show location or class?
What 3 types of customer statements can be generated by QuickBooks Online?
Clients can take payments from their customers' credit cards via Online Invoicing if they have QuickBooks Payments set up. How does the customer interact with the invoice to access credit card payment features?
Which option has the correct information about how a delayed charge is used, and how it is created and linked to an invoice?
What 2 reasons from the options shown here might mean a transaction needs to be excluded in bank feeds?
Your client wants to understand the difference between cash-based and accrual-based reporting. Which is the best definition of cash-based reporting?
As with all business owners, you want to have a clear snapshot of how you are doing financially. Reports can provide a valuable insight into which 3 of the following?
Which report would you run to see a list of each customer with an open balance and columns for the age of open balances?
How do you change the status of a project in QuickBooks Online Accountant?
Managing inventory and avoiding out-of-stock situations is critical to the success of this type of client. What type of client does this best describe?
Is it possible for a client to change transactions in a QuickBooks Online company if the books have been closed with a closing date password? If so, how would you track any changes to transactions within the closed period?
Which 2 of these statements are correct when creating a client request in QuickBooks Online Accountant?
QuickBooks Online Accountant allows you to request information from clients. Which of the following 3 statements are accurate?
You have a client who needs a QuickBooks Online solution that includes tracking for sales and sales tax. Which subscription level in QuickBooks Online would you recommend?
The Work functionality in QuickBooks Online enables you to increase organization and efficiency. Can you identify 3 ways it does this from the options shown here?
What 2 options could you use to navigate from a client's QuickBooks Online company dashboard to the Exceptions to Closing Date report?
Taking care of pay reports for employees and subcontractors is a key task when preparing for the year-end. Which of the 2 forms below would need to be sent?
When would you need to reclassify transactions and how would you do it in QuickBooks Online? Select the option that answers both parts of the question correctly.
Which subscription option, if any, includes online banking, access from any device at any time, and integration with a wide range of apps?
What does QuickBooks Enterprise have that the other versions do not?
What are the main differences between QuickBooks Pro and Premier?
What are the most important QuickBooks tips for a beginner and to speed up the work?
What is the purpose of using a Sales Order, instead of an Invoice?
In your own words, what does it mean to be an "Advanced QuickBooks User"?
What is the difference between a Custom Summary Report and a Custom Transaction Detail Report?
What are Classes in QuickBooks and how would you use them?
What tools are available to "figure out" QuickBooks issues… in other words where can you go for answers for questions on how to do certain things in QuickBooks?
What is the purpose of reconciling the bank account? What are you supposed to do with the transactions that did not reconcile?
What does the collapse and expand button do on standard reports?
So that's all. These were some ProAdvisor test tips for Quickbooks Online. It's FREE and FAST. So you can also take the exam and became Intuit certified QuickBooks ProAdvisor.
How to Become Certified as a QuickBooks ProAdvisor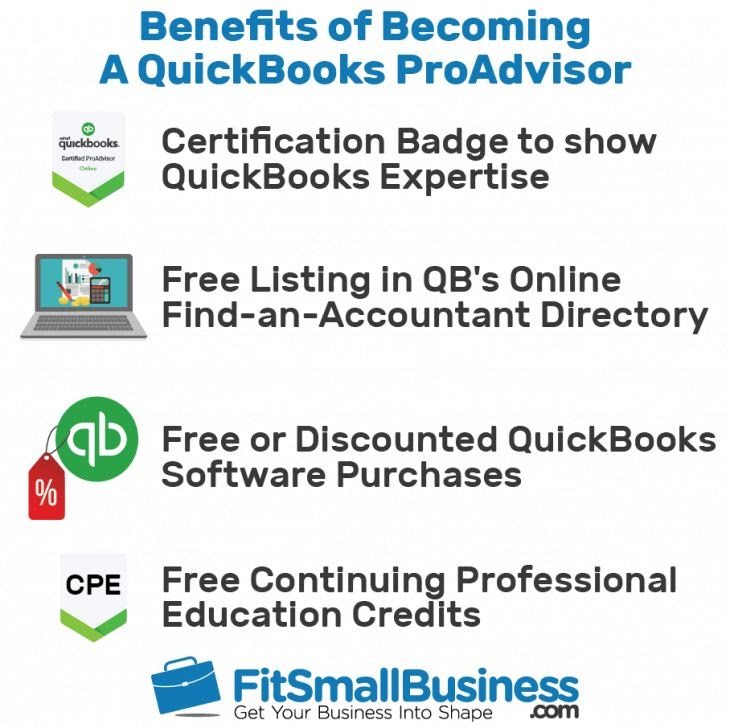 A QuickBooks ProAdvisor is someone familiar with the QuickBooks product line who has joined the QuickBooks ProAdvisor program and passed a certification exam. There are four primary certifications: QuickBooks Desktop Pro/Premier, QuickBooks Online, QuickBooks POS, and QuickBooks Enterprise Solutions. Becoming a QuickBooks Online ProAdvisor is completely free as are all of the training resources, including self-guided modules, webinars, and live course options.
By joining the QuickBooks ProAdvisor program and passing the exam successfully, your ProAdvisor certification demonstrates superior knowledge of the software. It helps to take your financial consulting practice to the next level and earn client trust as well as access to a network of potential customers. It will also improve your efficiency and should increase the success of your practice.
You don't need an accounting or bookkeeping background or any type of formal education to take the certification exam. To become a certified QuickBooks Online ProAdvisor, you must complete an 81-question exam successfully with a passing score of 80 percent or better. Most people should plan to invest at least 12 to 16 hours of studying to prepare for the exam. You can take the exam up to three times if you don't pass on your initial attempt.
This article is about the QuickBooks Online certification. If you are interested in learning more about the QuickBooks Desktop certification, add QuickBooks Desktop to your ProAdvisor membership within QuickBooks Online Accountant. A QuickBooks Desktop ProAdvisor membership costs $449 per year and includes the QuickBooks Accountant Desktop Plus software.
Depending on your clients' needs, you can choose to be certified in QuickBooks Online or QuickBooks Desktop, or both. While QuickBooks Online is best for companies that have multiple users or need remote access, QuickBooks Desktop allows you to do accounting for multiple companies. It is also flexible enough to accommodate the needs of farmers and ranchers as well as construction companies, with the QuickBooks Desktop Premier Contractors Edition.
The following are the five steps to becoming a certified QuickBooks Online ProAdvisor.
1. Sign Up for QuickBooks Online Accountant
Upon enrollment, you'll receive a free QuickBooks Online Accountant subscription that can be used for your own firm's bookkeeping as well as to access your clients' QuickBooks Online accounts. You'll manage your ProAdvisor account and certification from within QuickBooks Online Accountant.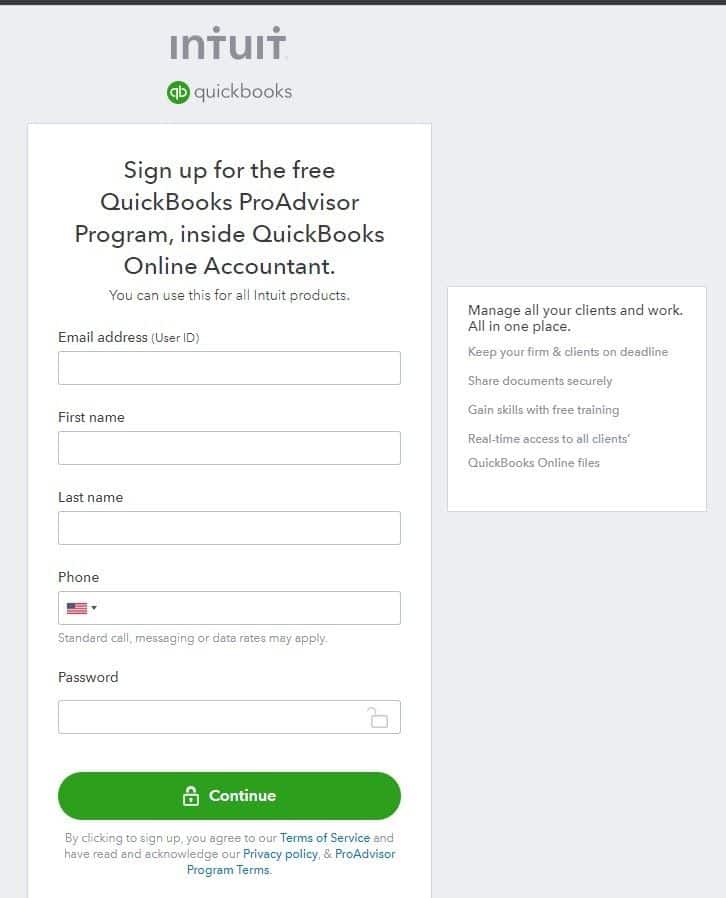 The first step is to provide some basic information to create a free QuickBooks Online Accountant account. You'll be asked to provide your:
Email address (user ID)
First name
Last name
Phone number
If you have already used your email account for any Intuit product, such as QuickBooks or TurboTax, you'll need to use the same password. If you have never signed up for any Intuit products, you'll be asked to create a new password. No credit card or other sensitive information is required.
2. Prepare for the QuickBooks ProAdvisor Certification Exam
Once you create your QuickBooks Online Accountant account, you have access to all of the study guides, webinars―live and recorded―and exams for free. Like any exam, you need to study to pass it successfully. To begin the training, go to the ProAdvisor link found in the left menu bar of your QuickBooks Online Accountant screen and click on the Training tab. Here you will find courses for all of the QuickBooks products to prepare you for the certification exams. If you are new to QuickBooks, it is a good idea to start with the Introduction to QuickBooks Online for Accountants course.
To pass the exam, you'll need a basic understanding of general accounting principles as well as knowledge of the QuickBooks Online Accountant system. The training course prepares you for both, but it is not mandatory. If you already possess this knowledge, you can proceed directly to the test and receive your certification. While preparing for the certification exam, you can also earn continuing professional education (CPE) credits, which apply to maintaining your certified public accountant's (CPA's) license.
You don't have to complete all the modules in one session. The system saves where you end a session, which enables you to pick up where you left off later. These introduction courses aren't required for certification but very helpful if you've never used QuickBooks Online.
QuickBooks Online for Accountants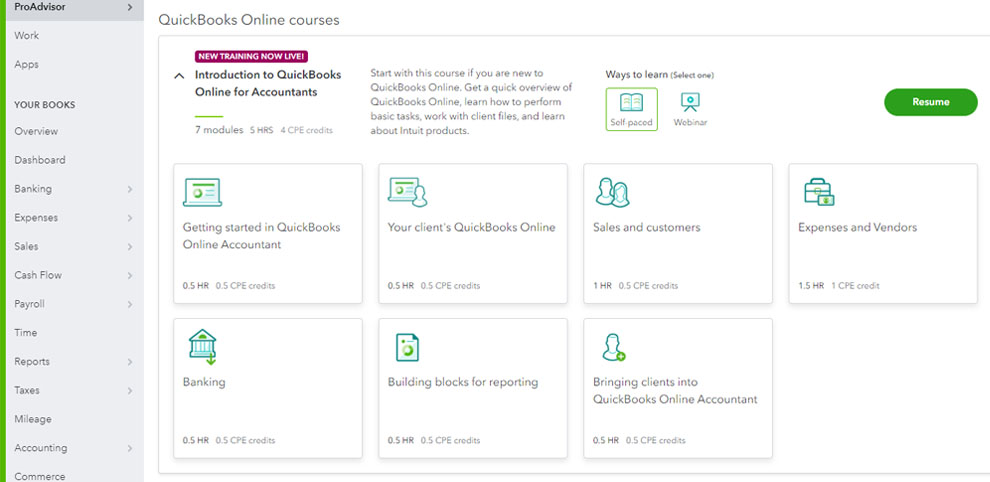 The Introduction to QuickBooks Online Accountant course consists of seven learning modules, which can be completed in about five hours and will earn you four CPE credits. The topics covered in the QuickBooks Online for Accountants course are:
Getting started in QuickBooks Online Accountant: Sign up and log into QuickBooks Online Accountant, learn about key features in the Accountant dashboard and navigation toolbar
Your client's QuickBooks Online: Introduction to workflows and learn how to navigate your client's QuickBooks Online
Sales and customers: Add customers, create sales receipts, create online invoices, and enter payments received
Expenses and vendors: Learn about the Expense and Vendor workflows and the Expenses center, enter expenses, enter and pay bills
Banking: Learn about how to use bank feeds and best practice bank feed workflows
Building blocks for reporting: Review the Chart of Accounts and Products and Services list, which are the building blocks for creating basic reports
Bringing clients into QuickBooks Online Accountant: Review subscription levels and the different ways to add a client to QuickBooks Online Accountant.
QuickBooks Online Certification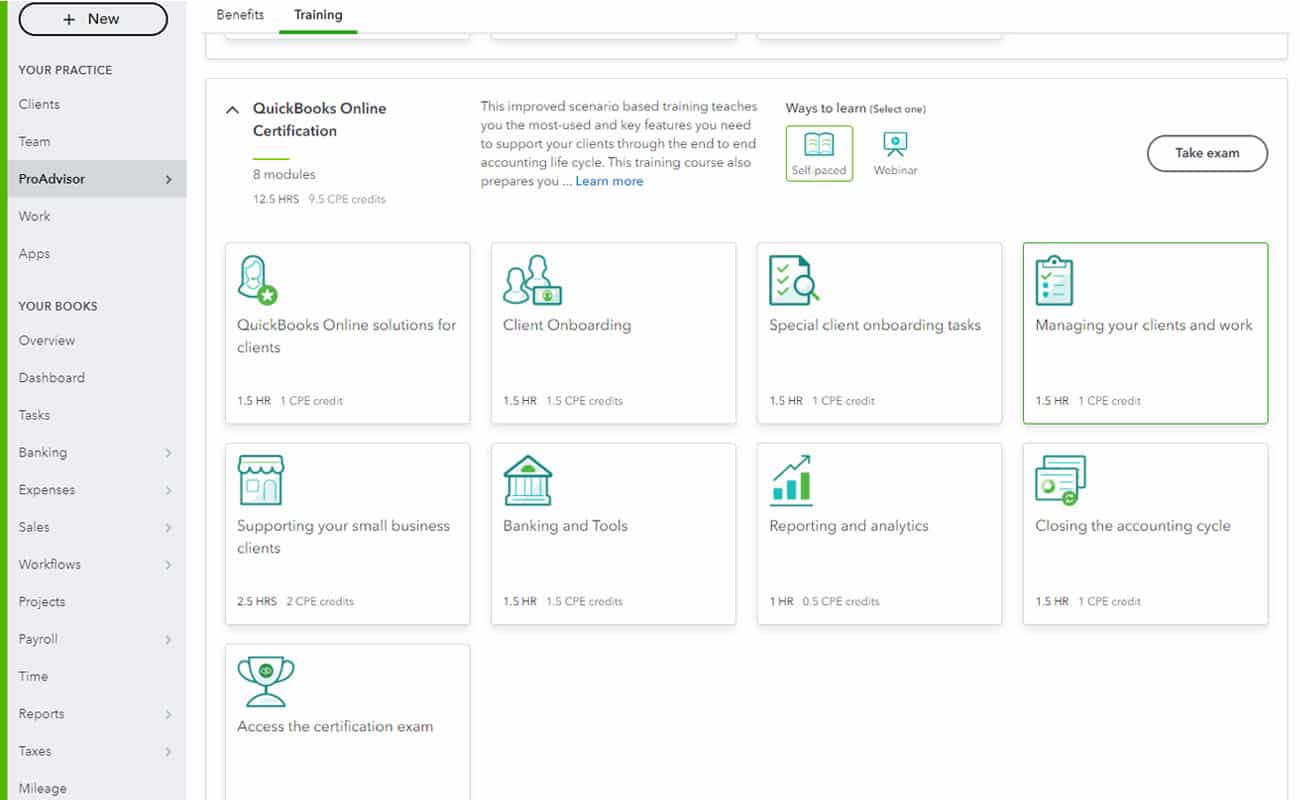 The QuickBooks Online course consists of eight learning modules, which can be completed in about 12.5 hours and will earn you 9.5 CPE credits. The topics covered in the QuickBooks Pro Online course are:
QuickBooks Online solutions for clients: Understand your clients' needs to advise them on the best QuickBooks Online subscription solution, learn how to set up a QuickBooks Online account, and discuss billing features with clients
Client onboarding: Select the right company settings, create new customers and vendors, set up bank feeds, create the chart of accounts, and more
Special client onboarding tasks: Learn about additional onboarding tasks, how to manage apps on your client's behalf, perform a basic sales tax setup, customize payment settings and sales forms, and more
Managing your clients and work: Learn about the practice management features in QuickBooks Online Accountant, set up projects and track them for QuickBooks and non-QuickBooks clients
Supporting your small business clients: Use the features of undeposited funds, estimates, purchase orders, vendor credits, and more
Banking and tools: Connect bank and credit card accounts to QuickBooks, reconcile bank accounts, create recurring transactions, manage receipts and bills, and more
Reporting and analytics: Edit, customize and run reports like profit and loss, balance sheet, and sales and expense reports
Close the accounting cycle: Prepare a client's books for the year-end close
QuickBooks Online Advanced Certification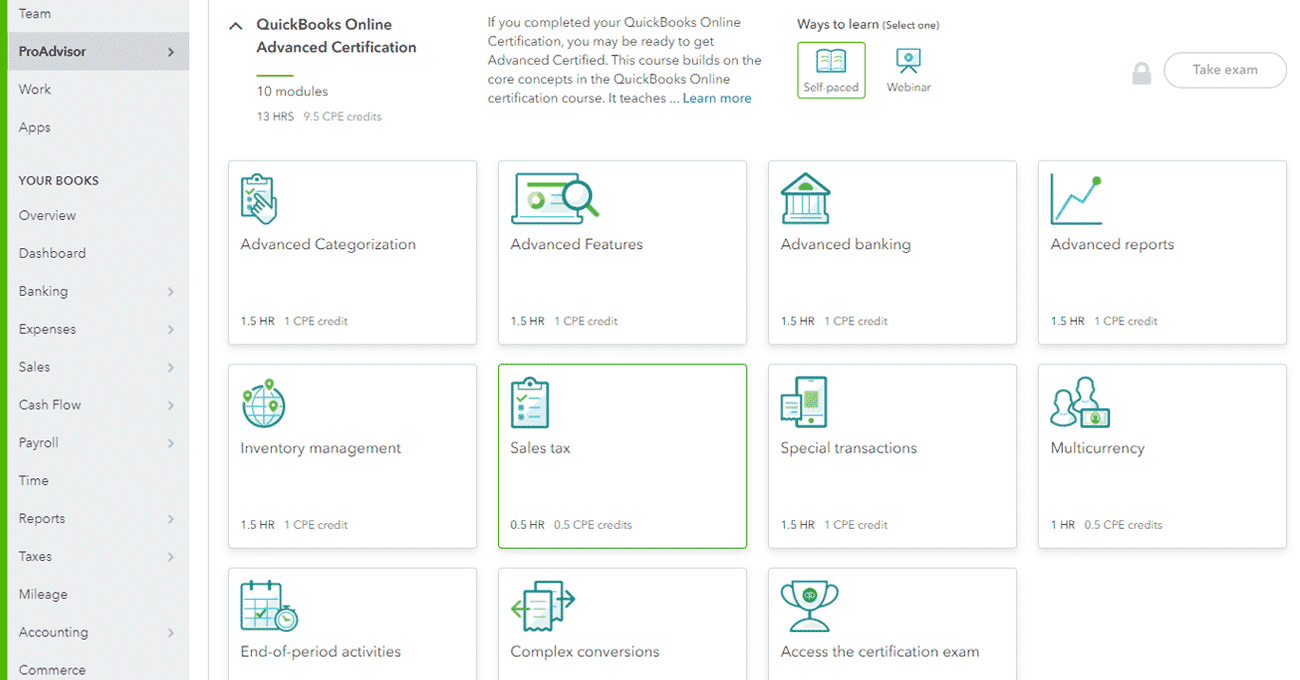 The QuickBooks Online Advanced course consists of ten learning modules, which can be completed in about 13 hours and will earn you 9.5 CPE credits. The topics covered in the QuickBooks Online Advanced course are:
Advanced categorization: Learn about class, location, and job tracking; set up projects
Advanced features: Work with billable expenses and time, create delayed charges, price rules, and more
Advanced banking: Identify best practices to troubleshoot common issues that compromise reconciliations, learn how to import and export bank rules, and more
Advanced reports: Customize reports, create scheduled reports, work with business and management reports
Inventory management: Set up, track, and manage inventory, adjust inventory and valuations
Sales tax: Learn about the inner workings of QuickBooks Online's automated taxation system and how it uses data to calculate state and local liabilities
Special transactions: Learn about advanced uses for recurring transactions, how to handle bounced checks and insufficient funds, and more
Multicurrency: Record clients' international business transactions in different currencies and how to troubleshoot problems
End-of-period activities: Review lists, handle issues with undeposited funds, troubleshoot inventory balances and control accounts, prepare for taxes, and more
Complex conversions: Support clients with moving their current QuickBooks Desktop companies into QuickBooks Online, including importing and purging data
If you prefer live instruction, you can check the schedule for a list of all upcoming QuickBooks workshops. Before you attend a live workshop, be sure to download the study guides to your computer so that you can follow along with the instructor. Both the live and recorded webinars allow you to earn CPE credits that can be used to renew your CPA, enrolled agent (EA), or certified bookkeeper credentials.
3. Take the QuickBooks Certification Exam
You can access the QuickBooks certification exams by clicking on Take exam in the upper-right corner of the QuickBooks Online Certification list of courses, as shown in the above screenshot. There is no cost to take the exam, which has a total of 81 questions, broken down into six sections. It should take approximately three and a half hours to complete all six sections.
During the exam, you can review your answers for a particular section before confirming the submission. The test for each section, however, must be completed in a single session. You must answer at least 80 percent of the questions in each section correctly to obtain your certification. You have three attempts to pass the exam. If you fail the exam three times, you must wait 60 days before you can retake it.
This is an open-book exam, and it is recommended that you have your study guide open to the section of the exam that you are taking. You should also have QuickBooks open so you can access it easily if necessary.
4. Complete Your ProAdvisor Profile
Be sure to complete your profile as soon as possible. Your profile includes the certification badges you have earned, an "about me" section, number of years in business, services that you offer, any industries that you have experience in, and your social media links. You can view a sample QuickBooks ProAdvisor profile here.
5. Benefits of Being a ProAdvisor
There are many benefits that come with being a Certified QuickBooks ProAdvisor. In addition to discounts on products and services and dedicated telephone and chat support, you are added to the Find-a-ProAdvisor online directory listing. This allows you to connect with potential clients, build your client list, and earn their trust.
Your ProAdvisor Profile also climbs in the ranking as you earn more points. As you advance in rankings, you can grow your business and take advantage of more features of this program as well as discounts, product support, and training opportunities. Here's a summary of additional benefits:
Display your ProAdvisor certification badge on your website, emails, and business cards
Boost your credibility and increase your profile ranking
Distinguish yourself as a true expert with QuickBooks software
Access unlimited United States-based phone support by QuickBooks experts
Receive free or discounted products and supplies
If you plan to support clients who use QuickBooks Desktop instead of Online products, you can add QuickBooks Desktop to your membership for $449 a year. In addition to the benefits we've discussed, you also receive the following:
$5,000 worth of QuickBooks Desktop software
30% discount on QuickBooks software that you can pass along to clients
Expert US-based chat and phone support
Training materials for QuickBooks desktop products
Access to certification for QuickBooks desktop products
If you are a bookkeeper or accountant who offers bookkeeping and payroll services, it is extremely beneficial to become certified in QuickBooks. QuickBooks has more than 80 percent of the market when it comes to the accounting software that small businesses use most often, meaning that the majority of your clients will use QuickBooks.
Frequently Asked Questions (FAQs)
1. How Often Do I Have to Take the Certification Exam?
Recertification frequency varies, depending on the type of certification you hold:
QuickBooks Certification: To remain a Gold Level member, you must be certified in one of the three most recent versions of the QuickBooks Desktop Certification or certified within the past year for QuickBooks Online. However, we recommend that you update your QuickBooks certification status annually to provide the highest level of knowledge and support to your clients. Only members who are certified in the latest version of QuickBooks are listed in the top section of the QuickBooks Find-a-ProAdvisor website.
QuickBooks Online Certification: Your QuickBooks Online certification is valid until July 31 of the following year. We recommend that you take the updated exam each year to stay current. As with QuickBooks Desktop Certification, members who are certified on the latest version of QuickBooks Online are listed in the top section of the QuickBooks Find-a-ProAdvisor website.
QuickBooks POS Certification and QuickBooks Enterprise Solutions Certification: These certifications are offered on a two-year cycle. To stay updated, you only need to certify in these once every two years.
QuickBooks Desktop Advanced Certification: Once you complete the QuickBooks Desktop Advanced Certification exam, you never need to take it again, and you remain Advanced Certified as long as you maintain your annual QuickBooks Desktop Certification and complete the required nine CPE credits of advanced continuing education (ACE)-approved training every three years.
2. Am I a Certified Bookkeeper After Passing This Exam?
Unfortunately, becoming a certified QuickBooks ProAdvisor does not make you a certified bookkeeper. It simply indicates that you are knowledgeable in QuickBooks products. However, if you are interested in becoming a certified bookkeeper, check out How to Become a Certified Bookkeeper.
3. Is the QuickBooks Desktop ProAdvisor Add-on Fee of $449 a One-time Fee?
The additional $449 to add QuickBooks Desktop to your ProAdvisor membership is an annual fee. In return, you receive all of the new desktop software for that year as well as immediate access to QuickBooks Online Accountant updates.
4. Do I Have to Sign a Contract?
There are no contracts to sign. You can cancel your membership at any time.
Bottom Line
This information should assist you with taking the next step and becoming a QuickBooks ProAdvisor. To explore this option further, complete step one to sign up for your free QuickBooks Online account. There is no requirement that you get certified. If you decide to increase your knowledge and skills in QuickBooks, complete the remaining steps to become certified.
Be sure to check out our free QuickBooks Course. It includes 46 free video tutorials that provide QuickBooks instruction and serve as a resource for training clients on how to use the software.
QuickBooks Online Certification Examination Answers
Are you getting equipped for the QuickBooks online Certification examination? If so, it'll probably be top-notch because of the fact that nowadays Accountwizy is proper right here with a present-day challenge matter concerning QuickBooks online Certification examination answers 2021. In case you're vital about your QuickBooks online Certification exam then, you need to look at this text. It's miles sure, this article will provide you with lots more self-perception, and consider to seem the online Certification examination, and will enhance the understanding concerning this examination.
In case you need to start your long way flung career as an accountant you may test this reachable manual on touchdown the extremely good far-flung accounting jobs. Now let's begin the blog to realize a few small, and important elements with a proper manual:
Steering for QuickBooks online Certification examination
Points to keep in mind earlier than attempting the online Certification exam
If you're persevering with Accountwizy and function the question for your thoughts that, 'a way to get QuickBooks licensed?' then, any more you want to forget this question. Because it's our obligation to guide you in the right manner. And obviously, right steerage can provide super results. Here we're able to offer you a few pointers, and guidance for the web certification exam. You virtually need to examine them carefully, let's proceed:
Before the guidance of the QuickBooks online certification exam, you need to take note of some elements.
This examination will take hours to finish.
You have got to complete 7 sections of fifty 5 questions in the course of the 2 hours.
It's far obligatory to steady a minimum 80% mark for all modules to qualify for the exam.
There are 3 opportunities to take the exam.
If regrettably, you've misplaced all three possibilities to qualify for the exam then, you may be allowed to give the same examination after 60 days.
Make a printout of the schooling questions, and answers pdf, this will can help you finish the examination efficaciously.
You could resolve any query from any segment during the examination, however normally consider that the time period is only 2 hours for 50 5 questions. So attempt to remedy all of the questions all through this time.
Deliver the proper option to the question, and don't try and deliver a reason for it too because of the fact, there is no bonus mark device withinside the exam
Cross-check the solution sheet another time to ensure that you spoke back to all of the questions correctly or now no longer.
Make a sturdy timetable to Be a QuickBooks certified
Initially, the issue which happens, in this case, is which you wish to make a remarkable and impactful manner to get success in QuickBooks certified ProAdvisor. And this could be completed in the most effective three clean steps, in case you are organized to undergo the ones smooth three steps then, have a observe the below.
Also Read: "Fix the QuickBooks Error 6175- Latest Ways"
Step-1: pick out a terrific schooling class, & Attend it
Inside the number one step, it is essential to pick a first-rate and professional education beauty near your nearby for the QuickBooks licensed exam, In a queue because of the guidelines and regulations of the exam could be held effortlessly. In case you are not capable of finding out an education elegance then, you can get our ProAdvisor help to find out a training beauty, and can also clear your doubts concerning beauty.
You ought to take a pre-certification education route to look at the shape of the examination to realize the paintings and techniques of an advertising and marketing representative in QuickBooks. Right here you may moreover get a sample of the exam for the outstanding exercise. The precertification course offers you the permission to get the entire electricity of CPE credit. If you need extra steerage for this exam then, you can circulate for the stay webinar.
It is able to be right to keep a printout of the questions, and solutions, which may be cited all through the education length. Shop it due to the fact the QuickBooks certification examination questions pdf. This could sincerely let you pass the exam.
Step-2: Be equipped to offer Your nice
After attending an education beauty, you want to put together an exam. Attend a few sample examinations like online tests, mock take a look at, and perform a little sporting activity from test paper, so you may also additionally get the greater self-belief to provide the number one examination.
Step-3: sooner or later supply Your QuickBooks Certification exam
Now it's time to stand the undertaking. Do tons much less than your wish, it's miles from the remaining step, you certainly need to skip this step efficiently. Now seem inside the final examination of QuickBooks online Certification examination 2021, anticipate the declaration of result. File the solutions thru the manner of choosing the very high-quality phase. Pick the very quality segment that you suppose is straightforward for you. And don't submit the solution without delay, first take a look at, and post it. Make a plan of the way many times you may take for every phase.
Tricks that hoe to get fulfillment the QuickBooks Certification examination
We've got given a few guidelines withinside the under, the one's guidelines will let you qualify for the QuickBooks Online Certification exam.
Tip 1: Get the QuickBooks Online Certification exam solutions 2021 pdf
Prepare for the examination thruway of means of accumulating each, and unique solutions pdf supplements. Due to the fact QuickBooks or Intuit usually pick out the superb candidate for the certification; it truly is why now and again it modifies its sample style, net environment, check styles, and lots of others at a nice time. This tip will assist you to stand any shape of the state of affairs withinside the exam.
Tip 2: Technical hints
At some point of mock test exercising or online examination workout, you ought to use the 'Chrome Incognito Window' because of the reality, this Incognito window doesn't save your history, otherwise, you currently not allow the internet net page cookies.
Now you need to click on the "New Incognito Window" tab from the view listing
Now you may get admission to anything withinside the Incognito.
OR
Press the CTRL-Shift + N keys from the key-phrase concurrently to open the incognito window.
For Mac users:-
Press, and preserve the Command + Shift + N key from the keyboard.
Tip 3: confirm the answers
Verifying answers is a splendid tip to get fulfillment in QuickBooks certification. After working closer to the sample assessments, you want to confirm each and every answer. It'll enhance your degree of expertise regarding the QuickBooks Certification.
Tip 4: Take a Screenshot of the exams you exceeded
That is a totally critical tip at some stage in this adventure. Because most of the time there are some pixies to be had at the Intuit Server. For this, most of the applicants can't get the credit rating for passing due to the device faults of the pc. So it's going to probably be proper to take a screenshot on the spontaneous after passing the exam.
Apart from that, you may moreover snap pictures of some sample questions during the examination, or withinside the training as a reference or pattern question set. Use the print display screen choice from your keyboard, if you need to document them to your tool.
Conclusion
In this blog, we have knew the Guidance of Quickbooks Online Certification Examination and their taking process. And also knew some Questions and Answers. If you have any queries then please visit our site and contact our experts.