Want to take your financial consulting practice to the next level, earn client trust, and easily connect with a vast pool of potential customers? Certification as a QuickBooks ProAdvisor brings you these and many more benefits. And the best part is, you can boost your business at no cost with just a few hours of your time. By joining the QuickBooks ProAdvisor program and completing a test, your ProAdvisor certification demonstrates your superior knowledge of the QuickBooks system. You will be prepared to provide both expert business and financial consulting. Certification as a QuickBooks ProAdvisor will improve your efficiency and increase the success of your practice. We'll discuss these and more benefits in detail later in this article.
QuickBooks makes their certification program easy by providing free training resources, such as self-guided modules, webinars, and even live course options. You do not need to be a bookkeeper or an accountant or have any specific education certificates or degrees. By investing just one or two hours a day, you can become a certified QuickBooks ProAdvisor in as little as two weeks. 
QuickBooks offers certifications in several areas of specialization:
QuickBooks Online (Basic and Advanced)
QuickBooks Desktop (Basic only)
QuickBooks Point of Sale
QuickBooks Enterprise Solutions
(Note that these certifications are only for QuickBooks Payroll Service systems and do not mean the individual is a certified bookkeeper or accountant.)
QuickBooks also offers advanced certifications for those who want to more thoroughly master the company's systems. Intuit QuickBooks experts lead the advanced training courses, following which you must pass an additional exam. Your advanced certification credential significantly raises your credibility, further increases your facility with the QuickBooks systems, and enables you to improve your clients' experience and grow your practice.
Here are the three simple steps that will set you up as a QuickBooks ProAdvisor and put you on the path to greater success and more clients.
Step 1: Sign Up for QuickBooks Online Accountant Program
Your first step is to sign up for the Online QuickBooks Accountant program and create your profile to become a QuickBooks Online ProAdvisor. Signing up and creating your profile is free.
Go to quickbooks.intuit.com/accountants
Click on ProAdvisor Program in the top navigation menu
Click on the button "Sign-up for free" and fill out the required information
This process takes just a few minutes, after which you can proceed directly to the ProAdvisor training and exam.
Step 2: Prepare for the QuickBooks ProAdvisor Certification Exam
Once you sign up, you can access the ProAdvisor training courses and the exam portal. To begin the training, go to the ProAdvisor link found in a menu on the left of the QB Accountant page and click on the Training tab. Here you will find courses for all of the QuickBooks products to prepare you for the certifications exams. If you are new to QuickBooks, we recommend you start with the Introduction to QuickBooks Online Accountant course.
The QuickBooks Online Accountant Basic course consists of seven learning modules, which can be completed in about six and a half hours. You do not have to complete all the modules in one session. The system saves where you end a session, and you can pick up where you left off later.
If you are comfortable with the basics of QuickBooks Online, you may jump to the advanced certification course. The QuickBooks Online Accountant Advanced course contains ten modules and can be completed in about eight hours
While preparing for the certification exam, you can also earn CPE (Continuing Professional Education) credits, which apply to maintaining your accountancy certification. The QuickBooks Online ProAdvisor Basic certification earns you 8 CPE credits. The Advanced certification earns 13 CPE credits.
The training not only prepares you to pass the certification exam, it builds your professional confidence with the QuickBooks systems and enables you to answer your clients' questions with confidence.
Step 3: Take the QuickBooks Certification Exam
The QuickBooks Online Accountant ProAdvisor Basic certification exam contains eight sections with a total of 75 questions to test your knowledge of QuickBooks' functionality and features. You must get 80% or more questions right in each section to pass the examination.
To pass the exam, you will need a basic understanding of general accounting principles as well as knowledge of the QuickBooks Online Accountant system. The training course prepares you in both of these regards. The training course is not mandatory, however. If you already possess the requisite knowledge, you can proceed directly to the test and receive your certification. And you don't have to have all the material memorized. You can access the QuickBooks system and reference your notes as you take the exam.
The test takes only a couple hours, and like the training courses, it's free. During the exam, you can review your answers for a particular section before confirming the submission. The test, however, must be completed in a single session. You cannot stop midway through the exam and pick it up again later. If you do not pass the certification exam on the first try, you can repeat the exam until you pass. If you repeat the test, you only have to answer questions in the sections you failed. You don't have to repeat the entire exam.
QuickBooks Certification Exam Breakdown
Not only do the certification exams vary according to the type of certification you seek, within the same certification the tests change in the number of sections, the questions in each section, and even the content of the questions. Nonetheless, here is a list of topics that you are likely to be tested on for the QuickBooks Online Accountant Basic certification:
QuickBooks Solutions for Clients
Client Onboarding
Special Client Onboarding Tasks
Managing your Clients and Work
Supporting your Small Business Clients
Reporting
Banking and Tools
Preparing Clients' Books
We offer the following tips to ease your stress and help you to pass the test successfully. One obvious tip is to study all the resources provided, watch the webinars, and take notes. Also, download and print the handouts and the PDF files that come with the webinars. Test questions are often drawn from these materials. Keep in mind that it is best to focus one topic at a time.
Your ProAdvisor Profile
After you pass the exam and certify as a QuickBooks ProAdvisor, you can list your practice on the Find-a-ProAdvisor platform. This allows you to connect with potential clients, build your client list, and earn their trust. A thousand or more bookkeepers and accountants connect with potential business clients every day through this platform. This comes as no surprise, because the Find-a-ProAdvisor platform is the largest of its kind in the world to connect businesses with accounting professionals. You increase your matches with appropriate businesses by regularly updating your profile with client reviews, your photo, and industry expertise.
The image you portray on this platform represents your professionalism to the businesses who are searching for QuickBooks consultants. Their first impression of you comes from your online profile, and having certifications as well as additional information and reviews allows you to immediately earn their trust. Reach out to your clients with a link to your profile and ask them to leave a review.
Your ProAdvisor Profile climbs in the ranking as you earn more points. This is a powerful feature. The profile rankings are:
As you advance in the rankings, you can grow your business and take advantage of more features of this program, as well as discounts, product support, and training opportunities.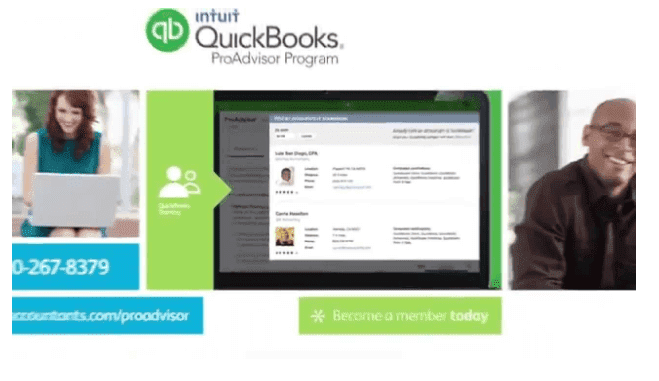 The Bottom Line
You may have been considering a QuickBooks ProAdvisor certification but weren't sure of its value or whether you had the time to study and take the exam. Realize that the time you invest in knowledge and certification pays tremendous dividends. QuickBooks ProAdvisor membership gives you the following benefits:
Display your ProAdvisor certification badge on your website and emails
Boost your credibility and increase your profile ranking
Distinguish yourself as a true expert with QuickBooks software as a QuickBooks Self-Employed
Use the Find-a-ProAdvisor platform to promote yourself, so clients can find you
Access unlimited US-based phone support by QuickBooks experts
Receive free or discounted products and supplies
Help your clients no matter where they are and increase their trust
Convinced? Simply sign up for your ProAdvisor account on the QuickBooks website. Remember, registration is free, as are all the training courses and the exam. Begin today using the knowledge resources available to you free of charge. Invest in yourself. When you are ready, take the ProAdvisor certification exam to show the world your expertise in QuickBooks.
If you would like to get information about this program or have any questions, please visit the official QuickBooks website or contact the support team available 24/7.
How to Become a QuickBooks ProAdvisor in 3 Steps
A QuickBooks ProAdvisor is someone familiar with the QuickBooks product line who has joined the QuickBooks ProAdvisor program and passed a certification exam. There are four primary certifications: QuickBooks Pro/Premier, QuickBooks Online, QuickBooks POS and QuickBooks Enterprise Solutions. Becoming a QuickBooks ProAdvisor is completely free as are all the study materials and exams from QuickBooks.
You don't need an accounting or bookkeeping background or any type of formal education to take the certification exam. To become a certified QuickBooks Online ProAdvisor, you must successfully pass a 55-question exam with a passing score of 80 percent or better. Most people should plan to invest at least 12 to 16 hours of studying to prepare for the exam. You can take the exam multiple times if you don't pass on your initial attempt.
In addition, there are advanced certifications available for both QuickBooks Online and QuickBooks Desktop. Our focus is on the core QuickBooks Online certification. If you are interested in learning more about the QuickBooks desktop certifications, you need to add QuickBooks Desktop to the Your ProAdvisor membership. For more details, head to the Your ProAdvisor Profile section.
The three steps to becoming a certified QuickBooks Online ProAdvisor are: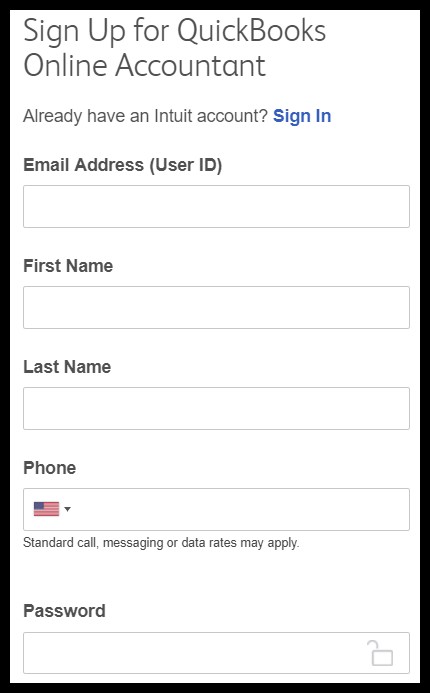 1. Sign Up for QuickBooks Online Accountant
The first step is to provide some basic information to create a free QuickBooks Online Accountant (QBOA) account. You will be asked to provide your:
Email address (user ID)
First name
Last name
Phone number
You'll also be asked to create a password. No credit card or other sensitive information is required.
2. Prepare for the QuickBooks ProAdvisor Certification Exam
Once you create your QuickBooks Online Accountant account, you have access to all of the study guides, webinars (live and recorded) and exams for free. Like any exam, you need to study in order to pass the exam successfully. The extensive training is broken up into seven modules, which are about 6.5 hours of time that you will spend watching the webinars and go through the study guides.
I recommend downloading the study guides to your computer to follow along and take notes as you watch the webinar. If you can't finish a webinar in one session, the program will save your progress so that you can pick up where you left off easily.
To access the training materials and certification exams, log into QuickBooks Online Accountant, click on the ProAdvisor tab on the left and Training as indicated in the screenshot below:

The main topics covered in the ProAdvisor certification training are:
Setting up clients: In this course, you learn how to select the right company settings, how to create new customers and vendors, how to create the chart of accounts and more
Supporting your small business clients: In this course, you learn how to manage customer payments, deposits to the bank, journal entries and more
Banking and tools: In this course, you learn how to connect bank accounts and credit card accounts to QuickBooks, how to reconcile a bank account and recurring transactions
Reports: In this course, you learn how to edit, customize and run reports like profit and loss, balance sheet and sales and expense reports
Managing your work: In this course, you learn all about the practice management features in QBOA; you can set up projects and track them for QuickBooks and non-QuickBooks clients
Preparing client's books: In this course, you will learn how to prepare a client's books for the year-end close
QuickBooks solutions for clients: In this course, you will learn how to determine which QuickBooks subscription is right for your client
I also recommend that you have QuickBooks open. I'm a hands-on learner so, sometimes, I will pause the webinar and practice doing something that I just learned. If you prefer live instruction, you can check the schedule for a list of all upcoming QuickBooks workshops. Before you attend a live workshop, be sure to download the study guides to your computer so that you can follow along with the instructor. Both the live and recorded webinars allow you to earn continuing professional education credits (CPE) that can be used to renew your certified public accountant (CPA), enrolled agent (EA) or certified bookkeeper credentials.
3. Take the QuickBooks Certification Exam
You can access the QuickBooks certification exams in the same place where the training materials and webinars are located. There is no cost to take the exam which has a total of 55 questions, which are broken down into seven sections. Of course, this will vary but it should take approximately two hours to complete all seven sections. I recommend that you tackle the sections you feel the most confident at first. Don't underestimate the sections that have fewer questions — those tend to be the most challenging.
You must answer at least 80 percent of the questions in each section correctly to obtain your certification. You have three attempts to pass the exam. If you fail the exam three times, you must wait 60 days before you can attempt to retake it.
QuickBooks Certification Exam Breakdown
| Section | Number of Questions | Estimated Time |
| --- | --- | --- |
| Section 1: Setting Up Clients | 17 | 43 minutes |
| Section 2: Supporting SMB Clients | 10 | 25 minutes |
| Section 3: Banking and Tools | 5 | 13 minutes |
| Section 4: Reports | 6 | 15 minutes |
| Section 5: Managing Your Work | 5 | 13 minutes |
| Section 6: Preparing Clients' Books | 7 | 18 minutes |
| Section 7: QuickBooks Solutions for Clients | 5 | 13 minutes |
As a ProAdvisor who has been certified for the last 10 years, I recommend that you have your study guide open to the section of the exam that you are taking. While this is an open book exam, you do not want to spend a lot of time looking up answers so make sure that you study. You should also have QuickBooks open so you can access it easily if you need to.
Your ProAdvisor Profile
There are many benefits that come with being a Certified QuickBooks ProAdvisor. In addition to discounts on products and services and a dedicated telephone and chat support, you are added to the Find-a-ProAdvisor online directory listing. More than 700,000 small businesses visit this website to find a local ProAdvisor. I average about two leads per week from this site every year between January and April.
You will also receive a certificate of completion and a certification badge that you can download and use on your website, have printed on business cards and include in your profile of other directories like our very own Fit Small Business Bookkeeper Directory.
Be sure to complete your profile as soon as possible. Your profile includes the certification badges you have earned, an about me section, number of years in business, services that you offer, any industries that you have experience in and your social media links. I have included my QuickBooks ProAdvisor profile below as an example: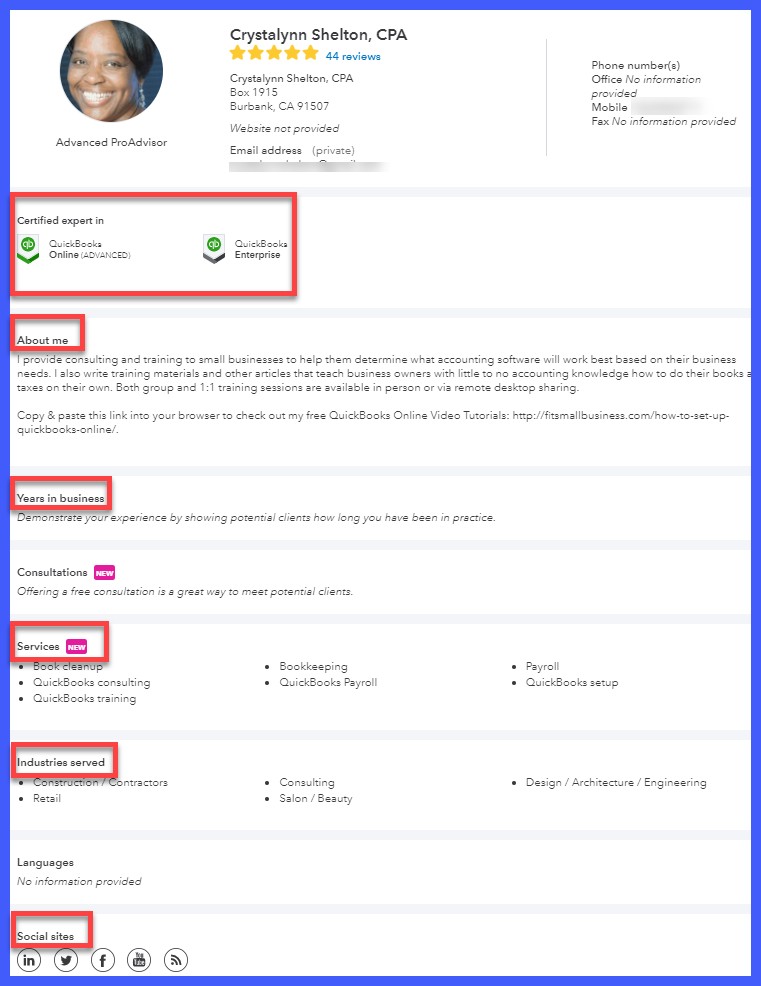 If you plan to support clients who use QuickBooks Desktop products, you can add QuickBooks Desktop to your membership for $549 a year. In addition to the benefits we've discussed, you also receive the following:
$5,000 worth of QuickBooks Desktop software
30% discount on QuickBooks software that you can pass this along to clients
Expert United States-based chat and phone support
Training materials for QuickBooks desktop products
Access to certification for QuickBooks desktop products
If you are a bookkeeper or accountant who offers bookkeeping and payroll services, it is a no-brainer that you need to become certified in QuickBooks. QuickBooks has more than 85 percent of the market when it comes to the accounting software small businesses use most often. That means the majority of your clients will use QuickBooks. During my conversation with Naveena Bereny, Global Training & Certification Leader at Intuit, she shared the following:
"In 2017, more than 27,000 people in the U.S. alone got certified in QuickBooks Online. Small businesses want their bookkeeper and accountant to be certified in QuickBooks so that they are confident the person knows what they are doing. More than 1 million small businesses visit the Find-a-ProAdvisor site every year looking for qualified accountants who can help them get their bookkeeping, payroll and taxes done."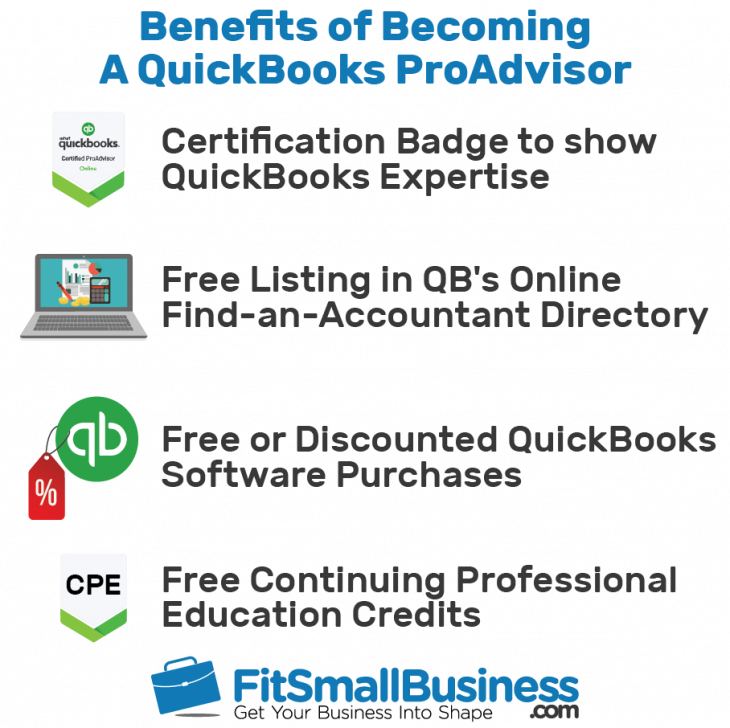 Frequently Asked Questions
1. How Often Do I Have to Take the Certification Exam?
During my conversation with, I addressed this question to her. Her response to this question was:
"One of the improvements made to the certification exam released in March 2018 was a simplified recertification process. In the past, the recertification date was based on your anniversary date as a ProAdvisor. Now, we have made it simple by having everyone recertify by July 31 each year. In addition, the recertification exam only includes information about new features and functionality that has been added within the last year. The new recertification exam takes approximately one hour to complete."
2. Am I a Certified Bookkeeper After Passing This Exam?
Unfortunately, becoming a certified QuickBooks ProAdvisor does not make you a certified bookkeeper. It simply says that you are knowledgeable in QuickBooks products. However, if you are interested in becoming a certified bookkeeper, check out How to Become a Certified Bookkeeper.
3. Is the QuickBooks Desktop Add-on Fee of $549 a One-time Fee?
The additional $549 you pay to add QuickBooks Desktop to your ProAdvisor membership is not a one-time fee. This is an annual fee that you can pay in one lump sum or pay $49.99 monthly. In return, you receive all of the new desktop software for that year as well as immediate access to updates to QuickBooks Online Accountant.
4. Do I Have to Sign a Contract?
There are no contracts to sign. You can cancel your membership at any time.
The Bottom Line
By now, you should have more than enough information to take that next step and become a QuickBooks ProAdvisor. If you're on the fence, just complete step one to sign up for your free QuickBooks Online account. There is no requirement that you get certified. However, if you want to increase your knowledge and skills in QuickBooks, you should complete the remaining steps to become certified.
Be sure to check out our free QuickBooks Course. It includes 39 free video tutorials that teach you how to use QuickBooks Online. I also recommend that you use these videos to train your clients on how to use QuickBooks.
QuickBooks ProAdvisor Program Adds New Resources, Features, and Training Courses
Here are several new resources, features, and trainings (all accessible via the ProAdvisor tab in QuickBooks Online Accountant) that increase your knowledge while helping you better advise your clients and scale your impact.Jun 15th, 2020
QuickBooks ProAdvisors are well known for their skills and expertise in all-things QuickBooks. They also have a deep commitment to growing their firms in dynamic ways and serving as trusted advisors to their clients. The ProAdvisor team at Intuit is constantly listening to feedback from accounting professionals to ensure the program's benefits – including training, resources and tools – continue to meet the needs of its members, especially during these unprecedented times.
Here are several new resources, features, and trainings (all accessible via the ProAdvisor tab in QuickBooks Online Accountant) that increase your knowledge while helping you better advise your clients and scale your impact.
New Resources
ProAdvisors have immediate access to several new resources (accessible via ProAdvisor > Benefits) to help them manage their business and assist their clients during COVID-19. These include the following:
Also new: ProAdvisors can download a badge for their current ProAdvisor tier level (Silver, Gold, Platinum, or Elite) to display on their website and on co-branded materials. The badges allow members to showcase their ProAdvisor certification level to peers, clients, and prospective partners. Included with the badges are new branding guidelines available to help members build their brand. To view and download, use the menu sidebar to navigate to ProAdvisor > Benefits > Digital ProAdvisor badges > Download.
New training courses
With travel currently difficult for many of us, the ProAdvisor team is creating additional educational offerings to help ProAdvisors stay at the top of their game. These include great training opportunities, including "Bookkeeping Principles," a new class on bookkeeping fundamentals where attendees can understand the role of the bookkeeper, why the role is important, and key concepts on transaction entry and financial statement.
There will be other new training courses and updates as well, so check back often for updates (ProAdvisor > Training).
Certification Enhancements
On top of running their practices, keeping up with their own certifications – and ensuring their team members are certified – has been difficult. Now, ProAdvisors can see which team member is certified, which certifications they have, and when their certification expires.
Reminder:
Annual recertification season opened April 20 and is open through August 31, 2020. The original deadline of June 30 has been extended by two additional months to better support ProAdvisors during this unprecedented time, allowing them to clear the new tax deadline of July 15 and focus on clients.
More information can be found on Intuit'sFirm of the Future article (https://www.firmofthefuture.com/content/quickbooks-online-2020-recertification/).
Not a member of the ProAdvisor program?
The ProAdvisor Program is available to all accounting professionals using QuickBooks Online Accountant. When you create a QuickBooks Online Accountant login, you'll belong under a QuickBooks Accountant firm and will automatically be enrolled under the firm's ProAdvisor Program account. Each firm has its own ProAdvisor Program account. Sign up for free today!
How to Find a QuickBooks ProAdvisor Consultant
Finding the right answers to business accounting needs can be easy with a QuickBooks ProAdvisor consultant. While accountants, bookkeepers, advisors, consultants, management companies, and many other individuals tout services to help you set up and use QuickBooks more effectively, they may not have more than a basic understanding of the software. They may not even know how many useful QuickBooks features you're missing out on because QuickBooks is a surprisingly powerful accounting program.
That is where the Quickbooks ProAdvisor consultant certification will come in handy. These professionals have a proven—by passing an exam—expertise in the use of Quickbooks.
Different Certifications for ProAdvisor Consultants
The Quickbooks ProAdvisor program identifies accounting professionals who can provide insight on the use of QuickBooks for a business or individual. The ProAdvisor can receive four different types of certifications demonstrating different levels of proficiency with QuickBooks and deeper mastery of QuickBooks industry editions.
ProAdvisors may choose to take a certain number of hours of training—in-person in a classroom or online—or they can bypass any instruction and sit directly in the exam to get certified.
QuickBooks Certification
A QuickBooks ProAdvisor can receive a basic QuickBooks Certification. To get this certification, the ProAdvisor must successfully complete a certification exam. The exam covers topics such as QuickBooks installation, setup, recording transactions, and financial reporting. While candidates must score 85% to pass the exam, they get six chances to pass. If a candidate does not pass, they will be given the questions that were incorrect.
Pro: This basic certification will give you some assurance that your ProAdvisor will have at least a basic proficiency with QuickBooks.
Con: A ProAdvisor who holds only this certification may have learned how to pass an exam on QuickBooks through trial and error, not from a thorough understanding of the program. Remember that candidates get six attempts to pass the exam.
QuickBooks Advanced Certification
A ProAdvisor who holds the QuickBooks Advanced Certification Course has a deeper understanding and more expertise with QuickBooks compared to those who hold only the basic certification. Candidates must have passed the basic exam for three consecutive years and an advanced certification exam. The advanced exam covers intermediate-level accounting principles, advanced QuickBooks features, and requires candidates to demonstrate the ability to troubleshoot client data files.
As of March 2019, anyone with advanced certification will have to take a short exam to become re-certified. They will be tested on any changes that occurred in QuickBooks since the previous exam.
Pro: You'll know your ProAdvisor has demonstrated consistency and dedication toward working with QuickBooks, having used the program for at least three years.
Con: Candidates get three attempts to pass the exam so it's possible that some candidates simply learn to pass the exam by trial and error. If they don't, they get locked out for 60 days before being able to try again.
QuickBooks Point of Sale Certification
The QuickBooks Point of Sale Certification is designed for ProAdvisors who serve small businesses in the retail industry who need QuickBooks Point of Sale setup and support. The Point of Sale Certification is offered on a two-year cycle, so ProAdvsiors will only need to recertify once every two years.
Pro: If you run a small retailing business, you'll know you're working with someone who understands your industry if you choose a ProAdvisor with this certification.
Con: ProAdvisors with the POS certification are not regularly tested like other programs so it's possible they're not as up-to-date as other QuickBooks certified professionals.
QuickBooks Enterprise Solutions Certification
QuickBooks Enterprise Solutions Certification requires that candidates pass the basic QuickBooks certification and then pass the Enterprise Solutions certification exam. The exam is designed to test individuals' knowledge of QuickBooks financial products and demonstrate their ability to provide on-site QuickBooks Enterprise Solutions setup and support to clients.
Pro: QuickBooks ProAdvisors who receive this certification have demonstrated proficiency with the most advanced QuickBooks program on the market.
Con: There are currently only 100,000 companies using QuickBooks Enterprise Solutions—so most aren't using this QuickBooks version.
How to Find a ProAdvisor in Your Area
You can search for QuickBooks ProAdvisor's on Intuit's website using their ProAdvisor search feature. ProAdvisor consultants may use their certification as they advertise their services on services like LinkedIn and Facebook business pages.
In addition to the expertise, a ProAdvisor can provide your small business, finding a local ProAdvisor has another distinct advantage—you can get discounts on Intuit products ranging from 10% to 20%.
How to Setup QuickBooks ProAdvisor Program, Membership, Training & Certification (2020 Update)
Learn the updated QuickBooks ProAdvisor program, membership, training and certification
What is QuickBooks ProAdvisors? What actually they do? And Why the users need it? Well, these questions commonly arise in the minds of the QuickBooks users. If you have similar questions, then you have landed on the right place.
Today, we will be discussing each and every aspect associated with QuickBooks ProAdvisors, just like the ProAdvisor program, membership, training, certification, and many other things. Thus, stay tuned with the article and explore further. Or you can also get in touch with our QuickBooks consulting team at our toll-free number .i.e. +1-844-405-0907, and they will clear all your clouds of confusion.
What do you mean by QuickBooks ProAdvisors?
Basically, QuickBooks ProAdvisors are an accountant, a bookkeeper, or a CPA, who generally have a certification and along with that offers a large variety of services which includes, accounting, tax and financial planning, computer consulting, bookkeeping, etc. After exploring and analyzing the exact position of the business and also what is required for reaching on top, the QuickBooks ProAdvisors provide the strategic tools. In simple words, it can be said that QuickBooks ProAdvisors are there to assist the businesses in improving the accounting and bookkeeping management of the business, with the ultimate goal to increase the growth of the business.
Read also:How to use Accounting tools in QuickBooks Enterprise?
What is QuickBooks ProAdvisor Program?
Coming to the QuickBooks ProAdvisor Program, it can be said that it is a program that enables the experts in accounting and bookkeeping to provide expert advice and suggestions with the best tools and strategic methods. This program comprises of software, tools, and resources for all the accountants and the bookkeeper. It has almost everything that the user required for supporting the QuickBooks clients and improve their practice.
This program allows the accounting professionals to augment their skills, as well as improve the growth of their firm, and also to become an expert by providing certain benefits, such as strategic marketing tools, customer care, training, and also the product discounts. Many QuickBooks users wish to take the membership of this ProAdvisor Program, as it offers amazing benefits. Let us have a look at the benefits of this program:
Benefits of QuickBooks ProAdvisor program membership
Checkout the benefits of ProAdvisor program membership of QuickBooks:
1. QuickBooks Online Accountant
This is a platform provided for all the accountants and QuickBooks users, where they can manage as well as practice their accounting skills under one roof. This is especially designed to enhance the accounting skills and the business. It is an all-in-one portal, that keeps the Desktop, as well as the Online benefits with each other under a single roof.
The features of QuickBooks Online Accountant include:
Client list
Your Books
Practice management
Wholesale Billing
The ProAdvisor tab
2. Certification courses
Regardless of the location, QuickBooks users can get Certification Courses from QuickBooks ProAdvisors. It should be noted that all the memberships come up with certification courses, where one can make the best of use of one's knowledge and also earn CPE credits. Free memberships provide QuickBooks Online certifications, whereas the deluxe and the Premium memberships add certifications for Desktop Software.
Get certified and enjoy these benefits:
Higher ProAdvisor tier from silver to gold
Listing on the Find-a-ProAdvisor site
The user can also access the certification page in QuickBooks Online simply by selecting ProAdvisor in the left-hand navigation menu, followed by clicking on certification.
You'll also like: Advantages Of using accounting software for your business
3. Find a ProAdvisor listing
Each and every version of this program includes a listing on the Find a ProAdvisor site, which is a directory of accounting professionals used by countless businesses to find and connect with the ProAdvisors. If the user completes at least one current certification, the user will be eligible to publish their own profile so that the prospective clients is able to discover the QuickBooks user.
4. Technical Support
Every ProAdvisor membership comprises of infinite access to chat and also phone support. While the support is convenient to all the ProAdvisors, completing the certification courses makes you eligible for much better support from some of the experts.
5. Rise according to the Rank
In the process of becoming a ProAdvisor, the user can avail numerous benefits. This generally depends on the points, which means the number of points that they have earned. These points will help the user to become a ProAdvisor.
| | | | | |
| --- | --- | --- | --- | --- |
| Marketing Tools | Silver 0-199 points | Gold 200-799 points | Platinum 800-1,599 points | Elite 1,600+points |
| In Find-a-ProAdvisor Directory list | ✔️ | ✔️ | ✔️ | ✔️ |
| Constant contact Email marketing tool | ✔️ | ✔️ | ✔️ | ✔️ |
| Squarespace website builder | 15% | 20% | 25% | 30% |
| Intuit Marketing Hub | ✔️ | ✔️ | ✔️ | ✔️ |
| QuickBooks ProAdvisor merchandise store | | ✔️ | ✔️ | ✔️ |
| | | | | |
| --- | --- | --- | --- | --- |
| Product Support | | | | |
| Chat and phone support | ✔️ | ✔️ | ✔️ | ✔️ |
| Priority Chat and phone support | | | ✔️ | ✔️ |
| | | | | |
| --- | --- | --- | --- | --- |
| Training | | | | |
| Online certification and training | ✔️ | ✔️ | ✔️ | ✔️ |
| In-the-know webinars | | ✔️ | ✔️ | ✔️ |
| Professional QuickBooks online training for your clients | | | ✔️ | ✔️ |
| Training to improve your resolute | | | | ✔️ |
| | | | | |
| --- | --- | --- | --- | --- |
| Services and Software | | | | |
| Free QuickBooks Online Accountant | ✔️ | ✔️ | ✔️ | ✔️ |
| Payroll for firm | ✔️ | ✔️ | ✔️ | ✔️ |
| QuickBooks online for a firm | ✔️ | ✔️ | ✔️ | ✔️ |
| Heavy discount on client QuickBooks subscriptions | ✔️ | ✔️ | ✔️ | ✔️ |
| ProAdvisor partner app discount | ✔️ | ✔️ | ✔️ | ✔️ |
| QuickBooks payment discount | ✔️ | ✔️ | ✔️ | ✔️ |
| Discounted ProConnect Tax online return | | 10% | 15% | 20% |
| Forms, checks and supplies discount | ✔️ | ✔️ | ✔️ | ✔️ |
| Tsheets time tracking | ✔️ | ✔️ | ✔️ | ✔️ |
Related article:Know the benefits of Using QuickBooks desktop
How these points can be earned?
25 Points
For earning 25 points, adding a QuickBooks independent subscription for the client would work.
50 Points
100 Points
QuickBooks online complete certification
QuickBooks desktop complete certification
Buy ProAdvisors Deluxe or Premium for Desktop
200 Points
Complete advanced certification is there for QuickBooks online.
Intuit has launched Redesigned QuickBooks ProAdvisor
As the recent press release by Intuit, it has launched a redesigned QuickBooks ProAdvisor that provides further support to the accountants and bookkeepers. This program not only offers customer support, training, and software discounts, but also it offers plentiful other benefits such as:
In order to display their expertise, the QuickBooks users can access gold, silver, or Elite membership.
There are guides obtainable, along with templates and other marketing resources of the new Intuit Marketing Hub, that can be accessed only by a ProAdvisor.
Also, in this program, there are a few grow your practice workshops and masterclasses that might assist in improving the business.
Special discounts are also available for the ProAdvisors who want a deeper connection with the clients.
QuickBooks Advanced Certification and its importance
It should be noted that all the QuickBooks Advanced Certified ProAdvisors are required to complete 9 CPE credits of Advanced Continuing Education (ACE) approved training. The above mentioned thing is to be completed within 3 years of getting the certification. Thus, after every 3 years, the QuickBooks users will have to again earn 9 CPE credits. The reasons why anyone should attend QuickBooks Advanced Certification include:
By attending this, the user becomes a professional by acquiring in-depth knowledge of QuickBooks online.
The user also obtains the Advanced Certified ProAdvisor status and be awarded by a certificate and a logo.
Also, one can obtain CPE credits.
What one can learn from this program?
How the data conversion process works?
Using opening balance, and how to create a file
QuickBooks advanced feature
Managing users and company settings
Tips and tricks
Budget setups
Managing table of accounts.
Read also:Understand the advantages and disadvantages of accounting software
QuickBooks ProAdvisor membership Plans
Below we have shared a list of membership type with their benefits and description.
Membership Type
Price
Benefits
Description
Free
Free
QuickBooks Online Accountant (QBOA) with a free set of books for your company, Client file management tools, Practice management tools, Technical support, Free online payroll subscription, QuickBooks online certification courses
Adds Desktop accountant and everything you need to support Pro and Premier desktop clients.
Deluxe
$349 per year
It includes everything from the free membership. Also comes with:

QuickBooks accountant desktop, Technical support, Certification courses for QuickBooks desktop, Discounts for Pro and Premier software
Adds Desktop accountant and everything you need to support Pro and Premier desktop
Premium
$549 Per Year
This plan includes everything from the free membership deluxe membership, also it comes with:

QuickBooks point of sale, QuickBooks enterprise solutions, QuickBooks for Mac, Free technical support, Certificate courses for enterprise and point of sale, You will get discounts for variety of QuickBooks products.
Adds Desktop accountant and everything you need to support Pro and Premier desktop
| | | | |
| --- | --- | --- | --- |
| Add-ons (Deluxe and Premium) | Price | Benefits | Description |
| Enhanced Payroll for Accountants with ProAdvisor discounts | $249 Per Year | You can run your payroll in QuickBooks desktop for up-to 50EIN's, You can also access all variants federal and state forms | Run Payroll for your desktop clients at a sharp discount |
Steps to download the software?
Downloading the QuickBooks ProAdvisor software doesn't involve any rocket science. It is simple procedure, all you need to do is follow some simple steps:
With the ProAdvisor login credentials, the user is required to login the https://camps.intuit.com/app/selfservice/index.html#signin Intuit website.
After that, check out the Products and Services list and then select a name of the product that you wish to install.
The license and the product numbers are required for the installation.
Now, click on the download link and begin with the downloading process.
Winding Up!
With this we come to the end of this article. Continuing the QuickBooks ProAdvisor practice is a sign of smart entrepreneurs, as this improves the business growth at large. I end this post here, with the hope that it might work in your favor. If you further discussion on this topic, or if you have any query, you can dial our toll-free number .i.e. +1-888-300-3913, and talk to our certified QuickBooks online support executives and QuickBooks professionals.