Quicken is undoubtedly robust personal financial software helping small and medium-sized business organizers to manage their finances with ease. Quicken has always been a prominent name in the personal finance industry for more than three decades. But from the last few months or a couple of years, Quicken has gone out of date. What else is wrong with Quicken is it is a bit old and becomes outdated. But don't you worry! Nowadays, there are many Quicken Online Alternatives tools available to help your business finances and track your savings simultaneously. The best part is most of them are free. In this guide, we discuss Quicken Online Alternatives which are effective in managing every aspect of business or personal finances. Thus, let's read and learn!
Get The Top Quicken Online Alternatives
Wandering for the Alternatives To Quicken Online methods of tracking your spending and creating a budget? Finally, you have landed on the right page. In the below section, we compiled plenty of new and upgraded alternative tools. Let's give a glimpse of the collected alternative utilities-
Personal Capital: When finding a substitute for a Quicken, Personal Capital would be considered in the top-list. It is free and offers amazing features that make financial management work simple and easy. What you can actually do with Personal Capital is, directly connect to every financial account you have. The tool allows you to:
Track your spending effort freely by category
Approximate calculation when you retire
Evaluate the cost that you already have spent on
The asset allotment of your portfolio is shown as
Produce a net worth statement
When bills are due or remaining to be paid, you will get notified or receive an alert message.
Easy and smooth calculation of your investment portfolio
Savings for an urgent situation.
Tiller Money: Tiller Money has the ability to figure out how to convert a Google Sheet into an active budgeting tool. The only thing required to do is to link the bank accounts and credit cards to Tiller's Google Sheet tool. All of the recent transactions thereafter automatically downloaded. From there you can produce budgets, categorize spending and create reports very efficiently. Such a productive application is beneficial in managing both personal budgets and small business budgets. Though, it is very clear that the Tiller is idyllic for those who would like to work with Spreadsheet. With Tiller, one can manually categorize each transaction in a well-proficient manner. One good benefit is, initially there is no requirement to pay any penny as it offers a 30-day free trial. Thus, hurry up! Get Tiller Online Quicken Alternatives Free for your ultimate financial work.
You Need A Budget: It is the best budgeting tool. For the person who is looking to create a budget in a hands-free way, YNAB is perfect and an ideal tool. There is no better app than YNAB especially when it comes to generating a budget. YNAB's crossing point is somehow similar to a spreadsheet. The tool makes it superbly easy in terms of budgeting by category based on the money saved in your bank. It provides every dollar a job. So, you can just do it simply by deciding how you will spend every dollar that enters your checking account. However, like other Quicken Online Alternatives tools, just connect your bank accounts and credit cards to YNAB. Doing so real-time updates will be enabled so you can frequently track your sending throughout the month.
Pocket Smith: It is superbly amazing and top-notch for calendar budgeting. In today's world, it's a fully developed budgeting app that helps to sync bank accounts with ease. After syncing your account, you can profoundly track your budget. Furthermore, you will also be able to see your income and spending in a catchy calendar view. One tremendous feature of Pocket Smith is an auto-budget tool. On the basis of the amount that has been spent in the past, a quality budget will be created. Although, it is having a cash flow feature that records earnings and spending by date range.
Count About: When there is limitless data available in Quicken, Count About can be the one fruitful budgeting tool for you. It has a feature that enables you to convert data from Quicken. With this Quicken Online Alternatives, you can download transactions from your bank and flawlessly modify both profits and expenditure categories. Moreover, you can attach receipt images to expense transactions in a handy way.
Money dance: Money dance is traditional budgeting software that should be downloaded instead of using it online. You can download banking transactions and initiate Quicken Alternatives Pay Bills Online with this application. It provides a dashboard where finances are summarized all in one place. Additionally, it can also generate reports and graphs with few clicks to offer you a visual perspective of your money. It has enough proficiency in order to track your finances and can immediately notify you when payments are due.
Every Dollar: Every Dollar is the top among Quicken Online Alternatives and also it isn't cheap at all. It just has a 14-day trial period and once the days get ended one has to pay $129.99 a year. But if you want to try it for only 3 months, it will cost $59.99. With this mobile app, you can sync your bank accounts, set up budgets, and track expenses. However, such a budgeting app can be regularly operated on computers, smartphones, and tablets.
Banktivity: Banktivity is the Online Quicken Alternatives budgeting app exclusively designed for Mac OS. It serves quality features that enable users to arrange and track all of their finances. You can create group accounts more frequently and reports, and organize the dashboard in the best way. Also, Banktivity lets you do many easy tracks of an envelope budget. This can be more impactful specifically for those who are living paycheck-to-paycheck. You can import transactions straight from your bank and hassle-freely access data on any of your Mac devices. Banktivity has also the ability to track entire investments and generate account-level reporting. This is available free for 30 days. After that, they deliver three plans in front of users ranging in price from $4.16 to $8.33 a month.
GnuCash: When needed to track online business income and expenses with Quicken and transfer to QuickBooks, GnuCash would be the solution. It uses double-entry accounting, perfect for businesses and accountants. It tracks funds, schedules transactions, and creates reports and graphs.
Mint: Mint is an optimum Mobile App completely free for the novice. It is the best Quicken Alternative fully worth when you are replacing Quicken. It is free and easy to link your accounts and track your spending.
GoodBudget: If you are required to buy a digital version of the time-tested budgeting system, give a single chance to try. It is an online application that can sync and share your budget. Although, you can set goals to save for big purchases. GoodBudget is a free mobile app that can help to synchronize a budget depending on an envelope system. It is however only available for iOS and Android devices.
Take Additional Help At 24/7 Online Support Number
The aforementioned are several Quicken Online Alternatives available for your help in a way to track your saving and spending habits. So, you have many options so try any of them out. It is also the truth that many of them are free. Even Though, there is no risk at all while using any budgeting tools or apps. Therefore, get a clear picture of your money every single month like where you invest and save. For more detail, you can contact us at the given helpline number.
Best Quicken Alternatives in 2021
Quicken was once the go-to budgeting tool. I used it when it was first released in the 1980s. Today, it's been eclipsed by apps that enable you to manage every aspect of your finances, often for free. Here are the best Quicken alternatives to consider in 2021.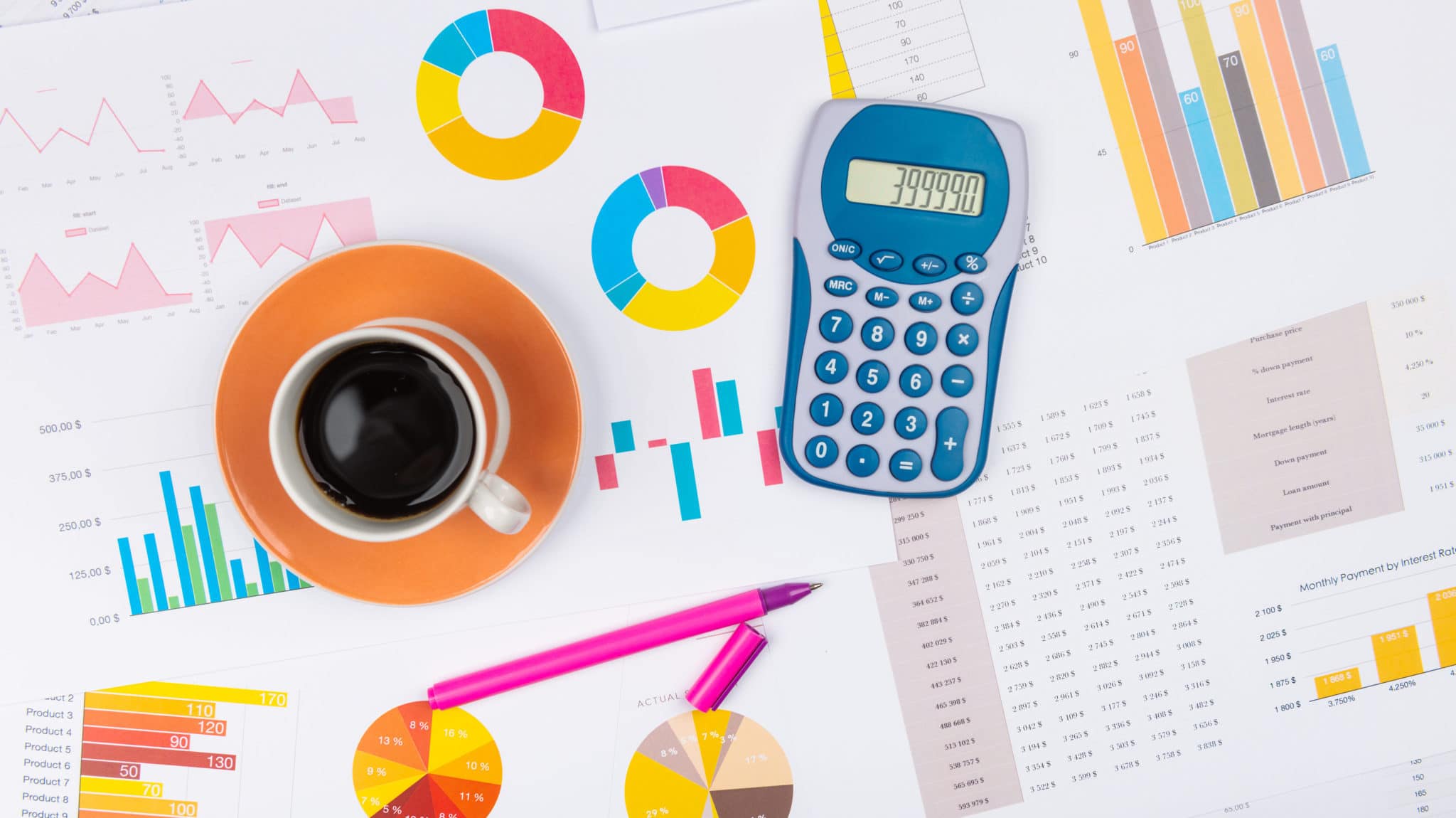 Editor's Top Picks
Of all the options out there to replace Quicken (and Mint for that matter), three stand out among the rest:
Personal Capital–It's both free and comes with the a robust set of features unmatched by other alternatives. It easily handles budgeting, net worth, cash flow, retirement investments and taxable investments. It also comes with excellent tools, including a retirement calculator, investment fee analyzer and investment portfolio analyzer. Personal Capital can now even track Bitcoin, Ethereum, Litecoin and thousands of other tokens. It's the tool I use every day.
Tiller–If you are a diehard spreadsheet fanatic, Tiller is the answer. It integrates with Google Sheets and can connect your bank accounts and credit cards. It also offers daily email updates to track your spending. You can try it free for 30 days, then it's $79 a year.
YNAB (You Need a Budget): For those who want to focus exclusively on budgeting (no investments), then YNAB is an ideal choice. It does budgeting as well as any app available today, and its community is second to none.
Alternatives to Quicken
Top Quicken Alternatives
1. Personal Capital–Editor's Choice
Personal Capital is the clear winner when it comes to finding a substitute for Quicken. It's free and it offers tools to manage every aspect of your finances. With Personal Capital, you can link just about every financial account you have–checking, savings, credit cards, retirement accounts, investments accounts, HSAs, and even your home (via Zillow).
Once linked, Personal Capital's financial dashboard offers valuable insights into your finances. As an example, the tool enables you to–
Track your spending by category
Estimate when you can retire
Calculate the cost of your investments
Display the asset allocation of your portfolio
Generate a net worth statement
Get alerts when bills are due
Evaluate your investment portfolio
Save for emergencies
New: Track Bitcoin, Ethereum, Litecoin and thousands of other tokens without giving access to your crypto wallet.
I've used Personal Capital for years. It's the only option that in my opinion can handle every aspect of my finances, from budgeting to investing to retirement planning.Try Personal Capital
I've written a detailed review and guide of Personal Capital that you can check out.
2. Tiller Money–Best Spreadsheet Budget
I don't know how they do it, but Tiller Money has figured out how to turn a Google Sheet into a dynamic budgeting tool. You link your bank accounts and credit cards to Tiller's Google Sheet tool, and it automatically downloads all of your transactions. From there you can create budgets, categorize spending and generate reports.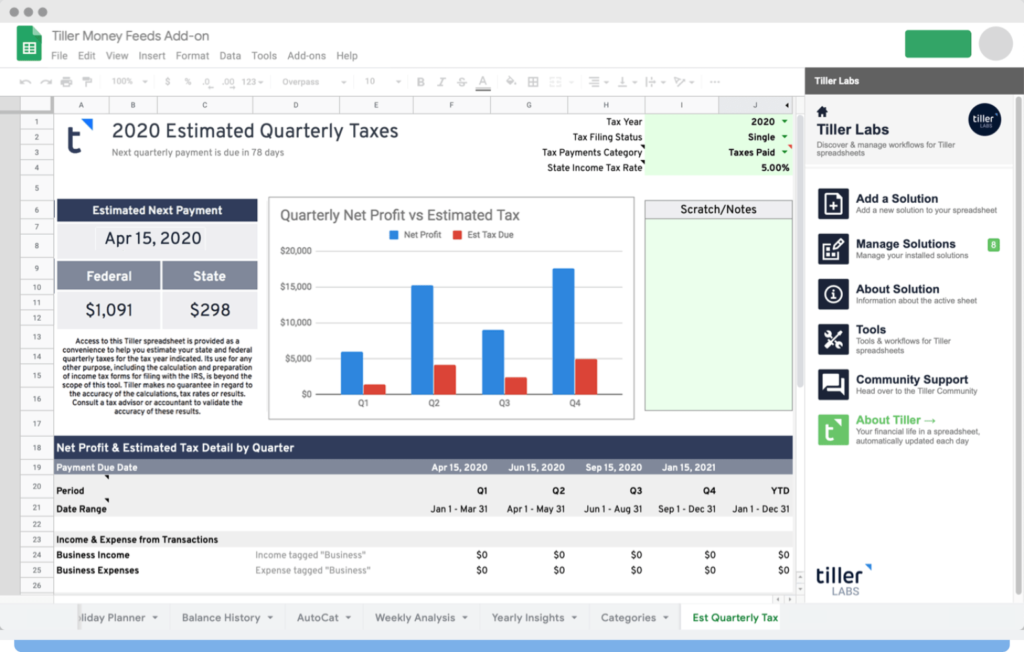 I've been using Tiller for several months for both my personal budget and my small business budget. It's clear that Tiller is ideal for those who love working with spreadsheets. I will caution you that setting up Tiller can be a bit intimidating. The good news is that they have videos to walk you through each step. If I can do it, you can do it.
One thing to keep in mind is that you must manually categorize each transaction. For some, this is a show-stopper. They want the convenience of tools like Personal Capital that automate this process. For others, they would prefer to categorize transactions themselves. It forces them to look at each entry, understand how they spent money, and then properly categorize the expense.
There is no right or wrong here. It comes down to preference. You get a 30-day free trial. After that Tiller costs $79 a year.
3. You Need a Budget (YNAB)–Best for Budgeting
YNAB is ideal for those looking just for a budgeting tool. In my view, there is no better app when it comes to creating a budget. YNAB's interface is similar to a spreadsheet. The tool makes it easy to budget by category based on the money you actually have in the bank.
One of YNAB's core principles is to give every dollar a job. You do that by deciding how you'll spend every dollar that enters your checking account. As with other tools, you can connect your bank accounts and credit cards to YNAB. This allows for real-time updates so that you can track your spending throughout the month.
YNAB doesn't have the rich feature set offered by Personal Capital. That's particularly clear when it comes to investing. For those who don't want to track investments, however, YNAB is a good option.
It's not free, however. You can try it free for 34 days. After that it costs $11.99 a month or $84 a year for the annual plan. The cost is the biggest downside to YNAB.
4. PocketSmith–Best for Calendar Budgeting
PocketSmith started out as a calendar to plan upcoming income and expenses. Today, it's a full-fledged budgeting app. You can synch your accounts with PocketSmith. Once synced, you can track your budget and you're net worth. You can also see your income and spending in a handy calendar view.
One stand-out feature is PocketSmith's auto-budget tool. It can create a budget for you based on past spending. It also has a cash flow feature that maps income and spending by date range.
While there is a free version of PocketSmith, it requires manual data entry. To get automatic bank fees, you'll need to pay at least $9.95 a month, or $7.50 a month when paid annually.
5. CountAbout–Imports from Quicken or Mint
If you have a lot of data in Quicken (or Mint), CountAbout may be the budgeting tool for you. It has a feature enabling you to import data from Quicken or Mint.
CountAbout enables you to download transactions from your bank and customize both income and expense categories. You can even attach receipt images to expense transactions. You can set up recurring transactions and generate financial reports.
For the features you get, the cost is very reasonable. The basic plan costs just $9.99 a year (not a month). If you want automatic downloading of bank transactions, the cost is $39.99 a year.
6. Moneydance–Traditional Budgeting Software
With so many apps going online, Moneydance takes a different approach. You download Moneydance software rather than use it online. Once downloaded, the software works much like you would expect.
You can download banking transactions into the software and initiate bill pay. The software automatically categorizes expenses based on how you categorize them. In other words, it learns from your use of the program.
It offers a dashboard (shown above) that summarizes your finances all in one place. It can also generate reports and graphs to give you a visual perspective of your money. It comes with a mobile app, can track your finances, and can alert you when bills are due.
It costs $49.99 and is available for both Mac and Windows.
7. EveryDollar (now Ramsey+)–Best for Dave Ramsey Fans
For those Dave Ramsey founds out there, EveryDollar may be a good substitute for Intuit's Quicken. Now the first thing to point out is that EveryDollar ain't cheap. After a 14-day trial, you'll pay $129.99 a year. If you want to try it for just 3 months, it will cost $59.99. For this reason, it's not high on my list. Still, I know that some folks are passionate about Financial Peace University.
You can sync your bank accounts with the tool, set up budgets, and track spending. The budgeting app works on both computers, smartphones and tablets. It also comes with Dave's educational materials, enabling you to take online course and join virtual groups.
8. Banktivity–Designed for Macs Only
Banktivity is the budgeting app specifically designed for Macs. It offers features that enable you to organize and track all of your finances. You can group accounts and reports, and organize the dashboard in a way that works best for you.
Banktivity enables you to follow an envelope budget. This can be ideal for those living paycheck-to-paycheck.
You can import transactions from your bank and sync data across all of your Mac devices. Banktivity also tracks investments and offers account-level reporting. You can try Banktivity for free for 30 days. After that they offer three plans ranging in price from $4.16 to $8.33 a month (billed annually).
9. GnuCash–Best for Small Businesses
For those who tracked business income and expenses with Quicken and a reluctant to move up to Quickbooks, GnuCash may be the answer. It uses double-entry accounting, ideal for businesses and accounting nerds, like me. It tracks investments, schedules transactions, and generates reports and graphs.
10. Mint–Best Mobile App
I used Mint when it first came out more than a decade ago. Today, many are looking for Mint alternatives, including several of the apps listed here. Still, Mint is a worth consideration if you are replacing Intuit's Quicken. It's free, for starters. It's easy to link your accounts and track your spending. It includes a budget planner and credit score tracker. Of course, there are great Mint alternatives as well.
11. GoodBudget–Best for Envelope Budgeting
I'm old enough to remember the envelope method of budgeting. My mom used it. When the money in the grocery envelope ran out, we stopped going to the grocery story until payday (seriously). Today, the envelope budget is still a smart way to manage money for those living paycheck-to-paycheck. If you want a digital version of the time-tested budgeting system, give GoodBudget a try.
Goodudget is an app based on the envelope system. You can sync and share your budget, and set goals to save for big purchases. It also has tools that let you track and payoff your debt.
Quicken Alternatives FAQs
What is the best free alternative to Quicken?
Personal Capital is the best free Quicken replacement. It comes with nearly every feature Quicken offers, and money additional tools. It's particularly well suited for those who want to manage all of their money in one place, including investments.Is Quicken available without a subscription?
Sadly, no. Like so many other software packages and apps, Quicken is now only available as a subscription.What is the best option to migrate Quicken data to new app?
If you want to migrate Quicken data to a new budgeting app, CountAbout is a solid option. It has features enabling users to migrate data from Quicken or Mint.What is the best Quicken replacement for calendar budgeting?
PocketSmith is a good choice as it offers a calendar view of your budget.Which Quicken alternatives allow you to schedule bill payments?
With both Tiller Money and YNAB, you can plan future bill payments. Tiller offers a Bill Payment Tracker template and YNAB enables you to allocate funds to bills you plan to pay in the future.
Whatever tool you choose, the key is to pick one that works for you. For me, that's Personal Capital. One or more of the above Quicken alternatives, however, should suit the needs of most looking to better manage their money.
10 Best Quicken Alternatives: Paid and Free Replacements
Are you looking for a Quicken replacement? These are the 10 best Quicken alternatives this year.
When it was released, Quicken was easily the best money management software available. It remained atop the hill for years, but its features have improved little over time. In fact, Intuit actually sold their ownership rights to Quicken in 2016…which should tell you something.
Once Quicken switched to a subscription model, many users became fed up and started looking for replacements. Thankfully, there are considerably more programs available now than there were when Quicken was first launched. Even better, many of the best Quicken alternatives are either completely free or offer a free option!
If you're tired of Quicken and are looking for a new program to meet your needs, you're in the right place. Check out our list of the top alternatives to Quicken below.
Best Alternatives to Quicken in 2021
Without further ado, here is our list of the best replacements for Quicken in 2020! Follow the links below to jump ahead and learn more.
1. Personal Capital
Best Uses: Financial Tracking and Planning
Price: Free
Top Features: Net Worth Tracking, Investment Fee Analyzer, Retirement Calculator, Investment Checkup Tool, Cash Flow Tracker
Personal Capital is our choice as the top Quicken alternative. We've used it for years and continue to love this powerful program.
What's so great about Personal Capital? For starters, it's free. Plus, they offer a comprehensive collection of money tools in one convenient place, so we think that's pretty awesome.
With Personal Capital, you can track your spending, net worth, and investments. You can also use it to check your investments for expensive fees and calculate whether you're saving enough for retirement. Again, these tools are all 100% free and at your disposal after a simple sign up process.
So, how does it work?
In short, Personal Capital pulls data from all your accounts and delivers a complete financial picture that's easy to understand. Just link Personal Capital to your bank, credit, and investment accounts. Then, the software imports your transactions and calculates how your spending aligns with your budget.
Why We Love It: Unlike some other alternatives to Quicken, Personal Capital is more than just budgets. And, since it is free, it makes a great compliment to some of the other programs as well.
Personal Capital also offers powerful investment management tools. The user-friendly interface tracks your asset allocation, monitors your investment performance, and analyzes your fees.
The program even takes your retirement goals into account and estimates your retirement income/expenditures based on your financial data. And, of course, Personal Capital also calculates the value of your assets relative to your debt (i.e. your net worth).
Read our complete Personal Capital review to learn more.
What's Not to Like: Although the works fairly well, some users may find this "budgeting" tool to be a bit too basic. When directly comparing Personal Capital vs. Quicken, Personal Capital also lacks online bill management capabilities. Don't let that be a deal breaker, though.
You can always take advantage of Personal Capital's tools while using another Quicken alternative for your day-to-day money management needs. Plus, these tools are free, so you've got nothing to lose!Try Personal Capital for FREE
2. Tiller Money
Best Uses: Spreadsheet Budgeting and Expense Tracking
Price: $6.58/month ($79/year)
Top Features: Foundation Template, Customizable Templates and Categories, Automated Tracking, Basic Financial Reports
If you're used to Quicken, you already know your way around a spreadsheet. Good news: Tiller Money offers a familiar spreadsheet environment with supercharged money management capabilities.
Tiller Money connects with more than 20,000 financial institutions to import and categorize data from your bank, credit card, mortgage, and brokerage accounts into Google Sheets or Excel.
The Foundation Template is the easiest way to get started. It's a ready-to-go- spreadsheet package that helps you build monthly and yearly budgets based on customizable spending categories. It tracks your spending, financial standing, and balances in one place to give you a clear sense of your situation.
For customers needing a more customized experience, Tiller add-ons and Tiller Money Labs offer additional spreadsheets to meet your unique needs. A zero-sum budget, debt snowball template, and net worth tracker are just a few of the more popular options. For the spreadsheet nerds among us, there is even an option to build your own spreadsheet.
Here's a bonus that many money apps don't include — tools specifically for freelancers and small business owners. These tools include things like quarterly tax estimation and business-expense tracking.
Why We Love It: Tiller Money harnesses the power of spreadsheets to offer a customizable financial management experience. It's especially great for people who like to be a little more hands-on with their money.
Tiller Money is an ad-free subscription that packs a lot of value for only $6.58 a month ($79 per year). Like most paid financial tools, you can try it risk-free with a free 30-day trial. Students can also use it free for a whole year.Get Started with Tiller Money
3. MoneyPatrol
Best Uses: Budgeting and Financial Tracking
Price: $7.00/month
Top Features: Automatic Expense Tracking, Customizable Spending Categories, Financial Reports, Fraud Alerts
MoneyPatrol is a money management tool that excels at financial tracking. It also offers some solid budgeting help.
The app itself connects to more than 15,000 financial institutions and automatically imports financial data from your bank, credit card, mortgage, student loan, and investment accounts. It displays a summary of your overall financial picture on your dashboard, which is especially useful for people who have accounts at more than one bank.
Then, MoneyPatrol sorts your bank and credit card transactions into customizable spending categories, labeling them by merchant. It produces a slew of charts, graphs, and reports to help you understand exactly how, when, and where you're spending your money. The budgeting function allows you to plan a monthly budget for each category and tracks how your spending aligns with those budgets.
MoneyPatrol also provides a comprehensive alert and notification system. You'll get text or email notifications whenever money moves out of your account. MoneyPatrol also monitors your spending history for patterns and irregularities, using that data to remind you of upcoming bills and alert you to potentially fraudulent transactions.
A MoneyPatrol subscription will run you $84 per year, which works out to $7 per month. They also offer a 15-day trial before you buy it.Get Started with MoneyPatrol
4. YNAB
Best Uses: Zero-based Budgeting
Price: $7.00/month (billed annually)
Top Features: Realistic Budgets, Automatic or Manual Transaction Imports
You Need a Budget (YNAB) has long been considered one of the best budgeting apps available. Although it doesn't offer a whole suite of money tools like Personal Capital, it focuses on two important things things – building a realistic budget and tracking your spending. Personally, I think that is great because it does them both very well.
I say a "realistic" budget because YNAB's philosophy is that a budget is fluid. Therefore, they believe your budget should be adjusted frequently in response to whatever is going on in your life. That's why YNAB makes it so easy to move money between spending categories to keep your budget balanced.
For example, if you've budgeted $300 for groceries but your transactions indicate that you've spent $340, YNAB will notify you that you've overspent. Then, they'll prompt you to deduct that $40 from another category. This system is especially useful if your goal is to maintain a zero-based budget.
Why YBAB Is a Good Quicken Alternative: With YNAB, you have two choices: You can automatically import your transactions by connecting to your bank and credit providers, or you can enter your transactions manually. Obviously, automating things is easier, but some may appreciate the option to do things the old-fashioned way. Once it is there, the info is added to the budget template, and you're good to go.
YNAB offers a free 34-day trial, so you can try a full month of budgeting with no commitment. After that, the cost is just $7/month when billed annually ($11.99/month if billed monthly). That means once a year, you'll pay $84 to use the app/software. Like some other programs, students can enjoy 12 months for free – which is a pretty cool benefit.
Also cool is that YNAB offers a 100% money-back guarantee. So, if you buy the app and decide it's not helping you take control of your finances, YNAB will give you a full refund. I can't argue with that!Get Started with YNAB
5. PocketSmith
Best Uses: Budgeting and Financial Forecasting
Price: Varies (Free, $9.95/month, $19.95/month)
Top Features: Solid Budgeting Tools, "What If" Scenario Tester
If you want to get a better handle on your money, PocketSmith might be for you. Like several of the best alternatives to Quicken, this program provides a strong option for budgeting. Where it really shines, however, is with its financial forecasting.
Instead of simply tracking what you've already spent, PocketSmith also helps you see what the future holds for your money. The "budget calendar" provides a daily look at your future income and expenses, all on an easy-to-read calendar so you can plan appropriately. Using your current info, you can even project your bank account balances as far out as 30 years into the future.
In our complete PocketSmith review, we mention that our favorite feature is the "what if" scenarios. This feature allows you to test different spending and saving decisions and see how they affect your future financial growth. Wondering how reducing your grocery spending will affect your savings rate? Want to take a $2,000 vacation next summer? Use the "what if" feature to understand both the short-term and long-term consequences.
As with most Quicken alternatives, PocketSmith utilizes live bank feeds to update your transactions automatically. Over 10,000 different financial institutions are supported, so it's pretty likely that you'll be able to connect your accounts.
Why We Like It: As we mentioned, Pocketsmith's financial forecasting puts it a notch above many other Quicken alternatives. Additionally, it won't cost you much to try it out.
The basic functions of PocketSmith can be used for free, however, you are limited to connecting just 2 accounts and 6-months of projections. The Premium version runs $9.95 per month ($7.50 per month if you pay for an annual subscription) and comes with 10 accounts and 10 year projections. Unlimited accounts and 30 year projections are available with the "Super" account which runs $19.95 per month ($14.16 per month if you pay annually).Get Started with Pocketsmith
6. Mint
Best Uses: Budgeting and Expense Tracking, Bill Management
Price: Free (Ad Supported)
Top Features: Set a Budget, Manage Your Bills
Mint is a comprehensive financial tool that Quicken enthusiasts will probably appreciate. In fact, Intuit acquired Mint in 2010 shortly before they dropped Quicken from their suite of financial tools. Stew on that for a minute and think about whether Intuit thinks Mint is better than Quicken.
Like with some of the other Quicken alternatives, when you link your financial accounts to Mint, you have access to your whole financial picture in one place.
As we mention in our full Mint review, you can build a budget, track your spending, monitor your investments, and manage your bills. The bills feature is really nice for people who haven't automated their bill payments and want the ease of managing them on one platform.
Why It Is a Better Alternative to Quicken: In a showdown of Mint vs. Quicken, I'd go with Mint. First and foremost, Mint is one of the few completely free Quicken alternatives, so it doesn't hurt to try it. The program also lets you check your credit score and explains how it's calculated. I think this is pretty neat because a lot of people don't know their credit score or understand how these scores work.
With all that under one roof, you might be surprised to learn that Mint is free. Hey, we'll take it.Learn More About Mint
7. CountAbout
Best Uses: Budgeting and Financial Reports
Price: $9.99/year (Basic) or $39.99/year (Premium)
Top Features: iOS and Android App, Customizable Budget, Financial Reports, Automatically Track Transactions, Invoicing
CountAbout is another web-based alternative to Quicken. This program actually supports importing data from both Quicken and Mint, which is nice if you're making a switch.
When you use CountAbout on a computer, there's no app to install; you simply log in to their website. They do offer a mobile app for iOS and Android, but not all the features are available through the app.
Why We Love CountAbout as a Quicken Replacement: Like most of these programs, you can use CountAbout to create a fully customizable budget. Then, simply sync it to your bank account to automatically import your transactions and track your spending. Pretty sweet right? But, that's not all it does.
With CountAbout, you can also run financial reports at any time throughout the year. The program also offers invoicing capability for small business owners as well as the ability to attach receipts. So, it is a pretty powerful alternative to Quicken and can replace much of the old program's functionality – even beyond budgeting.
CountAbout offers two membership options: basic for $9.99 a year or premium for $39.99 a year. The only difference between the two is that the basic membership does not support syncing with online bank accounts. That means if you opt for the basic membership, your transactions will not be automatically downloaded. Your options are to enter transactions manually or import QIF files from your bank if they make those available.
You can even try CountAbout before committing. Simply sign up and take advantage of the 15-day free trial on their premium membership.Get Started with CountAbout
8. Empower Finance
Best Uses: Budgeting, Auto Savings, Save on Bills
Price: $6.00/month
Top Features: AutoSave, Bill Negotiation, Personalized Savings Recommendations
If you're looking for a Quicken alternative that helps you budget, tracks your spending, and actively saves you money, Empower Finance is it. Oh, and it includes a bank account!
Like most money management apps, Empower works by connecting to your financial accounts and importing your transactions. You can build a daily, weekly, or monthly budget with custom categories and track how your spending compares.
But that's really just the tip of the iceberg. While most apps help you save by making you more mindful of your spending, Empower actually finds you savings opportunities.
Its AutoSave feature helps you meet your weekly savings goals by analyzing your income and spending patterns to discover surplus cash. Empower transfers that excess money into a separate account up to four times a week — cha-ching!
Empower Finance also takes stock of your regular bill payments and presents you with lower-cost alternatives. It will even work with your current service providers to negotiate you a better deal. Lost track of your subscriptions? Empower rounds them up and cancels the ones you don't want. That's pretty incredible.
If you need further convincing, Empower Finance includes an interest-bearing checking account and access to a human money coach via live chat.
Why We Love It: Empower Finance harnesses the power of financial tracking to make personalized recommendations that save you real money. You can try Empower Finance for free for 30 days. After that, you get access to all its features for just $6 per month.Get Started with Empower Finance
9. Moneydance
Best Uses: Budgeting, Expense Tracking
Price: $49.99
Top Features: Not cloud-based, Quicken Imports, One-time Payment
Moneydance's interface resembles a check register, where you see a record of all your transactions. Those transactions can be imported automatically by syncing with your online banking, or you can enter them manually. If you want to go completely Quicken free, by choosing the automated route, you can also manage bill payments through Moneydance.
Of course, it wouldn't be a very good option for personal finance software without the ability to create a budget. Moneydance lets you create spending categories and track your expenditures. If you're a visual person, you'll appreciate the interactive graphing tool. You can also use Moneydance to track your investments and monitor stock performance.
If you're technologically inclined (i.e. a tech nerd), you can actually develop extensions for Moneydance using an Extension Developer Kit they offer as a free download. But I won't get into that today!
You can try Moneydance using their free trial, which works a bit differently than the other trials we've talked about. There's no time limit on their trial, but you're limited to 100 manually entered transactions. Still, that's enough to decide if Moneydance is for you. After that, you can buy the full program for a one-time fee of $49.99. They also offer a 90-day money back guarantee when you purchase from their website.Learn More About Moneydance
10. EveryDollar
Best Uses: Budgeting, Tracking Expenses
Price: Free (Basic) or $129.99/year (Plus)
Top Features: Customizable Categories, Dave Ramsey "Baby Steps"
Next on our list of Quicken alternatives, we have EveryDollar. If you're a Dave Ramsey fan, you may want to give his budgeting tool a try.
EveryDollar lets you budget your income into customizable spending categories, then enter your transactions and track your spending. The free version doesn't link to your online accounts, so you enter your transactions manually. (If you want to automatically sync to your online accounts, you'll need the paid version.) That's not a deal breaker, but one thing I've noticed is that the app doesn't seem to remember the category associated with a payee that's previously been entered. Adding that would be a nice touch.
This is a super simple budgeting app that should meet the needs of someone who wants to get started with planning a budget and tracking their spending. The basic app is free, so there's no risk involved in trying it out for a few months to see what you think.
For those who want automatic transaction uploads directly from their bank, the app does offer a premium version (EveryDollar Plus)…but it is a hefty $129.99.Learn More About EveryDollar
Quicken Alternatives FAQs
Can I purchase Quicken without a subscription?
No. Quicken has moved entirely to a subscription model.What is the best free Quicken alternative?
Personal Capital is our choice as the best free replacement for Quicken. The program allows users to view their entire financial picture in one place, including their investments. Personal Capital also includes some excellent tools and calculators, and they do it all for free.Which Quicken alternatives let me schedule bill payments?
Tiller Money, MoneyPatrol, and YNAB all provide bill payment assistance. Each program helps you budget money for bills and track your expenses. MoneyPatrol also sends reminders about upcoming bills.What is the best non-cloud based-alternative for Quicken?
Moneydance is our choice for the best Quicken replacement which is not cloud-based. It also offers imports directly from Quicken and can be purchsed with a single payment.Which alternatives help me import my Quicken data?
Several Quicken alternatives allow you to import data from Quicken, including CountAbout and Moneydance.
Quicken Alternatives: Final Thoughts
With Quicken no longer the only financial tracking game in town, there are plenty of options to choose from. Whether you're looking for a simple budgeting program or a complete personal finance software package, there's enough variety on this list to suit almost any need.
Although everybody has their preferences (us included), ultimately, the best financial tools are ones you'll use consistently. So why wait? Use one of the links above to download a free app or start a free trial to find out what program works for you.