As of now, millions of business owners and independent bookkeepers use QuickBooks for managing inventory, payroll, and other accounting requirements. Moreover, you can learn to manage finances with QuickBooks accounting software. This software has been designed by Intuit specifically for small to mid-sized business owners. We all know, Intuit upgrades its products time-to-time so that its users can get the best experience. These upgrades may include a change in the price of QuickBooks products, discount policies, etc.
Sometimes, changes in pricing & policy can be hard to accept, especially when you have already planned out the business year. And, being an accountant or owner, it becomes your responsibility to explain the changes and reasons behind them to your clients. Although, you don't need to get worried about anything. We are here writing down all the latest changes to the pricing of QuickBooks Online so that you can have a smooth conversation with your clients regarding the same.
As per the latest guidelines, Intuit has decided to make some changes to QuickBooks Online products (Except self-employed) and replacing wholesaler discounts with a new discount program. The members of the QuickBooks Online Accountant team (Ted Callahan & Ariege Misherghi) have shared this statement on the behalf of their team).
However, the wholesale discount for active subscriptions will not be changing (before July, 15). These changes are to be done because of business decisions made by Inuit. 
| | | |
| --- | --- | --- |
| QuickBooks Online Products | Current Prices | New Prices |
| Simple Start or Self-employed | $25 | No change |
| Essentials | $40 | $50 |
| Plus | $70 | $80 |
| Advanced | $150 | $180 |
These prices will be implemented on the following dates.
July 15, 2021: All upgrades, downgrades, or new subscriptions.
On or after Aug 1, 2021: Present client-billed subscriptions.
On or after Sep 1, 2021: Present firm-billed subscriptions (present wholesale discount).
Changes in discount policies will be effective on the following dates.
The new QuickBooks Online, QuickBooks Time, and QuickBooks Online Payroll wholesale discount will be implemented for new upgrades, downgrades, and new subscriptions on July 15, 2021.
A new discount program will be launched on July 15, 2021, known as ProAdvisor Preferred Pricing. Discounts from this new program will be applied via QuickBooks Online Accountant.
Changes in QuickBooks Online Prices for Legacy Wholesale Discount Subscriptions
| | | | |
| --- | --- | --- | --- |
| QuickBooks Online Products | Base fee/ month | Firm-billed | New price for subscription on the wholesale discount/month |
| Self-Employed | $15 (No change) | 50% wholesale discount (No change) | $7 (No change) |
| Essentials | $50 | 50% wholesale discount (No change) | $25 |
| Plus | $80 | 50% wholesale discount (No change) | $40 |
| Advanced | $180 | 30% wholesale discount (No change) | $126 |
Listed below is a complete chart that helps you to know 'what will happen with the existing subscriptions with the promotional bundles or wholesale discount?'
Case 1: Existing QuickBooks Online Essentials + Wholesale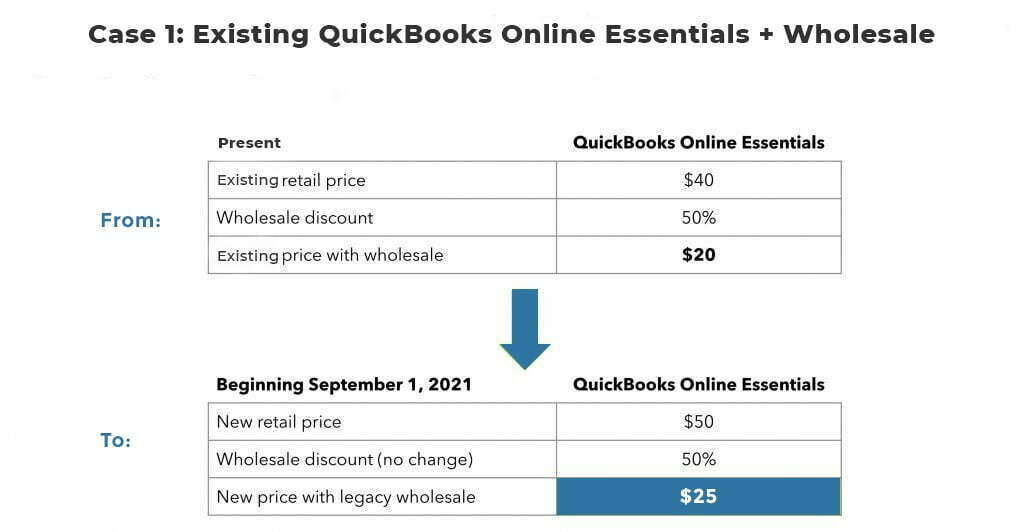 Case 2: Existing QuickBooks Online Plus + Payroll Wholesale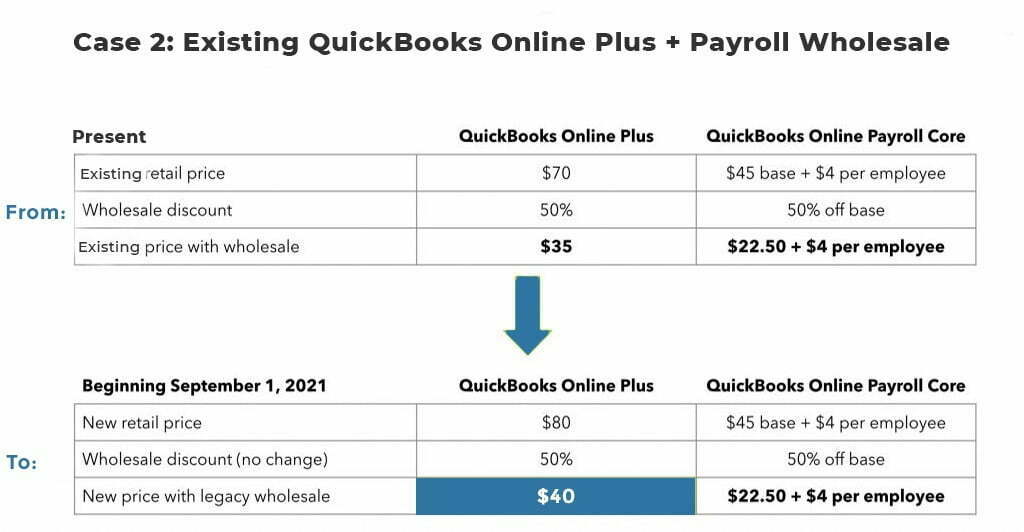 Case 3: 5 for $5 for each promotional bundle
Why all these Changes are Happening at the Prices of QBO Products and Discount Policy?
Reasons behind the changes done at the prices of the QuickBooks Online Products.
According to Intuit Disclosure, increasing the pricing of QuickBooks Online products is necessary to deliver the support and product needed by your clients in the future.
The new QuickBooks Online products include the following innovations.
Time-tracking functionality
DocuSign integration with QuickBooks Online Advanced
Custom reminders
Improve productivity, increase automation between departments and functions in QuickBooks Enterprise.
Reasons behind the changes done at the prices of the discount policies.
According to Intuit's directors, it is mandatory to retire the wholesale discount program to bring support and product to the clients in the future. It will help you in managing your finances related to the business. Along with this, you can get access to QuickBooks Online Payroll Elite with QuickBooks time for free of cost and upgrade your books. We ensure you will get additional innovations in our support.
What is the ProAdvisor Preferred Pricing program?
The ProAdvisor Preferred Pricing is a new program developed by Intuit to replace previous wholesale discounts. In this program, Intuit is going to release innovations such as payroll insights, advisory training, industry benchmarking, month-end review, etc.
Discount from this program will apply to subscriptions you add, upgrade, and downgrade by signing up to QuickBooks Online Accountant on or after July 15, 2021. However, a 50% discount will be continued for subscriptions enrolled before launching the ProAdvisor Preferred Pricing.
Below, we are concluding the new discount policies in a table.
| | | |
| --- | --- | --- |
| | Direct Discount (Client-billed) | ProAdvisor Discount (Firm-billed) |
| Duration of Discount | 1 Year | Ongoing |
| QuickBooks Online Products:Self-employed or simple start Essentials Plus Advanced | 30% off for 12 months | 30% off (ongoing) |
| QuickBooks Online Payroll:Core Premium Elite | 30% off base and 15% off employees and contractor fees for 12 months | 30% off base and 15% off employees and contractor fees ongoing discount |
| QuickBooks Time:Premium Elite | 30% off base and 15% off employees fees for 12 months | 30% off base and 15% off employees fees ongoing discount |
Benefits of the latest ProAdvisor Preferred Pricing program
The ProAdvisor Pricing Program provides resources and advantages that only get improved as you develop. You just have to sign up for QuickBooks Online Accountant to get the benefits of this program. We are mentioning some of the advantages of the preferred program as Inuit has not announced all the extra features that will be added to it.
You can make it easy for needed clients to find you. After completing the ProAdvisor certification, you can list your firm on the Find-A-ProAdvisor directory for free and get access to the following perks.
Discount on email marketing services from Constant Contact
Get access to Intuit's Marketing Hub.
Boost your profile on the Find-A-ProAdvisor directory.
With the ProAdvisor preferred pricing program, you can get the following rewards.
Training and certification
Discount & support
ProAdvisors tiers
Desktop
Growth & marketing
Train yourself and be an expert
You can start as a beginner and reach the advanced levels designed by accounting professionals. Have a look at some examples in which you can get trained.
Prepare for certifications
Introduction to QuickBooks Online
QuickBooks Advanced, payroll, and more.
Improve your working skills
You can enhance your skills as well as your firm by accessing the Benefits page after signing up for QuickBooks Online Accountant. Listed below are some of the examples in which you can be an expert by enhancing your skills.
Get tips to access the business or manage clients
Learn to find your clients on QuickBooks Online
Find out time-saving marketing tools.
Get discounts on services and supplies
You can enjoy free QuickBooks payroll, QuickBooks Online, and time-tracking after joining the ProAdvisor preferred pricing program. Also, you can avail of the following services.
Get priority support from Intuit's top-rated care agents.
Discounts on ProConnect Tax returns.
QuickBooks Online Accountant unlocks advantages from day one and beyond that offer you an opportunity to become a ProAdvisor. Once you have signed in for QuickBooks Online Accountant, you can rise via the ranks for the things you need to keep the practice.
What will be the Price of the ProAdvisor Preferred program?
Here, we are concluding the new prices of adding, upgrading or downgrading the QuickBooks Online Accountant on or after July 15, 2021, for QBO, QuickBooks time, and QuickBooks Online Payroll.
| | |
| --- | --- |
| QuickBooks Online Products | Discounted fee/month |
| Self-EmployedEssentials Plus Advanced | $17.50 $35 $56$126 |
| | | |
| --- | --- | --- |
| QuickBooks Online Payroll | Discounted base fee/month | Discounted per employee and contractor fee/month |
| Core | $31.50 | $3.40 |
| Premium | $52.50 | $6.80 |
| Elite | $87.50 | $8.50 |
| | | |
| --- | --- | --- |
| QuickBooks Time | Discounted base fee/month | Discounted per employee and contractor fee/month |
| Premium | $14 | $6.80 |
| Elite | $28 | $8.50 |
When does the New ProAdvisor Pricing Program Launch and Who Will be Eligible to Access It?
The ProAdvisor Pricing Program will be launching on July 15, 2021, for new QuickBooks time, QuickBooks Online Payroll, and QuickBooks Online.
You can avail of the benefits of the ProAdvisor Preferred program only after signing up for QuickBooks Online Accountant and starts new client subscriptions. 
QuickBooks Online Overview
Since its inception, QuickBooks Online has grown to 2.2 million users, and the software has seen some significant changes and advancements, with one of the most recent being a long-awaited project management feature and a pricing plan for larger businesses.
While the software has a lot to offer, there are some drawbacks, including navigational difficulties, a semi-steep learning curve, and lengthy support wait times. QuickBooks Online has also increased its prices — again — making it an expensive choice for some businesses.
Despite these drawbacks, QuickBooks Online has some great things going for it: strong reporting, customizable invoices, inventory capabilities, multiple currencies, and over 650 integrations. There's also a unique lending platform called QuickBooks Capital and an add-on called QuickBooks Live Bookkeeping, where you can outsource your bookkeeping tasks to a QuickBooks Online accounting expert.
Additionally, there are several features offered by QuickBooks Online that you can't get with the more traditional QuickBooks Desktop (such as automatic sales receipts, split transactions, scheduled invoices, and location and class categories). Many customers believe the sheer mobility of QuickBooks Online is entirely worth the upgrade. And despite the minor navigational difficulties I mentioned earlier, the program is still much easier to learn and use than QuickBooks Pro.
Continue reading to learn more about QuickBooks Online's recent changes and to see if QuickBooks Online is a good fit for your business.
QuickBooks Online Pricing
QuickBooks Online has four pricing tiers. The company recently added the new Advanced Plan, which is geared toward medium to large-sized businesses that need up to 25 users and advanced reporting and support. QuickBooks Online offers a 30-day free trial of three of its plans, a test drive account of QuickBooks Plus, and a demo of its Advanced plan. No credit card information or contracts are required, and you can cancel the service at any time.
QuickBooks has recently increased its prices, so discounts are more important than ever. Luckily, Intuit is constantly offering discounts, so be sure to check if it's running any promotions.
Note: Discounts are invalid if a customer uses the free 30-day trial before purchasing.
Simple Start Plan
QuickBooks Online's Simple Start plan costs $25 per month and includes:
Unlimited invoices
Unlimited estimates
Expense tracking
Live bank feeds
Reports
Mileage tracking
Integrates with 650+ apps
One user
Essentials Plan
QuickBooks Online's Essentials plan costs $40 per month and includes everything in the Simple Start plan, plus:
Accounts payable
Time tracking
Three users
Plus Plan
QuickBooks Online's Plus plan costs $70 per month and includes everything in the Essentials Plan, plus:
Inventory
Project management
Class tracking
1099 tax support
Five users
Advanced Plan
QuickBooks Online's Advanced plan costs $150 per month and includes everything in the Plus plan, plus:
A Fathom subscription for advanced reporting & analytics
Custom user permissions
Automated workflows
A dedicated customer success manager
Priority Care
QuickBooks training (five classes through Real World Training)
25 users
Extra Costs
Before purchasing QuickBooks Online, there are several additional costs and services to know about:
Payroll: QuickBooks Online has three different payroll plans ranging from $45-$125/month + $4-$10/month per employee. You can choose between Core Payroll, Premium Payroll, and Elite Payroll, depending on your company's needs. Read our full Intuit QuickBooks Payroll review for more details. If you opt for Intuit's payroll, you can also add worker's compensation insurance to your plan and shop for health, vision, and dental benefits.
QuickBooks Payments: QuickBooks Payments allows you to accept payments from your customers. Payment processing costs 2.9% + $0.25/per transaction when a customer pays their online invoice with a card, 2.4% + $0.25/per transaction when a customer swipes their card, or 3.4% + $0.25/per keyed-in transaction. There's a 1% charge for ACH transfers ($10 maximum fee).
A Custom Invoice Template: You can pay an extra $4.99 for a custom invoice template.
Tax E-Filing: QuickBooks Online can use your company's accounting data to automatically fill and file your 1099 tax forms. Intuit's e-file service starts at $14.99.
QuickBooks Live Bookkeeping: QuickBooks Live Bookkeeping allows small business owners to outsource their bookkeeping tasks, which can include categorizing transactions, reconciling, reviewing your financials, tax support, and closing the books. When you sign up for QuickBooks Live Bookkeeping, you'll get matched with a personal Certified QuickBooks Advisor and accounting expert, and you can schedule a video chat with him or her from within QBO. Prices range from $200 to $600 per month and are based on the dollar amount of your monthly expenses. There's also an option to pay a one-time $50 fee to receive official bookkeeping support for setting up your QBO account. Here's what some users say about the service:
The most helpful service that QuickBooks Live has provided is having accurate, up-to-date information. Prior to QuickBooks Live, we were always running on the backlog.

Having the confidence to know that I'm categorizing things in the right place, doing bank reconciliations correctly, and properly inputting sales is all really helpful for stress levels.
Cloud-Based Or Locally-Installed
Cloud-based, with no downloads or installation required.
Hardware & Software Requirements
Rating: Excellent
As cloud-based software, QuickBooks Online operates with nearly all internet browsers so long as you have internet access. QuickBooks Online also has desktop apps for Windows and Macs, which are said to run faster.
To read forms and use the print checks feature in QuickBooks Online, you will need Adobe Reader 11.0+ or the Firefox PDF plugin.
QuickBooks Online also has mobile apps for Apple products (iOS 13.0+) and Android products (5.0+).
Specific Size Of Business
QuickBooks Online is ideal for small businesses in need of strong accounting, ample features, and mobility. The addition of QuickBooks Advanced has opened the software up as an option for mid- to large-sized businesses as well. Businesses can have five to 25 users, depending on their plan (Intuit does not count time tracking-only and reports-only users toward your user limit). You can set user permissions to control user access, and there's a complete audit log of all activity.
Business owners with multiple companies will need to purchase a separate QuickBooks Online subscription for each business. QuickBooks Online is available in over 225 different countries (although this post focuses specifically on the US version).
Accounting Method
Rating: Excellent
Both cash-basis and accrual accounting.
Ease Of Use
Rating: Good
For the most part, QuickBooks Online is intuitive and easy to use. The UI is beautifully designed, though the organization could still be improved. Some features are hidden in settings and frustratingly difficult to find, but the built-in help button can make it easier to discover what you're looking for.
QuickBooks Online Features
Rating: Excellent
QuickBooks Online has an impressive feature selection. Here are some of the features that QuickBooks Online supports:
Dashboard: A basic dashboard gives you an overview of your business's financial state with charts for Invoices, Expenses, Bank Accounts, Profit and Loss, and Sales. There's a menu on the left to navigate the most used features and a plus button and gear button on the top right-hand side of the screen where you'll find shortcuts and more advanced features. There's also a search transactions button and a help button, and you can enable an AI chat button in the settings as well. The "see all activity" option at the bottom of the dashboard will take you to a full audit log and history of recent activity.
Sales Overview: In addition to a traditional dashboard, QuickBooks Online has recently introduced a Sales Overview page where you can view your income over time and quickly access sales shortcuts, such as "new invoice" or "new sale."
Invoicing: QuickBooks Online offers six invoice templates and ample invoice automations (you can also import an existing invoice template via Microsoft Word). You can customize the logo, logo position, font, font size, color scheme, header, footer, number of columns, and more. You can add shipping charges, discounts, and attachments to invoices. If you have the Essentials, Plus, or Advanced plan, you can send invoice reminders to late customers, and you can create recurring invoices. The Advanced plan also allows for batch invoicing (as well as batch estimates and bills). QuickBooks Online is also one of the few accounting programs that lets you auto-schedule invoices. QuickBooks Online now offers invoice tracking, so you can see when customers view their invoices; it has added support for progress invoicing as well. QuickBooks has also recently added multi-lingual invoicing, so you can now send invoices in six different languages: English, Spanish, Portuguese, French, Italian, and Chinese.
Estimates: Creating estimates and converting them to invoices is easy. Estimates are sent via email, and customers receive the documents as PDFs. Sadly, there is no separate estimates tab, making it difficult to view past estimates.
Client Portal: QuickBooks Online does offer a client portal but only for invoices, not estimates. Customers can view, print, save, pay, or ask questions about their invoices.
Contact Management: QuickBooks Online has a highly developed contact management system. You can save an incredible amount of information on your customers and vendors, including a display name, billing address, shipping address, preferred payment method, default payment terms, opening balance, attachments, and default tax codes. You can attach relevant files, such as contracts, to each contact. You can also send batch emails to contacts. As a recent addition, you can now change what you call customers (e.g., clients, customers, donors, guests, members, patients, or tenants).
Expense Tracking: You can add individual expenses, manually import bank statements, or enable live bank feeds. You can categorize expenses, create custom bank rules, and attach receipts to expenses. QuickBooks will automatically match transactions (although you still have to approve the matches manually). QuickBooks Online also now offers a new receipt capture feature. Unlike most accounting programs, QuickBooks Online does not use Yodlee for live bank feeds. As Yodlee is known to violate some banks' terms and conditions, QuickBooks Online gets extra points for using its own bank connector.
Bank Reconciliation: You can easily reconcile bank accounts in QuickBooks Online and run a reconciliation report.
Chart Of Accounts: QuickBooks Online has a default chart of accounts, which you can customize to fit your business, or you can import your own. You have to track fixed assets manually by using the chart of accounts (rather than having a built-in depreciation schedule for assets like Xero).
Accounts Payable: With the Essentials, Plus, or Advanced plan, you can enter and sort bills easily. You can also create recurring bills. There's a nice vendor dashboard that shows your total purchase orders, overdue bills, open bills, and recently paid bills.
Checks: With the Plus and Advanced plans, you can order and print checks directly from the software.
Inventory: While each plan allows you to add items or services, only the Plus and Advanced plans track inventory. When adding items, you can save default sales prices, purchase prices, SKU numbers, images, and create item descriptions. You have the unique option to create item bundles, which makes invoicing a breeze. You can now set reorder points and see the current stock level when you are creating invoices.
Project Management: You can create projects, add billable and unbillable time, and create billable and unbillable expenses with the Essentials, Plus, or Advanced QuickBooks Online plan. You can easily create invoices for projects, and you can use progress invoicing to invoice in steps. There is no way to add tasks at this time, but there is basic job-costing, so you can track job profitability. There's also a project management screen with quick access to project reports and an overview of that project's transactions.
Time Tracking: In QuickBooks Online, you can create single-time activities or timesheets with the Essentials, Plus, or Advanced plan. Weirdly enough, if you create a time activity that is separate from a project, it will show up under sales (one of those navigational difficulties I mentioned earlier). You can attach billable and unbillable time to projects.
Reports: QuickBooks Online has over 80 reports. The exact number of reports varies with each plan and the features you have access to. These reports cover everything from accounting and sales to cash flow and job-costing, and more.
Budgeting: Unlike the desktop version of QuickBooks (which only allows for one year-long budget), you can have multiple budgets in QuickBooks Online. You can create monthly, quarterly, or yearly budgets. You can use data from a previous financial year as your basis for a budget and run numerous budgeting reports. This feature is available with the Plus and Advanced plans only.
Journal Entries: You can create journal entries as needed.
Purchase Orders:You can create purchase orders and recurring purchase orders in QuickBooks Online. You can easily convert purchase orders to bills. You can record payments and receive inventory from purchase orders in full or in parts. This feature is available with the Plus and Advanced plans only.
Credit Memos: You can create credit memos and customer refunds.
Sales Receipts: Sales receipts are another way of recording sales in QuickBooks Online. Instead of creating an invoice, where you have to wait for your customer's payment, sales receipts are to record sales for which you have already received payment. Sales receipts are the method restaurants, salons, and other similar businesses would use to enter daily sales into the software.
Packing Slips: You can create and print packing slips.
Class Tracking: This unique feature lets you sort transactions, estimates, and billable hours by a specific location or class. You can also run reports by specific location or class for more detailed reporting.
Default Email Messages: You can save time by creating default email messages. You can create messages for your invoices, estimates, credit memos, sales receipts, customer statements, refund receipts, and purchase orders.
Workflows: QuickBooks Online's Routines Beta feature is now a feature called Workflows. Workflows will let you set automated tasks, such as sending reminders to your team or sending automated invoices. This feature is only available for Advanced plan users.
Mileage Tracking: QuickBooks has recently added a mileage tracking feature to all QuickBooks Online plans.
Sales Tax: You can save as many sales tax rates as needed. Also, you can assign a default sales tax to your customers.
Tax Forms & Support: The Plus and Advanced plan let you prepare and print 1099-MISCs and W-2s for each employee. There is an additional fee to e-file these forms.
Multiple Currencies: QuickBooks Online supports over 150 currencies.
Importing & Exporting: QuickBooks Online's importing feature is refreshing and easy to use compared to most other programs. You can import your customers, vendors, chart of accounts, products, and services. Exporting is more limited. You can export reports to Excel. All other data can only be exported via Internet Explorer.
Lending: QuickBooks Online offers built-in lending called QuickBooks Capital. QuickBooks Capital uses the financial information within your account to determine if you are eligible for a loan. Read our full QuickBooks Capital review to learn more.
QuickBooks Online Customer Service & Support
Rating: Fair
In the past, QuickBooks Online has been notorious for long phone wait times and poor customer support. It used to be that I would wait 20-40 minutes before speaking to a representative. Once, when I was reviewing the software, I experienced a major software glitch that took three weeks to fix.
More recently, my hold times have been shorter — and my calls were answered right away about half of the time. The level of helpfulness from each representative varies. Some are incredibly helpful and get your issue resolved right away, while others are uninformed and can't answer your questions. The other drawback is that there is no email support. But while support is still not ideal, QuickBooks is trying. Support staff are working on shortening wait times, have redesigned the help center, and have added new in-software support options.
QuickBooks Online offers phone support from 6 AM to 6 PM PST, Monday through Friday; Saturday hours are 6 AM to 3 PM PST. All of QuickBooks Online's support services include:
Phone: You can call QuickBooks Online for help.
In-Software Help: QuickBooks Online features a help button in the top right corner of the software. You can search a database of help articles with step-by-step instructions. You can also enable the QuickBooks Assistant in QuickBooks Labs. The QuickBooks Assistant is an AI live chat that helps with questions, such as "how much money did I make last month" or "which customers are late on their invoices."
Help Center: QuickBooks Online has a comprehensive, redesigned help center that is far easier to navigate. It features how-to articles, FAQs, and questions from other members of the QuickBooks community.
Videos: QuickBooks Online provides video tutorials to explain how each feature works.
QuickBooks Training: QuickBooks Online offers both in-person and online classes at an additional cost.
QuickBooks Resource Center: There is also a QuickBooks Small Business Resource Center that hosts articles, business advice, and guides.
QuickBooks Pro Advisor: You can search for and hire a QuickBooks Pro Advisor who will walk you through the program.
QuickBooks Blog: QuickBooks has a blog with information on software updates and company news.
Social Media: QuickBooks has a Facebook page where it posts updates and helpful advice articles. QuickBooks also maintains Twitter and YouTube accounts. It's worth mentioning that YouTube can also be a great source to find videos from CPAs and other seasoned QuickBooks users.
QuickBooks Online Reviews
Rating: Fair
Negative Reviews & Complaints
Although many customers like QuickBooks Online, there are a few significant shortcomings to the software. Frequent complaints about the software running slow have been addressed, but other problems have risen to replace this issue. Some common gripes include:
Poor Customer Service: This is, by far, the biggest customer complaint. Many users dislike the slow service and report being on the phone for obscene amounts of time. A couple of users say the customer service used to be better but has since declined, and a few people claim that QuickBooks tried to scam them into paying an extra service fee to fix the problems they were having.
Bugs & Crashes: Various bugs and crashes are reported across multiple sites. In the past, downtime and outages have also been a fairly common complaint, especially with its mobile apps. For a time, this problem seemed to be getting better. Then several months ago, while I was retesting the software, there was a worldwide outage where users were unable to login to their QuickBooks Online accounts. And QuickBooks didn't say a single thing about the issue: no tweets, no ETA on a fix, and no admission that there was even a problem.
Doesn't Compare To QuickBooks Desktop: Another common complaint is that QuickBooks Online does not compare to the desktop version. Quite a few customers were so underwhelmed by the software that they quit the service entirely, while others switched back to the desktop version.
Expensive: When we last reviewed the software, users were already complaining about the increase in price. Now, QuickBooks Online has raised its pricing for the Simple Start, Essentials, and Plus plans, making the software even more expensive.
Unauthorized Charges: One customer reported that her account was charged without authorization, and it took five months to fix the problem.
Positive Reviews & Complaints
Despite the above complaints, there are many happy QuickBooks Online users. Intuit is accredited by the BBB with an A+ rating. QuickBooks Online, specifically, receives 4.26/5 stars on GetApp and 4/5 stars on G2 Crowd. The mobile apps rank highly with Android users (4.1/5 stars) and iOS users (4.7/5 stars).
Here are a few of the things users love about QuickBooks Online:
Mobility: The most common praise is that QuickBooks Online offers mobility to users and companies. Previous QuickBooks Desktop users particularly like that they are no longer tied down to one computer.
Good Accounting: QuickBooks Online is praised as one of the best full-featured accounting software options around. Accountants, in particular, rave about the reports, chart of accounts, and bank reconciliation features.
Easy To Use: Many customers find QuickBooks Online easy to learn and use, especially compared to the desktop version of the software. Even non-accountants find the software enjoyable to use.
Saves Time: Countless businesses report that QuickBooks Online saves time and keeps their companies organized.
Ample Integrations: With 650+ integrations, it's no wonder customers like the number of add-ons available to them.
Here's what a few users are saying:
I am not an accountant. Not even a bookkeeper. But I find QuickBooks pretty easy to use. I help and do various tasks for a small service business called 1 on 1 Lessons. Either at the end of each day or at the end of the week, I record sales and expenses and add receipts or attachments for every item. It is very easy to do this and feels intuitive to find things in QuickBooks.

QBO is consistently becoming more and more robust. In true Intuit fashion, they are listening to their users and adding new features constantly. And if QBO doesn't do it, there's an app that does that will sync seamlessly with your file.

QuickBooks Online has impacted our business by allowing us to just focus on marketing and on sales and not on accounting, which is so crucial for a small business when sales is the most important thing. Because of QuickBooks, accounting hasn't been a headache.
QuickBooks Online Integrations & Add-Ons
Rating: Excellent
QuickBooks Online has increased its number of integrations from 280 to over 650, including 25 different payment processing options (such as QuickBooks Payments). The QuickBooks Online Advanced plan also comes with a built-in Fathom integration at no extra cost. API is also available for developers.
Are you interested in accepting online payments from your customers? Read our comprehensive merchant account reviews to learn the pros and cons of popular providers and see which payment processing option is best for your business.
Security
Rating: Good
QuickBooks Online uses 128-bit SSL encryption and multi-factor authentication. Physical safeguards have been implemented at the Tier 4 data center, and routine testing ensures security. For more information on QuickBooks security, and to learn how you can play a factor in making your data even more secure, check out the Intuit website.
Final Verdict
QuickBooks Online comes with a wide breadth of features and has the complex accounting capabilities that small business owners need. The software offers an impressive number of integrations and is working on bettering customer support. Recently, QuickBooks Online added a much-needed project management feature along with other new features, such as progress invoicing and multi-lingual invoicing. Although, the best addition may be the new QuickBooks Live Bookkeeping service where users can gain expert accounting advice and outsource some of their bookkeeping tasks.
Apart from poor customer support, one of my biggest issues with QuickBooks has been its limited users. Now, with the QuickBooks Advanced plan, the software is a more viable option for larger businesses (especially since time tracking-only and report-only users don't count toward your user limit). However, the advanced plan comes at a steep price compared to other mid-sized accounting programs, such as Xero.
There are still a few kinks in how the software is organized, and while I'm not happy with the recent price increase, the sheer number of features and strong accounting still make QuickBooks Online a good option for small businesses.
Overall, QuickBooks Online has a lot to offer in terms of features, accounting, and usability. Take the software for a spin to see if QuickBooks Online is right for your small business.