QuickBooks is the most popular small business accounting software businesses use to manage income and expenses and keep track of the financial health of their business. You can use it for invoicing customers, paying bills, generating reports, and preparing taxes. The QuickBooks product line includes several solutions that work great for anyone, from a freelancer to midsized business.
QuickBooks offers several alternatives, but I recommend QuickBooks Online for most new businesses. You can try QuickBooks Online for free with a 30-day trial that does not require a credit card.
9 Ways Small Businesses Use QuickBooks
Small business owners typically use QuickBooks to manage their invoices, pay their bills, and track their cash flows. They also use it to generate month- and year-end financial reports as well as prepare for quarterly or annual business taxes. Some business owners manage QuickBooks themselves while others prefer to use an in-house or outsourced bookkeeper.
1. Create and Track Invoices
You can create invoices easily and either print them or email them to customers. QuickBooks will automatically record the income and track how much each customer owes you. You can view the amount of your outstanding invoices—known as your accounts receivable (A/R)—as well as how many days they are overdue by running an Accounts Receivable Aging Report. Below is a sample Accounts Receivable (A/R) Aging Report from QuickBooks Online:

2. Keep Track of Bills & Expenses
QuickBooks automatically keeps track of your bills and expenses by connecting your bank and credit card accounts to QuickBooks so that all of your expenses are downloaded and categorized. If you need to track a check or cash transaction manually, you can record it directly in QuickBooks in just a few minutes.
You can also enter bills into QuickBooks when you receive them so that QuickBooks will help you track upcoming payments—or accounts payable. You can ensure that you pay your bills on time by creating an Accounts Payable (A/P) report. This report will provide you with the details of your current and past due bills. Below is a sample A/P Aging Report from QuickBooks:

3. Print Financial Statements for Your Business
By managing all of your cash inflow and outflow activities in QuickBooks, you can print financial statements that can provide useful information about how your business is performing.
Lenders often require financial statements when you apply for a small business loan or line of credit.
You can produce these three primary financial statements in QuickBooks with just a few clicks:
Profit and Loss Report
Balance Sheet Report
Statement of Cash Flows
Below is a brief description of each of these reports, along with a snapshot of what they look like in QuickBooks Online.
Profit & Loss Report
The profit and loss report will show you how profitable your business is by summarizing its income minus its expenses. The report shows you the bottom line net income (loss) for a specific time period, such as a week, a month, or a quarter: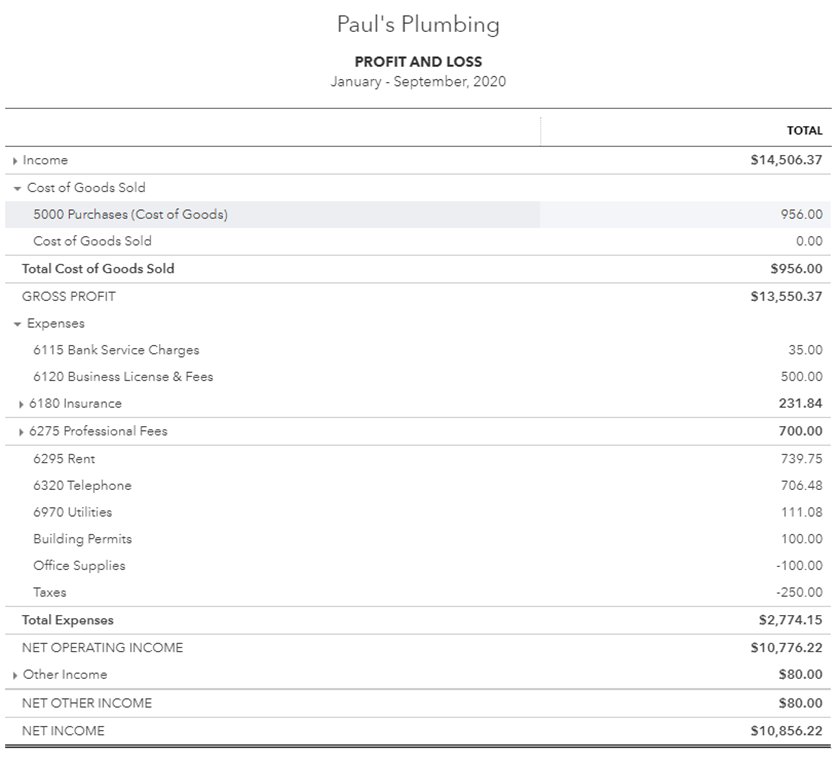 Balance Sheet Report
The Balance Sheet Report shows what your business owns (assets), owes (liabilities), and it's net worth (equity) at a particular point in time: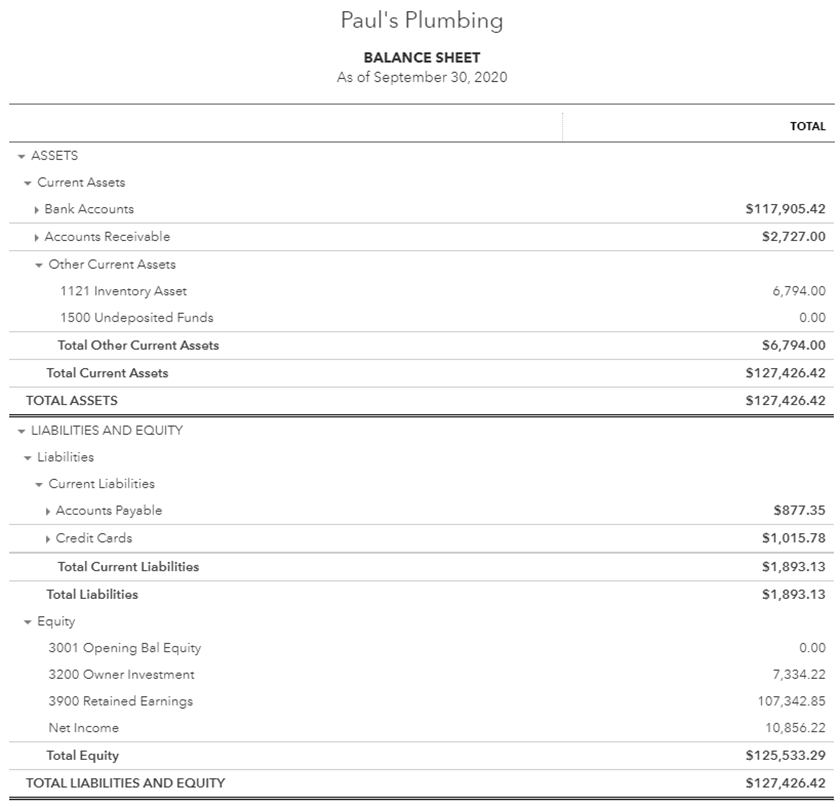 Statement of Cash Flows
The Statement of Cash Flows in QuickBooks will show you all of the activities that affect the operating, investing, and financing cash inflows and cash outflows for your business.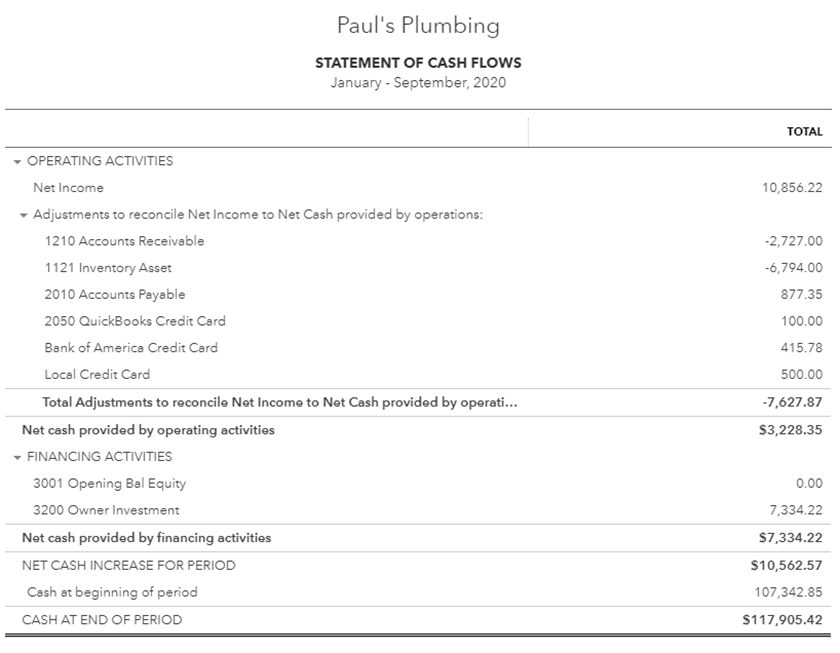 4. Track Employee Hours and Run Payroll
Payroll is an area that you don't want to skimp on by trying to do it manually. Mistakes made in calculating paychecks can result in steep penalties and unhappy employees. QuickBooks has its own payroll function that can calculate and run payroll as often as you need it automatically.
QuickBooks can track your employee's hours. The hours tracked then flow to both your customer invoices (if billable) and your payroll. This ensures that every hour you pay your employees is considered for billing to a customer.
The best part about using QuickBooks payroll is that it is integrated with QuickBooks so that your financial statements are always up to date as of the latest payroll run. The purchase of a QuickBooks payroll subscription is required to run payroll, but you have several levels of service to choose from to fit your needs.
Running your payroll through QuickBooks will allow you to:
Pay employees with a check or direct deposit
Calculate federal and state payroll taxes automatically
Have QuickBooks fill in the payroll tax forms for you
E-pay your payroll taxes directly from QuickBooks
Here's a video from QuickBooks on how QuickBooks small businesses use QuickBooks Payroll:
5. Track Inventory
QuickBooks can track the quantity and cost of your inventory. As you sell inventory, QuickBooks will automatically allocate a portion of your inventory to cost of goods sold (COGS), which is an expense account that reduces your income. This allocation is a requirement for calculating taxable income and very cumbersome to do by hand. QuickBooks can also automatically remind you to order inventory when quantities are low.
Below is a sample Inventory Valuation Summary Report from QuickBooks Online. This report shows a list of your inventory products, quantity on hand, average cost, and their total value: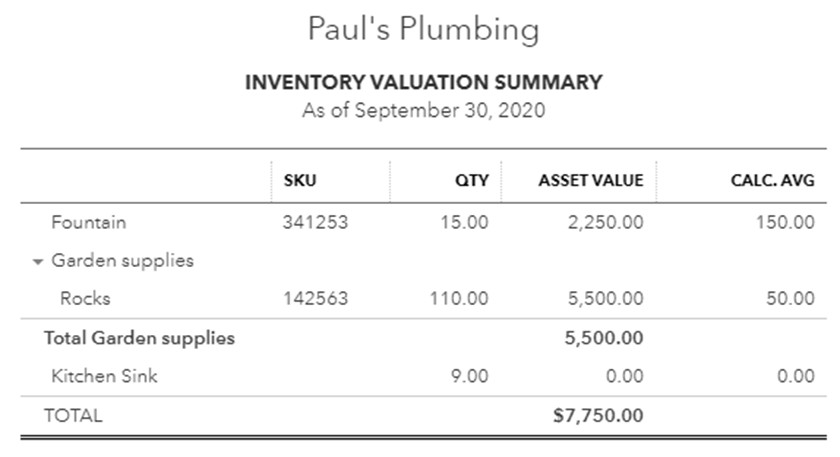 6. Simplify Taxes
Perhaps the most important thing QuickBooks can do for your small business is to simplify tax time. By far, the largest headache in preparing a tax return is compiling your income and expenses. If you use QuickBooks during the year, all you need to do at tax time is print your financial statements. Better yet, with QuickBooks Online you can invite your tax preparer to access your account directly so they can review your numbers and print whatever information they need to prepare your return.
7. Accept Online Payments
One of the best ways to improve your cash flow is to offer customers the option to pay their invoices online. You can add QuickBooks Payments (formerly known as Intuit Merchant Services) so that customers can pay online directly from their emailed invoice. QuickBooks Payments is similar to other merchant services. However, because it is integrated completely within QuickBooks, the sale, credit card fee, and cash deposit are all recorded automatically as they occur.
8. Scan Receipts
Another key to making tax time a breeze is being able to organize your receipts in QuickBooks. All QuickBooks Online subscribers can download the QuickBooks app to their mobile device for free, take a picture of a receipt, and upload it to QuickBooks Online in just a few minutes.
No more lost receipts or manually matching up receipts with downloaded banking transactions. QuickBooks allows you to attach a receipt to the corresponding banking transaction. You can upload an unlimited number of receipts to QuickBooks Online, which are stored in the cloud along with your data. This can be helpful for companies that track numerous expenses: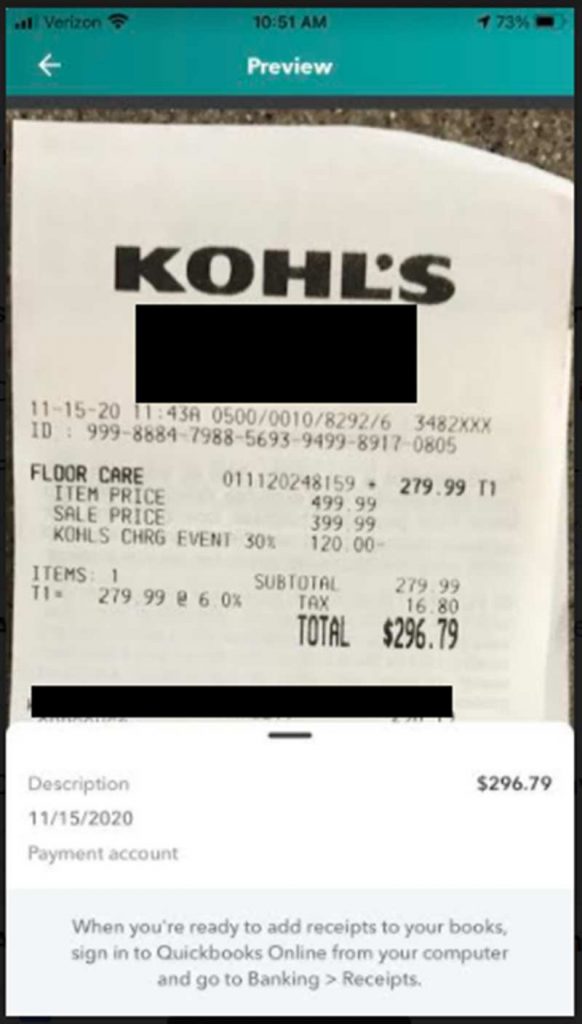 9. Track mileage
Many self-employed and employee/owners use their personal vehicles for business purposes. This provides a generous tax deduction of 57.5 cents per mile for 2020. However, to receive the deduction, you are required to keep a record of the date, miles, and purpose of your trip.
QuickBooks Online makes this incredibly easy. Their mobile app will use the GPS in your phone to automatically sense every time you are in a moving vehicle. Then, you can review your trips and add a note with the purpose of each business trip.
QuickBooks Options & Pricing
QuickBooks comes in both a cloud-based online program and a traditional desktop program. You can read about the pros and cons of each platform in our QuickBooks Online vs Desktop comparison. Most of the online and desktop versions will perform the tasks discussed above, but they come with a wide variety of advanced features and in a wide range of prices.
QuickBooks Product
Best For
Price Range
QuickBooks Online
Small to medium-sized businesses that need flexible access to financial data
$25 to $150
per month


QuickBooks Desktop
Small to medium-sized businesses in any industry
$399.99 one-time fee to $1,213 for the first year
QuickBooks Self-Employed
Independent contractors, real estate agents, and Uber/Lyft drivers
$15 per month
QuickBooks for Mac
Small to medium-sized businesses in any industry that need a Mac solution.
$399.99 one-time fee
QuickBooks Online
QuickBooks Online is a cloud-based product that does not require software installation. This QuickBooks product is available in multiple subscription levels, including Simple Start, Essentials, Plus, and Advanced. It is ideal for any business that does not have complicated job-costing requirements. QuickBooks Online allows you to access your data from any computer with an internet connection using your secure login.
Visit our QuickBooks Online comparison to learn more about the available versions.
QuickBooks Desktop
QuickBooks Desktop comes in six versions (Pro, Pro Plus, Premier, Premier Plus, Enterprise, and QuickBooks for Mac). Each requires you to install software on your computer. QuickBooks Pro will work well for most small businesses that do not manufacture products and prefer a desktop solution.
QuickBooks Premier is ideal if your business falls into one of these industries: manufacturing, contractors, retail, or nonprofit. QuickBooks Enterprise is for large enterprises. These industry-specific versions of QuickBooks Desktop include a custom chart of accounts and industry-specific reports.
The Plus versions of Pro and Premier are sold as annual memberships instead of a one-time purchase. Your annual membership includes the new edition each year, unlimited customer support, and offsite backup of your company data.
We break down each of these products to help you understand what QuickBooks is in our QuickBooks Desktop comparison article.
QuickBooks Self-Employed
QuickBooks Self-Employed is the ideal product for freelancers, real estate agents, and independent contractors like Uber and Lyft drivers. Similar to QuickBooks Online, it is a cloud-based product that can be accessed with your secure login from any computer with an internet connection. It includes unique features that are not available in QuickBooks Online or QuickBooks Desktop like the ability to track business and personal expenses from the same bank account and transfer data to TurboTax.
QuickBooks Self-Employed will calculate your estimated quarterly tax payments and remind you when they are due. There are three QuickBooks Self-Employed pricing plans to choose from (Self-Employed, Self-Employed Tax Bundle, and Self-Employed Live Tax Bundle). To learn more, read our QuickBooks Self-Employed guide.
QuickBooks for Mac
QuickBooks for Mac is the only QuickBooks desktop product available for Mac users. This edition is very similar to QuickBooks Pro, and it works well for most small businesses that do not manufacture products. Check out our article on QuickBooks for Mac to learn more.
Bottom Line
QuickBooks is the most popular small business accounting software. It comes in a variety of editions, both online and installed on your desktop computer. QuickBooks includes features that allow you to keep track of your income and expenses, pay your employees, track your inventory, and simplify your taxes.
What Does QuickBooks Mean?
Developed by Intuit, QuickBooks is an accounting software whose products provide desktop and online accounting applications as well as cloud-based ones which can process bills and business payments. QuickBooks is mostly targeted at medium and small businesses. Ease of use and reporting functionality makes QuickBooks popular among these users.
Techopedia Explains QuickBooks
Intuit has included many Web-based features in QuickBooks, including:
Electronic payment functions
Remote access capabilities
Mapping features
Remote payroll assistance and outsourcing
Online banking and reconciliation
Better mail functionality with Microsoft Outlook
QuickBooks also has help functions and other functionalities like pre-authorization of electronic funds and time tracking options for employees. A cloud solution called QuickBooks Online is also provided by Intuit in which the user can access the software with a secure logon by paying a subscription free. QuickBooks is upgraded and updated on a regular basis by Intuit.
Even for business owners and users who lack financial or accounting background, QuickBooks is generally considered easy to use and understand. Another benefit of QuickBooks is in the availability of ready-to-use templates to create charts, business plans, invoices and spreadsheets. It can also help save time and effort for business owners by automating their signatures (which is scanned and uploaded for use) on business checks. Integration with other applications is also a big advantage of QuickBooks. It has a user-friendly interface and can guide users through each of its features.
Although QuickBooks is one of the most widely used brands of accounting software, some other brands of software are considered to provide more transparency in calculations, better audit trails, lesser upgrade fees and better deletion history than QuickBooks.
What Is QuickBooks Software? A Guide to Choosing the Right Solution
When you hear "small-business accounting software," you probably think of QuickBooks. Since Intuit launched its flagship product over 25 years ago, the financial management platform has dominated the accounting software marketplace, resulting in an impressive 11 consecutive years of stock gains
Currently, QuickBooks software holds more than 80% of the small-business market share. If you're researching small-business accounting solutions, QuickBooks is on your list.
But which version is right for you? On-premise or cloud? With payroll or without?
QuickBooks has a product for nearly all of your accounting needs, but sorting through the options can feel like an insurmountable task.
To simplify your search, we've created this QuickBooks comparison report, which outlines the different versions and who/what type of business they're best suited for.
What is QuickBooks?
QuickBooks Desktop is business accounting software created to help you manage your customers, suppliers and bank accounts efficiently.
Managing business finances need not be a stressful, time-consuming task any longer – with QuickBooks intelligent interface, rich functionality and automation you can say goodbye to managing business finances on spreadsheets.
QuickBooks Desktop is available in three different solutions at three different price points, meaning you can select the one that suits your business accounting needs instead of paying for software and features which are not essential for you. Depending on whether you purchase the bundle, our solutions begin at R3430 (for the Pro 2019 version) and go up to R4830 (for the Accountant 2019 version). With the purchase of the 2019 version of QuickBooks Desktop, you will receive access to EasyBiz Perks which offers your business unlimited support and software updates. For detailed pricing on each solution visit our products page.
What do people love about QuickBooks Desktop?
We can take you through every feature of our accounting software, but we believe what our customers say is what matters the most!
"It's a double entry accounting software that bundles up strong reporting and features to help small businesses to easily track daily activities in more effective manner to rapidly changing technologies. Good team of developers who are constantly working to adapt and being innovative to changing demand of time.
This software is unique in many ways:
– Clean look, easy to see all a graphic look of your business in a quick easy way.
– Customizable dash control to arrange it what matters to you most
– See your sales, costs, expenses, accounts receivable, accounts payable figures in one place." – Syed S
"If you're an accountant, the software is easy to learn and use. I like that data entry is very straight forward, the no nonsense interface and how easy it is to navigate through the comprehensive menu. Downloading and drilldown capabilities are also very powerful." – Kevin N
Will QuickBooks Desktop work on your system?
The basic system requirements for QuickBooks Desktop are:
Windows 7 SP1, 8.1 Update 1, or Windows 10 (all 32-bit & 64-bit)
Windows Server 2008 R2 SP1, 2012 R2, or 2016
4 GHz processor
4 GB of RAM (8 GB recommended)
You will also need Microsoft Word and Excel installed if you plan on integrating data with those programs.
Please visit the QuickBooks Desktop product page for a full list of requirements.
What can QuickBooks Desktop do for your business?
As mentioned above, you can choose the solution which most suits your business needs. The base version, Pro 2019 includes the following features:
Real-time visibility of invoice statuses
Transfer of customer credits across jobs
Tracking of what's owed to suppliers
Track sales, expenses and profits
Create and send unlimited invoices
Manage accounts payable
One-click sales and VAT reports
The Premier and Accountant solutions offer features such as multi-currency data input, stock management and more. If you aren't sure which solution would most benefit your business, contact our team who will be more than happy to advise.
What is QuickBooks? – A Complete Guide
Are you aiming to grow your business to greater heights? Then, what it will need is proper tracking of your finances, strategic planning of your reports, assessing daily transactions and organizing administrative services. A business accounting software can be beneficial for your firm, in this case. QuickBooks is the ideal financial tool for all your organizational needs. If you are wondering what is QuickBooks, then it is the perfect accounting software to do the following:
Track income and expenses
Generating reports for planning
Keeping track of daily transactions
Preparing billings and payroll, etc.
QuickBooks is an accounting software that takes care of your business financial needs for small and mid-sized businesses. The software allows you to manage sales and expenses, generating reports, tax filing, and much more. It is developed by the leading financial software developer Intuit. The accountancy software offers a cluster of in-built reports that are easy to customize and makes taking control of your finances easy. Therefore, for a flexible and mindful usage of the accountancy software, in-depth knowledge is essential about this software.
Important: QuickBooks users can avail a free 30-days trial of the software.
The History of QuickBooks
Scott Cook and Tom Proulx were the inventors of QuickBooks in the year 1983.
After that in the year 2003, it started flourishing into different industries. Since then various versions of the software have been released. The reports and workflow processes were made according to the specific industry needs so that the application was smoother.
Over the years, it has also penetrated into different international markets.
Features of QuickBooks
Data Migration: The data in the accounting software gets smoothly transfer to the spreadsheet. This is suitable when you want to have financial data on the spreadsheet.
User-friendly: The powerful software makes every task pretty easy for the user. Most importantly, the rich features in the software take care of small and medium-sized business' needs.
Plain sailing process: It's easy to know where your business stands with the help of the software. Learning how it works is simple and easy to understand. Furthermore, it involves a very short learning curve.
Bank Transactions: Every transaction of your business is kept transparent and the software will keep on recording the transactions linked to wages, commissions, salary, expenses, profits, etc.
Invoices Generation: Easy generation of invoices from your smartphone, tablets, and computer system.
Tax Calculations: The feature of tax calculations in QB gives you feasibility to calculate tax for your firm in a prompt, accurate and efficient way.
Business Projections: The feature of business projections in QuickBooks helps a QB user in generating forthcoming projections. On the other hand, if anyone wants to generate reports – sales, profits, expenses, it becomes simple for them to figure out the things with business projections.
A Guide to Using QuickBooks Software
A systematic approach is obligatory to manage your business accounting needs and to accomplish it, users should be aware about how to use QuickBooks. Without an effective understanding of what is QuickBooks, productivity in business is impossible.
Let's follow step by step instructions on how to use QuickBooks:
To begin with, the installation of the software on your computer should be done properly. You need to indicate what type of installation you want by choosing either the Network or Custom Options. If the user will be using it on one PC and it doesn't share files, select "I'll be using QuickBooks on this computer." In case other PC's will access the files, select the option for your business for using network sharing. After that, you have to indicate the folder to the place you want the program to install.
Your name with address, tax ID numbers and financial statements are mandatory for setting up the files.
After that, you have to create your company file. Then click on the QuickBooks desktop icon for launching the program. Initially, you will see the option to use the EasyStep Interview wizard on your computer system screen. With this, you will be going through the procedure of setting up your company file.
Note: In case you are not adept with QB, the wizard option would be beneficial.
The next step is to set up and manage your vendor accounts properly. You have to hit "Vendor Center" in the top toolbar. Select "New Vendor" button for creating a vendor account. Therefore, to add a transaction enter on "New Transaction." It can be linked to Excel in case you wish to export your vendor information, or to Word in case you like to draft a letter to the vendors. And then click "Excel" or "Word".
Now, you have to set up and finally handle your employee accounts.
Enter "Employee Center" for creating and managing employee accounts. Select "New Employee" for adding employee information.
Then, enter on the "Transaction" tab for adding paycheck and other transactions. You need to use the "Enter Time" option so that timesheets can be managed.
Now, create and manage customer accounts. Enter "Customer Center" and then "New Customer and Job" for adding a new source of income. You need to click "New Transaction" for adding transactions like estimates, invoices, and payments. Export of customer information can be done to Excel or generate letters via Word.
Finally, reports can be generated the "Report Center." You can use this feature for getting a quick snapshot of the financial areas of your business.
How Does QuickBooks Work?
After knowing what is QuickBooks, your curious brain must be wanting to know the answer to how does QuickBooks work? So, let's take a look at the points of working on QB.
Chart of Accounts: The chart will be containing a list of liability, asset, expense accounts & income, equity for assigning your daily transactions.
QuickBooks Chart of Accounts comprises the company's financial information. Information like dividend, accounts receivable savings, Checking, and balance sheets are visible to you within the Chart of Accounts list.
Account balances and other info, together with account numbers and contact details, appear within each account's window.
A list of accounts will be appearing just under the Lists menu in your Chart of Accounts.
Customer, Vendor, and Item Lists: Easy to maintain the vendor and customer Item list in one place.
This is the way it works for the user:
The accounting software gives you the perfect place to manage your contacts as well as inventory.
The vendor and customer comprehend lists of transactions associated with a vendor or customer in a solitary location. Along with this, the Inventory Center will be offering efficient and simple management of inventory and non-inventory items.
Every center will be giving a choice to search, edit, add, edit or delete vendors, customers, and items.
Reports: All the reports can be accessed via the help of reports and with this, taking a smart business decision becomes stress-free for an individual.
How this performs
In the beginning, complete reports need to fill accurately and for this, you have to enter your vendor, customer, and item details.
Certainly, customization of reports can be done to filter info by a particular vendor, customer, transaction date and items.
After running a report, then you can add it to your memorized or favorite report list so that you can access it whenever you feel like.
Payroll: The self-service app will streamline the administrative services for the company's employees and with this Payroll processing becomes simple.
How Payroll Works
It can manage tax-exempt employees, workers' compensation, and also tax forms inside the Payroll Center.
A QuickBooks facility can be availed, thus proffers online choices for sending direct email receipts and deposits.
Payroll permissions can be assigned to definite users in case of using a multi-user QuickBooks account setup.
Note: Furthermore, you can edit information from the Employee Center for adding additional tips, deductions, and other employee-applicable details.
Types of QuickBooks Versions
QuickBooks Self-Employed
QuickBooks Online
QuickBooks Desktop Products

QuickBooks for Mac
QuickBooks Pro
QuickBooks Premier
QuickBooks Enterprise

QuickBooks Apps
Let us start by understanding all about them, one-by-one.
QuickBooks Self Employed
QuickBooks Self Employed is an excellent product for real estate agents, freelancers, and Uber/Lyft drivers. Its user can access the work from anywhere, anytime and for this, a good internet connection is necessary. The latest version of the product line is specifically created for freelance individuals and the self-employed. Self- Employed solution comes under two packages i.e Self-Employed and Self-Employed Tax Bundle.
The Self-Employed version permits the users to:
Categorize and later on track IRS Schedule C tax expenses and deductions
Also, track expenses and income, keeping separate transactions for personal and business expenses.
It calculates your quarterly taxes in an easy manner.
The user can easily connect to their credit card accounts and bank accounts.
The design of QuickBooks Online is to accommodate the needs of different business types. The time-saving feature reduces the precious time of manual entry and make the users accounting tasks easy such as bank reconciliation. Hence, it reduces the time the user uses to spend in managing their business' finances, as all is now in one place. This version is available at three subscription levels i.e. Simple Start, Essentials, Plus.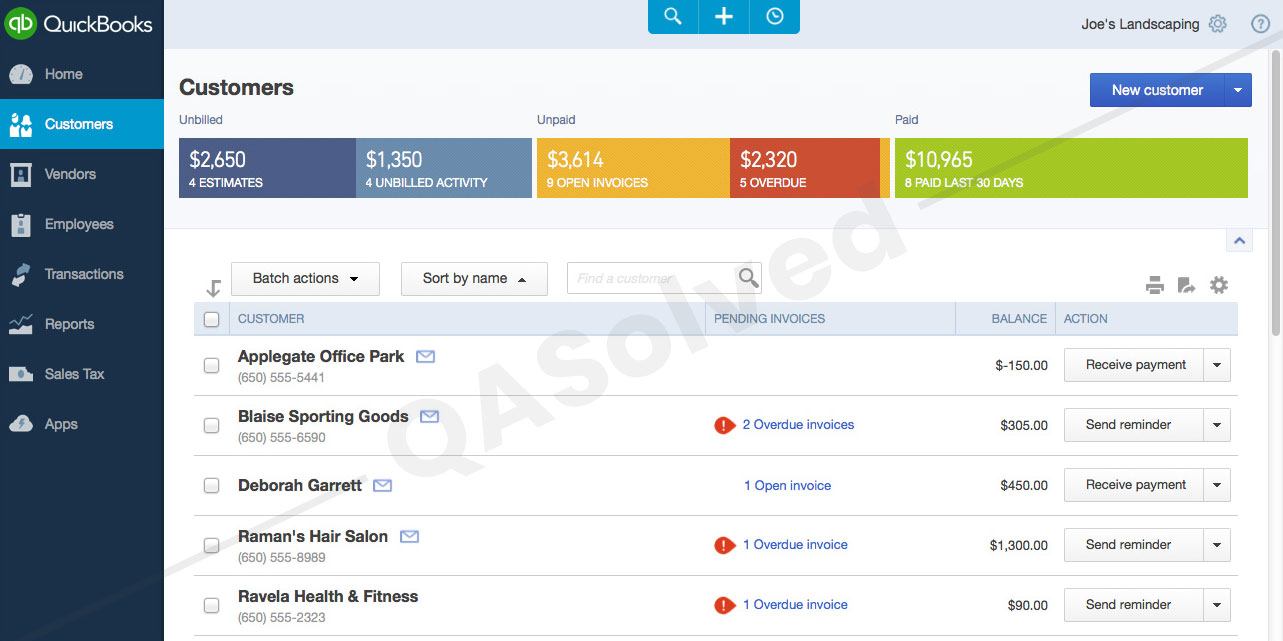 Imp: QB Online is ideal for any service-based business that does not have any sort of complications with invoicing requirements.
The software will assist you to perform the function below:
At the time of generating invoices and calculating estimates.
Handling suppliers and customers.
To organize the preparation, planning, monitoring, and filing of the user's taxes.
Understanding your company's work.
Maintaining the company's budget.
As a result, keeps a track of your cash flow and sales
Common Errors Occurring in QuickBooks Online
QuickBooks online login problems
QuickBooks online login problems are seen at the time of logging in to your software. The particular issue can be a result of the glitches in your PC, an internet issue or due to the browser that you usually gets sign-in.
QuickBooks Online Error 9999
At the time of refreshing your bank details on your computer system, an error message occurs on your PC screen, that reads, "Apologies, we can't refresh your record. It would be ideal if you have a go at refreshing again later. (9999)." A potential discrepancy in the Windows registry or corrupted installation could be the reason for QuickBooks Online Error 9999.
QuickBooks Online Slow
When the users attempt to access QuickBooks Online they may come across with QuickBooks Online Slow issue on their PC. Generally, the slow error occurs because of factors like browser issues, plugins, cookies, internet speed, slow computer performance, and much more.
QuickBooks Desktop Products is compatible for the users who have a product-based business that consists of complex inventory tracking requirements. Moreover, the Desktop products version comprise tailored-made Chart of Accounts lists, products and services lists for contractors, manufacturers, wholesalers, retailers and much more. It has come up with a range of improved and interesting new features. Thus, It improves the trustworthiness and the experience of using the software for your business purposes.
There are many products that come under the Desktop. These are
QuickBooks for Mac
QuickBooks Pro
QuickBooks Premier
QuickBooks Enterprise
Additionally, there is
QuickBooks Apps
Common Errors in QuickBooks Desktop Products
QuickBooks Error 6000 77
QuickBooks Error 6000 77 is the error that creates trouble when the user tries to access a company file. One of the reasons for this error is that the folder permission is incorrect which comprises a company file.
QuickBooks Error 15227
QuickBooks Error 15227 pops up on the QB user screen when desktop gets crashed and stuck during the process of the installation. The specific error is connected with the installation of the software version or the Payroll update that is done.
QuickBooks Error 6123 0
When the user makes an attempt to restore the company files from a backup or hard disk or tries to open a company file from the multi-network server, an error message "QuickBooks Error 6123 0" will appear on the PC screen.
QuickBooks for Mac
QB for Mac will manage the financial tasks like expense tracking, generating invoices, paying bills, creating standard reports, payments & contributions. Also, the product is said to be same as QB Pro and optimal for small business that are not into manufacturing products.
QuickBooks for Mac includes
Your "Income Tracker" dashboard will show you unpaid invoices.
Gives you freedom of creating fiscal year budgets and track progress.
It is an untroublesome task to set up and navigate the accounting software in case you don't have an accounting or bookkeeping background.
Mac features
Customized charts for accounts
Batch invoicing
Track multiple locations & departments
Customer service & product list
Multi-user access
Forecasting and budgeting
Email tracking for vendors and customers
Square transactions import
Past due stamp on invoices
iCloud Document Sharing
Common Errors in QuickBooks Mac Multi-user
QuickBooks Mac Multi-user Error
The robust software is made to be used in the multi-user mode. Sometimes QB for Mac can cause some issues concerning working in QuickBooks Mac multi-user mode. There might be several reasons for Multi-User issues. Some of them are network connections, the number of credentials that are in the shared files, Mac's firewall settings, and much more.
QuickBooks installation error
QuickBooks installation error is the general problem that users might confront anytime during its installation on Mac and Windows. Some interruption during the process of downloading or an issue with the network linking may create the error issue.
With QB Pro, sharing data and files with the accountant is a trouble-free task for beginners running a small business. The version is for your business so that one gets quick reports and support.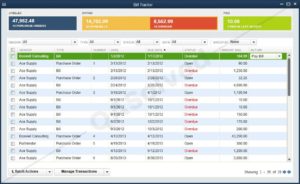 The Pro package has ultimate things to offer, like:
You will be able to see purchase orders, unpaid bills, and many more things on the "Bill Tracker" dashboard.
The users will be able to track expenses and sales in multiple currencies.
Importing of data from Quicken software, Excel and older software versions is possible.
Common Errors in QB Pro
QuickBooks unrecoverable error
The reasons for QuickBooks unrecoverable error code could be network issues, data integrity issues with the company file or corrupt software components. Furthermore, the origin of the QB unrecoverable error is led via a blend of local troubles.
QuickBooks running slow
The productivity of your work may hamper in case your QB is incapable to begin or QuickBooks running slow on your PC. The issue arises if the number of users signing in to the company file at once increases.
QB Premier is exclusively built for small business users that have industry-specific requirements. It is beneficial for those who are in industries like professional services, retail, non-profit, contractors and manufacturing.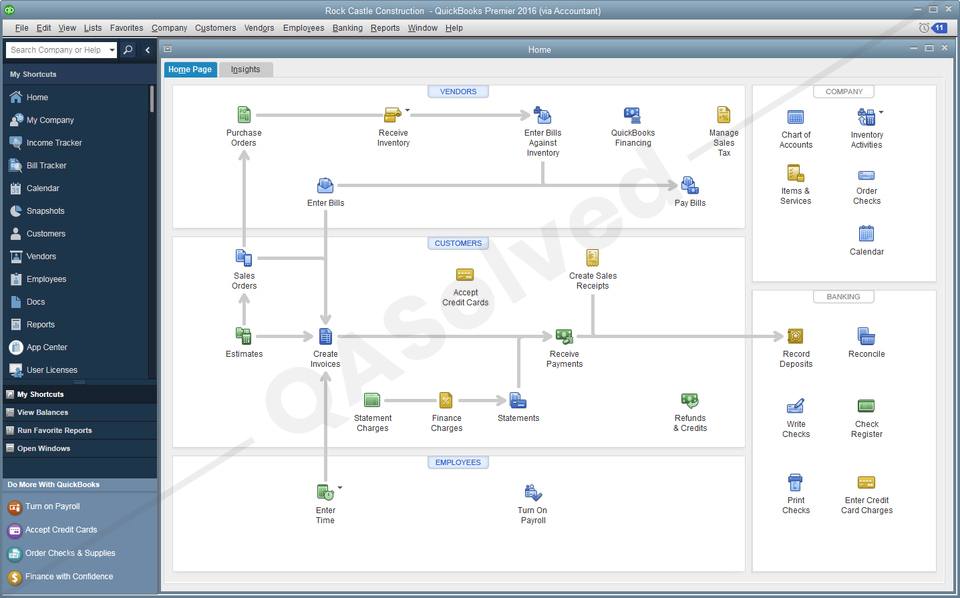 Premier features consist of
Common Errors in QB Premier
QuickBooks Error 1603
If you are getting QuickBooks error 1603, then, of course, you will not be able to access the financial software and this can lead to a potential financial loss. There could be multiple reasons for the error 1603 like damaged or incomplete installation files, missing Windows installer components, etc.
QuickBooks Error 1321
QuickBooks error 1321 will be a hindrance in your work when you try to update/install any company file of yours. The error 1321 on your system screen occurs because of the following reasons:
Current use or damage in the file.
Security software or antivirus installed on your PC is blocking your QB.
QuickBooks Enterprise is an accounting solution that perfectly suits small and midsize businesses in industries like constructions, distribution, manufacturing, and retail. Moreover, With the assistance of QB Enterprise, numerous locations, users, inventory workflows and big amount of transactions can be handled. This version supports up to 30 user licenses.
This version assists in organizing these tasks
There are 14 predefined roles for the admin and the users.
Multiple users can access the files.
With the help of the "Expanded list" option you can track over 100,000 vendors, employees, customers, and inventory items.
Common Errors in QuickBooks Enterprise
QuickBooks Error 3371
If your QuickBooks system file entitlementDataStore.ecml gets damaged, you will be receiving QuickBooks Error 3371 message on your PC screen. The problem of file damage causes because of improper shut down of your PC.
QuickBooks Error H202
QuickBooks Error H202 occurs when the user's workstation fails to connect with the company file. And this does not permit its users to have a glance at the company file.
Some of the reasons for the occurrence of error H202 are:
Firstly, the .nd document is incorrect or harmed.
Secondly, a potential block in your QB communication.
Damaged services components or Inoperative services.
QuickBooks Error H505
The error will create a problem for the user when you will try to open a company file that is not located on your computer system. QuickBooks Error H505 takes place when an individual tries to access his/her company file.
QuickBooks Error 404
The user will get QuickBooks Error 404 on the screen when it breaks down to sync with Intuit Servers. The reasons for error 404 could be if a server or page is not sync-able or incomplete update results, etc.
QuickBooks Apps
In QB apps, all the user's information links automatically. Sharing will be done between the software and the app and this will help the user in saving their precious time.
The below-mentioned add-ons can be purchased for an additional fee:
QuickBooks Payroll: It permits the businesses for paying up to 50 employees via. Direct deposit or check.
QuickBooks Point Of Sale: It will be allowing your businesses to get good sales, accept your credit cards and also keep a track of the inventory.
Common Errors in QuickBooks POS
QuickBooks POS Error 1328
During the process of installing, updating, or repairing the software, QuickBooks POS Error 1328 pops up on the user's laptop/ system screen. The license number that differs from the 2009 version could be the reason for the error.
QuickBooks POS Error 1330
QuickBooks POS Error 1330 shows that an unlawful data signature is positioned at the time of installing POS. The error occurs when the QB user is trying to update the software with the most recent update patch.
QuickBooks POS Financial Exchange Error
Syncing issue between two software gives an invitation to QuickBooks POS Financial Exchange Error. The mapping account and the activity log error is the reason behind the error.
What is New in QuickBooks Desktop 2021?
Here, you can learn what will be the latest features of the QuickBooks Desktop. This version brings improved features and functionalities to help you get paid faster while recording employee's data. Below, we are mentioning all the enhanced features of the QuickBooks Desktop.
Upgraded Bank Feeds
You can avail of improved bank feeds in QuickBooks 2021 that allows you to review the bank transactions and match them to the current ones in accounting books.
Data Level Permission
In QuickBooks Enterprise 21.0, you can get the feature of data level permissions that permits you limited access for your roles created and users. Also, it helps the admin to create users and roles with access permissions.
Creating Customer Groups
This feature permits you to search out all customers that match certain criteria for things such as customer type, customers' status, or location.
Managing Receipts
It will help you to enter all your expenses receipts easily and faster. By giving users access, you can upload expense receipts to QuickBooks via mobile app or directly from your system.
Automated Statements
The feature of payment reminders helps you in scheduling statements for your customers. By doing so, you can let them know when they are need to pay you.
Customized Payments Receipts
This upgraded feature of QB Desktop 2021 helps you to create custom templates for forms such as estimates, invoices, purchase orders, sales receipts, and statements.
In Conclusion
We have seen how QuickBooks is an all-rounder when it comes to selecting a financial tool for your business. No matter the size of your operations, it offers organization, streamlining and proper management of your finances, so that your business can run smoothly. Also, with the exciting updates furnishing in 2020, it is yet again, ready to surprise its users with extending its functionality.
We hope that the article helps to acquaint you with the software's parts, working, applications and benefits. In case you want to know more about what is QuickBooks, you can call us on our QuickBooks Support Phone Number and speak to our team of technicians today!